Highlights

A gaming NFT token has gained nearly 22,000 per cent so far in 2021
Sorare is an NFT-based soccer game, while Dapper Labs' NBA Top Shot combines basketball with NFT, and both have multi-billion dollar valuation
OpenSea is the first and largest NFT marketplace, which will see competition from Coinbase NFT platform
How about festive shopping assets that may yield high returns? As festivities approach us, it is time we look beyond regular goods that usually depreciate in value with time.
It might be time to look at the crypto assets space. As of now, Bitcoin is trading at nearly US$62,000, which is just shy of its all-time high price of nearly US$65,000. It may be no surprise if this hated-by-some and loved-by-many cryptocurrency breaches the US$100,000 mark by year end.
NFT projects that dominated the year 2021
But the crypto space is not all about Bitcoin or altcoins. Calendar 2021 is the year when non-fungible tokens (NFT) virtually captured the minds of every blockchain enthusiast. NFTs represent ownership over an asset, and this ownership is recorded on distributed ledger. The craze of NFTs is such that a decade-old meme of a pop-tart cat sold as an NFT in February 2021 for a whopping US$500,000.
From musician Grimes' artwork to Jack Dorsey's tweet, the linked NFTs have fetched millions of dollars.
Let's find out five most disruptive NFT projects that dominated the year 2021.
1. Axie Infinity
The reason Axie Infinity tops the list is the returns its governance token AXS has produced. In virtually no time, AXS has entered the list of 30 biggest cryptocurrencies by market cap.
Axie Infinity did to gaming what Bitcoin did to currency. At the heart is the blockchain technology. If BTC created a blockchain-currency combine, Axie Infinity has produced a blockchain-gaming combine.
It is said that the game is owned by its users and AXS acts as the governance token to effect changes. In the game, the characters, Axies, are NFTs. Axies are used to enter combats within the game. Each Axie is said to have some features that differentiate it from others. Holders can even take part in breeding that can create more Axie creatures. A special marketplace exists for trading Axie NFTs.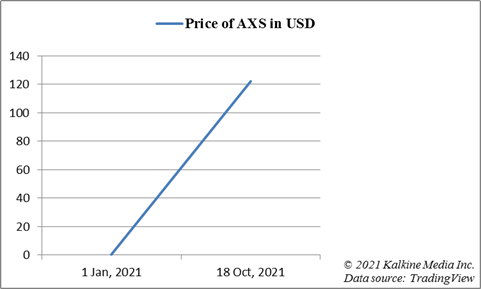 As of now, the token AXS is trading at nearly US$122. The surge in its value was triggered in July 2021, and the year-to-date (YTD) return for backers is an unbelievable 22,000 per cent.
Also read: Is investing in altcoins better than Bitcoin?
2. CryptoPunks
CryptoPunks are pure NFTs. It means these are characters with distinct features, besides which there is no other complexity like blockchain-based gaming.
To this day, Beeple's Everydays: the First 5000 Days is considered as the most expensive NFT. It sold for nearly US$69 million at a highly publicized Christie's auction. But at least five CryptoPunks feature in the list of top 10 expensive NFTs. Cryptopunk #7523 is second only to Beeple's artwork, and it sold for a whopping US$11.7 million at a Sotheby's auction. Cryptopunk #3100 and #7804 are third and fourth most expensive NFTs, respectively.
CryptoPunks are created by Larva Labs. They are Ethereum-based NFTs, which makes a case for interest in Ether cryptocurrency. It is said that there will be a maximum of 10,000 CryptoPunks, all with distinct features.
During the infancy period, CryptoPunks could be claimed for free by just paying Ether gas fee. Today, the project is one of the top NFT ventures.
Also read: Top 5 most expensive NFTs ever sold including CryptoPunks
3. Sorare
This multi-billion-dollar company also mixes blockchain with gaming, but with an added attraction of soccer. The Sorare game started in 2018 and gave players a chance to purchase licensed cards with a player assigned. Gamers can build their team of choice using these cards. The performance of any team is a product of how well the players play in a real-life soccer game.
In September 2021, Sorare announced raising US$680 million in funding from the famous SoftBank. This round of funding was also backed by footballers like Rio Ferdinand.
The licensed cards used to play in the game are all tradable as NFTs. Sorare is the leader in NFT-based gaming, with plans to add more sports to attract a wider audience. Payments for NFT cards of Sorare can be made using credit card or even in Ether crypto. Cristiano Ronaldo's card was the highest-earner.
4. Dapper Labs (NBA Top Shot)
If Sorare is a soccer-NFT combine, Dapper Labs is riding the basketball craze. The company's NBA Top Shot game provides digital cards representing real-life players. These cards are NFTs, with their value influenced by rising or falling interest of collectors.
Dapper Labs has its own blockchain to register the ownership of digital cards. This 'Flow' blockchain is said to be scalable, and Dapper claims it has edge over the Ethereum blockchain used by Sorare. Dapper Labs command a user base of over one million, with over US$750 million transaction volume so far. It is valued at over US$7 billion, and US$250 million were raised in a recent September 2021 funding round.
5. OpenSea
OpenSea claims to be the first-ever and also the largest marketplace for NFT. It allows users to not only trade NFTs but also create one. Lately, Coinbase announced similar services with peer-to-peer features for purchase and sell of NFTs.
Also read: Coinbase to launch NFT platform, here's what to expect
OpenSea supports multiple crypto wallets that are to be linked to the account by the user. Uploading of a new NFT can be done by giving it a name and entering its description. Users can add images, videos or any other artwork as an NFT on the platform. Selling of these NFTs can be done using the fixed-price route or an auction-based sale.
OpenSea is an enabler and makes a formidable player in NFTs. The plunge of Coinbase and other crypto exchanges in the NFT space can draw as even more interest in this first NFT exchange.
Bottom line
NFTs are growing despite some concerns around their allegedly high values. The comeback of Bitcoin in the past few weeks is indicative of the appetite of blockchain technology lovers. NFTs are an offshoot of cryptocurrencies and rely on the same decentralized network with peer-to-peer dominance. CryptoPunks and Axies are those rare creatures that are soaring in values due to the NFT craze.