Highlights

Bitcoin is the most popular, but has not been the most profitable cryptocurrency for investors in 2021.
Axie Infinity, a relatively less popular altcoin, has returned over 22,500 per cent year to date
Bitcoin lies at the heart of the cryptocurrency world, but altcoins are fast catching up.
The debate around Bitcoin versus altcoins is heating up. There is a reason why. Bitcoin may be the most popular and biggest headline-making crypto, but altcoins are giving investors unbelievable returns.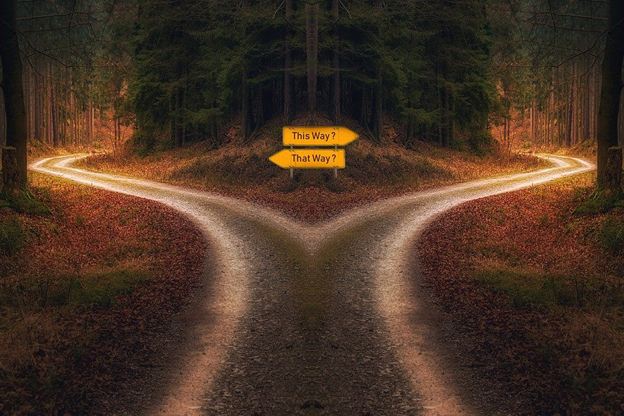 Source: Pixabay.com
The pandemic, which slowed down everything from GDP growth to movement of people, came as a force that brought cryptocurrencies to the mainstream. Investors are today looking beyond immediate capital gains and studying the potential of blockchain's decentralized technology. Altcoins such as Dogecoin and AXS, based on the same tech, rewarded their backers heavily in 2021.
Now, the cryptocurrency world isn't just about Bitcoin or Ether (second to Bitcoin in market cap). Today, let's explore crypto investment in 2022 by comparing Bitcoin with altcoins.
Bitcoin and altcoins -- the difference
Bitcoin is a simple concept. It is a digital currency -- underpinned by blockchain tech -- that puts power in the hands of people by weeding out intermediaries in any payments system. The benefit is quicker and cheaper transfer of money between network participants.
In essence, Bitcoin is a pure cryptocurrency. It could prove a rival to fiat currencies, which are controlled by regulators.
Also read: Can Bitcoin be termed as the 'asset of the century'?
The first block of Bitcoin was mined in January 2009. It had humble beginnings. There were no trades in BTC for the initial few months and an enthusiast could acquire it only through mining.
It is said that trading began in mid-2010, which was preceded by the so-called pizza transaction. Did you know that two pizzas were bought using 10,000 BTC? From then to now, Bitcoin has leapfrogged from the fringes to the mainstream.
Altcoins are not Bitcoin, simply because they are not competing directly with fiat currencies. Altcoins are a simple concept too. These are native tokens of their respective blockchain-powered networks. Their use is within the blockchain they represent, for example, Ethereum's blockchain's token is Ether.
Ether or any other altcoin isn't envisioning becoming legal tender. Instead, they are used to pay the fee for transactions carried out by users within the network. Ethereum allows developers to build and execute smart contracts, for which developers must pay fees in Ether. Likewise, Axie Infinity, a blockchain-based game, rewards its users with its native token AXS.
Also read: 5 best cryptos to watch in 2022
Is Bitcoin better than altcoins?
As explained earlier, Bitcoin serves a different purpose. It is a blockchain-based digital currency.
Bitcoin is undeniably popular, so much so that without it, the crypto world is virtually nothing. Why? It's because it was Bitcoin that introduced people to the decentralized ledger system where transactions are recorded and stored on a peer-to-peer network.
Bitcoin provided the initial fuel that triggered interest in blockchain. In 2021, El Salvador adopted it as legal tender with a view to saving on remittance costs.
Altcoins' popularity is more within the cryptocurrency space than outside of it. Most AXS enthusiasts are players from within the game. But lately, investors have warmed up to altcoins.
Consider this. At the time of writing, the 24-hour trading volume of BTC was nearly US$43 billion, while that of Ether was nearly US$17 billion. Approximately 40 other altcoins also had a billion-dollar-plus trading volume over the past 24 hours.
Altcoins are fast catching up. One of the reasons is institutional interest in cryptocurrencies. Bitcoin and Ether ETFs have now started trading on stock exchanges like the Toronto Stock Exchange (TSX). The S&P Dow Jones has indices to track the movement in BTC and Ether.
Bitcoin vs. altcoin returns
Did Bitcoin give better returns than altcoins? The answer is no. Let's look at the numbers.
Bitcoin's return in 2021
2021 is a mixed bag so far for BTC investors. Bitcoin started 2021 with a price tag of nearly US$29,000. It soared to nearly US$64,500 by mid-April 2021. Timing of the investment matters. Imagine the return in fewer than four months -- over 100 per cent. But the crackdown by China on Bitcoin mining and concerns over power consumption triggered a fall in price. It plunged to below US$30,000 in July 2021.
Also read: Can Bitcoin investment fund festive spending this holiday season?
The rebound, however, was phenomenal. As of now, BTC is trading at nearly US$58,000 apiece. It may end the year 2021 on a higher note driven by investors' unrelenting enthusiasm. The YTD return of Bitcoin as of now is nearly 100 per cent.
Altcoins' returns in 2021
Let's start with Ether. That's because it is the biggest altcoin and the second biggest cryptocurrency after BTC. Ethereum also serves as the blockchain on which many other popular altcoins are based.
Ether started 2021 with a price tag of nearly US$730. By mid-May, it reached nearly US$4,300. This was no mean feat – a nearly 500 per cent return in fewer than five months. As of now, Ether is trading at nearly US$3,600. The YTD return at the time of writing is nearly 400 per cent.
But there are a few other altcoins that dwarf the YTD return of Bitcoin by a gigantic margin.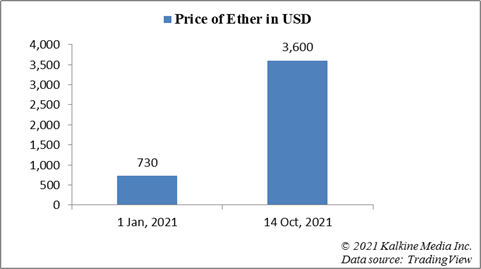 Top-performing altcoin of 2021
Axie Infinity (AXS)
If Bitcoin uses a blockchain to produce a digital currency, Axie Infinity uses it to develop a game. In order to give power to users of the game, it came up with the governance token AXS.
As of now, AXS is trading at nearly US$122. It started the year with a price tag of nearly US$0.54. That is a nearly 22,500 per cent YTD return.
Many other altcoins like Fantom, Telcoin and Dogecoin held over 1,000 per cent YTD returns at the time of writing.
Also read: Top 5 cryptocurrencies available for under $1
Bottom line
It is difficult to answer which is better -- Bitcoin or altcoins. The former is the most popular crypto, but it is not always the best-performing cryptocurrency. Altcoins are relatively less popular, but they might give astonishingly high returns if the investment is made at an opportune moment. The crypto market generally is highly volatile.