Highlights

DeFi platforms allow lending and borrowing of crypto assets, besides creating liquidity
DeFi apps have no regulatory oversight and users must conduct own due diligence
We look at top Ethereum DeFi apps based on money locked in each of them.
Decentralized Finance or DeFi is shining amid all the ups and downs in major crypto assets like Bitcoin and Ether.
Before we go any further and find out the top DeFi platforms, let us quickly understand DeFi apps.
Meaning of DeFi platforms
If you know what banks and exchanges, for example, NASDAQ are, it is easy to understand DeFi and related aspects. The only difference is that in DeFi apps, cryptocurrencies replace fiat currency or stocks. Most major DeFi platforms use the Ethereum's blockchain.
In DeFi, a central authority like the Fed or the SEC is missing.
Also read: Now, mine Bitcoin at home using Compass Mining rigs
Most important is the purpose of DeFi apps. Holders of crypto assets can use DeFi platforms to lend out their holding to others. In return, the lender earns interest income. At the heart of all DeFi apps is the service of borrowing and lending to crypto enthusiasts. Besides, they also infuse liquidity into the crypto space.
Are DeFi platforms good?
For crypto backers, they might be. The holder of a crypto asset can earn interest on deposits and the rate of interest is usually attractive than traditional banking system. For borrowers, DeFi apps have low entry barriers.
Also read: What are DeFi games & which are the most popular DeFi games?
Usually, the borrower must pledge some other crypto token to borrow. In some cases, a DeFi platform can also allow borrowing against other assets like a non-fungible token (NFT). The transactions are recorded on the blockchain through smart contracts.
Top DeFi platforms 2021
Below are the most popular DeFi apps with billions of dollars locked in each.
1. Aave
The Aave protocol uses Ethereum's blockchain to enable lending and borrowing of cryptocurrencies. The lender earns income, besides an opportunity to get hold of some other crypto token.
A unique feature of Aave DeFi platform is 'Flash Loans'. Here, the party borrowing must conclude the transaction in the same block. It typically means instant repayment of the crypto loan.
The Aave protocol can be amended by a team of AAVE holders. They are collectively referred to as the Aave Governance, and any amendments must be undertaken after voting.
According to DeFi Pulse, over US$13 billion is locked in the Aave DeFi platform. This makes it the top DeFi platform as of today.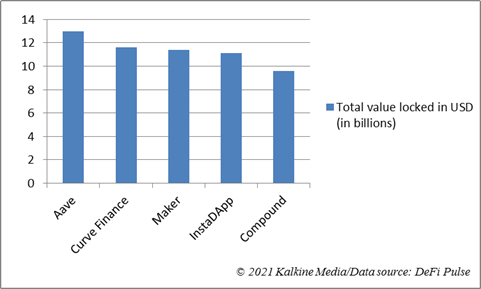 Image depicts the total value locked in top five DeFi platforms
2. Curve Finance
Curve Finance is the second most popular DeFi app. The Curve protocol also uses Ethereum services. It is a relatively newer DeFi platform and was launched in January 2020.
The Curve DeFi app is used for trading stablecoins. Stablecoins are pegged to some other asset like the US dollar. Tether (USDT), for example, is a stablecoin.
Users can swap their stablecoin holdings on the Curve Finance protocol, for which they are paid a fee. Curve boasts a low fee algorithm and support for multiple stablecoins.
According to DeFi Pulse, over US$11.6 billion is locked in the Curve Finance DeFi app.
3. Maker
Maker or MakerDAO enables generation of Dai. Dai is a stablecoin and pegged to US dollar. The user in the Maker DeFi protocol can pledge Ether holding and create Dai.
Holders of Dai have a different way to earn interest. For this, they must lock the holding in a contract on which the platform pays a variable interest income. Users must remember that if their vault value falls below the threshold, a penalty can be incurred.
Maker DeFi also uses the Ethereum's blockchain to store data on distributed ledger.
According to DeFi Pulse, over US$11.4 billion is locked in the Maker DeFi app. This makes it currently the third most popular DeFi platform.
4. InstaDApp
InstaDApp is different from other DeFi platforms in a way that it reflects the total DeFi position of the user. The platform enables the user to move their debt between other DeFi platforms including Aave, Maker and Compound.
InstaDApp has its native crypto token called INST.
Also read: What are the top DeFi cryptocurrencies by market cap?
The dashboard of InstaDApp DeFi gives access to a wallet built using smart contract on blockchain. The user can also manage other DeFi vaults on this wallet.
According to DeFi Pulse, over US$11.1 billion is locked in InstaDApp.
5. Compound
Compound is an Ethereum-based DeFi app that allows lenders to earn compound interest. The user has to pledge the crypto holding to Compound's pool.
Besides, lenders can also borrow a specific quantity of some other crypto asset against their collateral. It is possible to borrow assets like Ether, Dai and WBTC.
The interest income for the lender depends on demand and supply forces on Compound's DeFi platform. The platform is a community governed DeFi app with all amendments subject to prior voting.
According to DeFi Pulse, over US$9.5 billion is locked in Compound DeFi app.
Some other popular DeFi lending apps are Uniswap, yearn.finance, SushiSwap and Convex Finance. All of these have billions of dollars locked in their respective DeFi platform.
Risks of DeFi lending
On DeFi platforms, lenders place their original crypto holding as collateral. In most cases, collateral has to be more than 100 per cent of the loan sought on the platform.
Also read: Are big banks still afraid of cryptos?
New DeFi platforms come with their own unique selling propositions. However, these may be riskier as compared with already established DeFi apps. Auditing of DeFi protocols is also an important aspect. A few of the above mentioned platforms have auditing features.
Bottom line
DeFi lending platforms are gaining enough traction. They provide a good opportunity to holders of crypto assets to earn interest income. One crypto can be used as collateral on a DeFi app to borrow some other asset. It can be possible that this other crypto asset is gaining value. DeFi apps have no regulator, and the users must conduct their own due diligence.