Technology stocks are of those companies that are engaged in the research, development and distribution of goods and services related to technology. Companies work on one technology to derive other technologies. An example for this is the higher version of any software. Other applications of technology can be seen from a company perspective in deriving valuable information from huge data base, enterprise software and Artificial Intelligence.
Below are 11 ASX listed companies operating in the technology sector.
Elsight Limited
Elsight Limited (ASX: ELS), an advanced connectivity technology provider, has recently released its quarterly results for the period ended 30 June 2019, unveiling US$340,000 in revenue. During the quarter, the company signed two new open-ended defence contracts, under which ELS would provide its cellular transmission technology to the armies of two African countries. First orders worth US$150,000 each have already been secured, with the company due to deliver numerous Rider system vehicle kits and WaveT-R handheld devices in addition to multichannel backpacks to improve on-the-move data and video connectivity for ground soldiers as well as drone operators in the respective armies. These contracts further strengthen the company's footprints in Africa.
Subsequent to the quarter, in July 2019, a third instalment of ten Smart Medicase kits were delivered by the company to French player Alrena Technologies. Under the large-scale, 50-unit order worth ~US$500,000, ELS would supply the remaining 20 units in 2019. Moreover, one of the largest defence companies in Israel, Israel Aerospace Industries (IAI) placed an order for eight systems. This is the second order placed by IAI for the multichannel technology of ELS.
With multiple repeat orders from existing customers, the company is expanding its scope of proof-of-concept. The company also progressed towards the commercialisation of its HALO technology.
Dragontail Systems Limited
Dragontail Systems Limited (ASX: DTS), a software designer and developer, released its Q2 FY2019 results at end July 2019, reporting a record increase in installed base to more than 1,600 locations. The company completed the rollout of QT Camera in 800+ Domino's Pizza stores across Australia and New Zealand.
DTS also formed strategic alliances with two leading food-delivery aggregators in the world, DoorDash from North America and Kin Shun from APAC, thereby boosting its total addressable market.
Linius Technologies Limited
Linius Technologies Limited (ASX: LNU), engaged in the development and commercialisation of video file technology, continue to focus on providing the hyper-personalised TV capability of VVE to sports, news, education, corporate comms, gambling, security & defence as well as media and entertainment verticals during the June quarter.
Subsequent to the June 2019 quarter close, LNU announced its first commercial sale in the sports vertical. It entered into an agreement with SportsHero Limited (ASX: SHO), under which SportsHero would use the Linius technology in the SportsHero app as well as white label solutions which include the "Kita Garuda" mobile application, being deployed for the Football Association of Indonesia (PSSI).
The company even became part of the Microsoft Co-Sell Program, representing a significant step towards its channel partner plan and a significant expansion.
Audinate Group Limited
Audinate Group Limited (ASX: AD8), a provider of professional audio networking technologies worldwide, on 23 August 2019, reported a 34% increase in its revenue due to an upsurge of 29% in the consignments of chips, cards, modules and software of its professional AV-industry leading Dante® media networking solution. EBITDA increased by 395% year-on-year to A$2.8 million, while operating cash flow grew by 249% to A$3.6 million. Total Dante-enabled products increased by 30% to 2,134 and shipping of these products grew by 22% to 270 at end of 30 June 2019.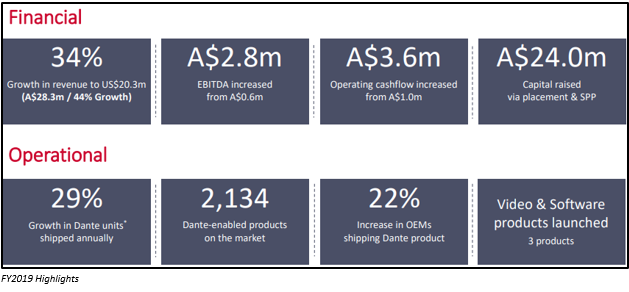 The company released two new software products, namely Dante Application Library™ and Dante Embedded Platform™ during the period. The company also made substantial expansion of Dante product offering. AD8 also made its debut into the video market with the release of its Dante AV Module and introduction of Dante AV Product Design Suite in June 2019.
Life360, Inc.
Life360, Inc. (ASX: 360), a San Francisco-based company providing location based application to customers to track their dear ones, released its half yearly results for the period ended 30 June 2019, on 22 August 2019, during which it delivered a 114% growth in revenue on a y-o-y basis. The result was the outcome of the record growth in monthly active users by 4.6 million. As a result, the global count reached 23.1 million. Both direct and indirect revenue sources contributed to the overall revenue. Direct revenue was supported by a 60% lift in Paying Circles along with Average Revenue Per Paying Circle. The EBITDA loss for the period was US$16.5 million, while net loss stood at US$17.1 million.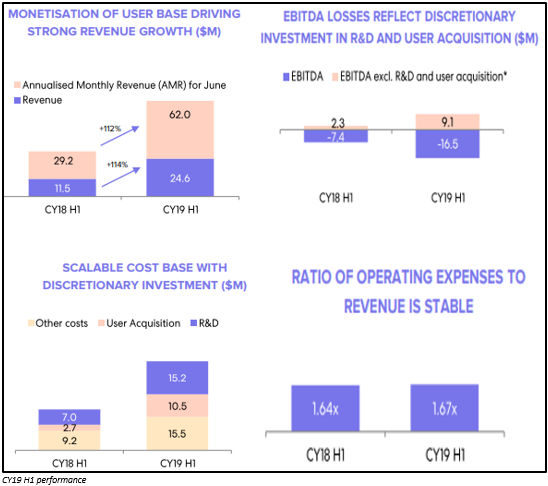 During the period, Life360 completed the rollout of new brand identity to update the brand "look and feel" to develop a strong bonding with its users. It also launched summer travel campaign, focusing on companies with the Driver Protect subscriptions package. The company expanded its product offerings by delivering auto insurance offers based on driving behaviour.
LiveHire Limited
LiveHire Limited (ASX: LVH), a provider of cloud-based human resources software and platform services, released its annual results for the year ended 30 June 2019, unveiling an increase of 59% in revenue to A$2.63 million and a significant loss of A$13.79 million, compared with a loss of A$10.09 million in FY18.
The principal activities of the company during the period included:
Supporting growing number of client implementations through direct sales as well as channel partners along with the adoption of the LiveHire technology.
Expansion of activities related to sales and marketing capabilities in Australia.
Establishment of LVH's first US sales channels through channel partners.
The company continued product development of the Talent Acquisition & Engagement Platform.
LVH signed 41 new agreements via Direct Sales and Partner Channels.
Continued traction via partners Korn Ferry as well as Manpower Services (Aust) Pty Ltd.
Made appointment to the senior leadership team.
ELMO Software Limited
ELMO Software Limited (ASX: ELO), a leading cloud-based HR & payroll solutions provider in Australia and New Zealand, is entering into a partnership with the University of Technology Sydney for developing AI driven Predictive Analytics solution. Once the product gets developed, it would support the company with further revenue opportunity and give an increased competitive advantage.
ELO released its FY2019 results on 15 August 2019 for the period ended 30 June 2019. Its revenue increased by 51% to $40.053 million, while net loss for the period increased by 341% to $13.180 million, as a result of increased costs from further appointments to support the business expansion in addition to costs due to acquisition of two businesses during the period. The company reported a 47.8% increase in its annual recurring revenue as compared to FY2018.
The company on 31 January 2019, completed the purchase of one of the top providers of cloud-based employee onboarding software, HROnboard Pty Limited for $10 million and BoxSuite Pty Limited, a SaaS, cloud-based expert in workplace rostering and time and attendance for casual as well as shift-based staffs, for $1.4 million.

Data# 3 Limited
Data# 3 Limited (ASX: DTL), an Australian business technology solutions provider, declared its full year results on 21 August 2019, at par with the guidance provided on 11 July 2019. The company's revenue increased by 19.8% to $1.4 billion, NPBT grew by 30.2% to $26.6 million, NPAT excluding minority interest went up by 28.7% to $18.1 million and EPS surged by 28.7% to 11.76 cents per share. Fully franked dividend for the year stood at 10.70 cents per share. The balance sheet of the company remained strong with minimal debt.
The company's performance during FY19 highlights the inherent strength along with the significance of solution offerings including consulting services, project services and support services, in a transforming market.
As per Chief Executive Officer and Managing Director of Data# 3 Limited, Laurence Baynham, the record result was driven by stable market conditions as well as continued growth from digital transformation projects in the company's core infrastructure. In FY2020, the company expects to continue to boost its strength and shareholder value.
BluGlass Limited
BluGlass Limited (ASX: BLG), an Australian semiconductor technology developer, on 28 August 2019 declared its FY2019 results, reporting a decline of 5.4% in revenue to A$2.51 million and a loss of A$14.42 million, up by 275.5%.
During the period, the company unveiled a significant technology breakthrough with the demo of RPCVD 'active as grown' tunnel junctions. RPCVD stands for remote plasma chemical vapour deposition and is used for the production of high-value semiconductor materials as well as chips whose application can be seen in millions of opto-electronic and power electronic devices. The company has also entered into discussions with potential customers and strategic partners with respect to the commercialisation and real-world application of RPCVD. In December 2018, the company demonstrated the functioning of tunnel junctions. Thus, taking advantage of the unique low temperature of RPCVD. The company is engaged in building its largest RPCVD platform to date that is compatible with modern LED manufacturing lines and is capable of multiple 6 inches wafers.
Subsequent to FY2019, in July 2019, the company commissioned BLG-300II, thereby bringing the newest RPCVD deposition system online. On 26 August 2019, BLG announced the formal opening of new laboratories at its state-of-the-art facility in Silverwater for the expansion of RPCVD development as well as commercialisation operations.
SenSen Networks Limited
SenSen Networks Limited (ASX: SNS), a company into video analytics and AI, on 27 August 2019 announced that it had secured an agreement under which SNS would be supplying an automated parking enforcement solution to Tweed Shire Council in association with Duncan Solutions, its distribution partner.
SenSen Networks Limited helps businesses in automating as well as improving the speed and accuracy of the decision-making process by integrating enterprise video along with sensor data acquisition, data fusion and big data analytics into a scalable as well as configurable platform.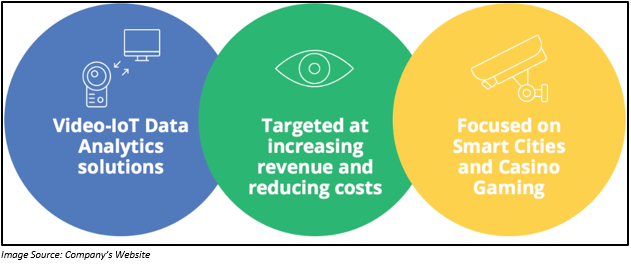 The contract would start in September 2019 and would incorporate the City's purchase of first SenFORCE mobile parking enforcement unit. The contract covers upfront revenue for systems, software as well as commissioning of the unit. The company would also be able to earn annual recurring revenues along with fees for the software license.
Skyfii Limited
Skyfii Limited (ASX: SKF), a global technology company that transforms the method through which companies collect, analyse and extract value from data, on 29 July 2019, released its Q4 FY2019 business review. In the quarter, the total operating revenues of the company was $2.45 million, a 9% increase on the previous quarter, while recurring revenue increased by 14% to $1.52 million and service revenue grew by 10% to $0.7 million.
Total cash receipts during the period declined by 17% as compared to Q3 FY2019. The position of cash by Q4 FY2019 end was $1.33 million. After the completion of Q4 FY2019, Skyfii concluded the acquisition of Beonic Tech, which ranks amongst the top customer insights providers focusing on camera and people counting technology in Australia.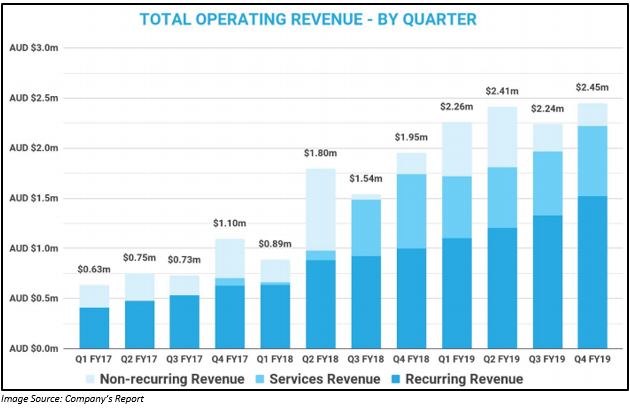 ---
Disclaimer
This website is a service of Kalkine Media Pty. Ltd. A.C.N. 629 651 672. The website has been prepared for informational purposes only and is not intended to be used as a complete source of information on any particular company. Kalkine Media does not in any way endorse or recommend individuals, products or services that may be discussed on this site. Our publications are NOT a solicitation or recommendation to buy, sell or hold. We are neither licensed nor qualified to provide investment advice.