Investing is the act of allocating and managing funds to an asset/diversified portfolio with the goal of generating income. The investing technique is not only for wealthy people; anyone can start investing with even a small amount.
Kinds of Investors
The investors engaged in the investment activity varies according to their tolerance to risk, investment knowledge, investing timeframe and many other aspects.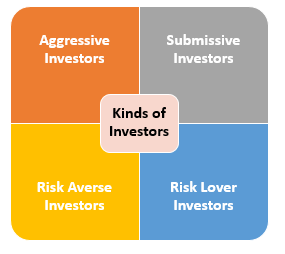 Aggressive Investors
Those who actively follows the stock market and intends to engage in every aspect of the investing experience are aggressive investors. Such investors spend a substantial amount of time in studying various aspects (fundamental versus technical) of the stock market to figure out the possible movement in the stock before the other investors could realise. These investors are always looking for new investment ideas and may participate in advanced investments like Forex (foreign currency exchange) and options trading.
The aggressive investors run their wealth like a business by not only earning the market based passive returns but also attaining a value-added return stream based on skills. They devote a lot of time in trading and are awarded with huge profits throughout the day.
Submissive Investors
Unlike aggressive investors, these investors do not try to look for maximum possible gains at all the time. They are also termed as the 'buy and hold' investors that hold the investment for a very long time. They try to maximize returns by reducing buying and selling and holding a customised portfolio selected for their needs. Such investors do not keep a watch on the day-to-day decisions of the companies' stocks they have invested in, relying on the controlling stakeholders and the management of the companies.
Submissive investors are more cautious while choosing their investments but become carefree while balancing and maintaining the investments. These types of investors usually invest in mutual funds, ETFs and a few high-quality blue-chip stocks.
Risk Averse Investors: Another category of investors is the risk averse investors that prefer choosing the low-risk option while selecting between two different investments. Out of a higher return investment with unknown risks and a lower return investment with lower risk, such investors go for low return investments. These investors might choose a risky investment if it is assured by a potential for greater returns.
From a wide range of investing options, the risk averse investors might choose to keep their hard-earned money in the savings bank account with a guaranteed interest rate rather than a stock with higher returns but greater risk.
Risk Lover Investors: In contrast to the risk averse investors, risk lover investors are willing to take higher risks in order to earn higher returns while investing. A risk lover investor moves towards extremely high potential pay-outs' investments even if it comes with a potentially greater loss. Such investors are willing to put their investments at stake to a certain extent if there is a possibility to get growing returns in an investment instead of stable and stagnant returns.
Being risk lovers, they like to invest in stocks and derivatives that have the potential to offer higher returns but come with a higher risk associated with it.
Reasons to Invest in the Stock Market
There are multiple options available to a person looking for investment including stocks, bonds, bank products, annuities, options, ETFs, real estate and much more. However, investment in the stock market is considered to be the only way to build your real wealth.
Why do people take the route of the stock market, that is riskier than other investment choices, to invest their hard-earned money?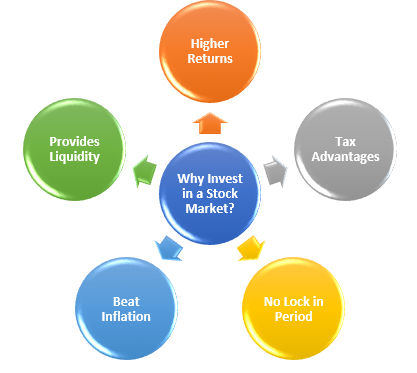 Here are a few reasons:
The stock market generally offers higher returns to investors, provided that the investment is done in the right stocks.
The stocks are a form of liquid assets that can be easily bought or sold in a day during the trading session, enabling investors to meet their financial emergencies.
Investment in stocks is a way to outpace inflation and grow wealth. People tend to lose money if they hold a savings account that is giving an interest rate lower than the rate of inflation instead of investing in stocks.
There are modest requirements for investment in the stock market. The research on the companies in which you are investing is the prime requirement.
The stock market does not have any lock-in-period, enabling investors to hold stocks as long as they want.
The online trading in stocks has also substantially lowered the brokerage fees associated with the stock trading.
Investing in stocks also help investors save taxes. Some countries offer tax rebates and other benefits for investing in the stock markets.
Investment Options in Australia
Australia is among the most robust economies in the world and offers several investment options for people seeking investment opportunities. The below mentioned are few of the investment options available in Australia:
Cash investments
Shares
Property - Real estate investment trusts (REITs)
Fixed interest or Fixed Income Investments
Exchange traded funds (ETFs)
Bonds
As per the ASX Australian Investor Study released in 2017, investors feel more confident while investing in shares, property or cash. The study revealed that shares are so far the most commonly held on-exchange investment in Australia, and more and more investors are seeking to invest in shares in the coming years.
Another Investing Report released in June 2018, "Russell Investments/ASX Long Term Investing Report" reported that Australian residential property was ranked as the best performing asset class by the investors for the last 10 and 20 years. However, Australia was about to witness a housing market slump then due to a consistent fall in the property prices. But now the property market is heading towards recovery amid the recent moves taken by the Reserve Bank of Australia and the Australian Prudential Regulation Authority (APRA) on interest rates and mortgage lending rules.
Australia's Investment Statistics
A recently released "Why Australia: Benchmark Report" by the Australian Securities and Investments Commission highlighted that Australia is a safe and secure place do business and invest in an uncertain world. The report mentioned that the trade and investment partners of Australia can benefit from the high-quality professional services available in the country, including education, healthcare, tourism and financial sector.
The country hosts ~AUD 3.6 trillion of foreign investment stock. The foreign direct investment (FDI) and other investments have recorded a strong growth of 8.8 per cent and 9.3 per cent, respectively on an average each year in Australia since 1998. The report stated that the total value of foreign investment stock in the country was at 193% in June 2018, which was nearly double to that of 2 decades ago.
As per the Department of Foreign Affairs and Trade, the UK and the US are the two biggest economies for Australian investment; Australia is the seventeenth largest international direct investor in the world that invests huge amounts of money in other economies. The total Australian money invested overseas at the end of 2018 was around 2.5 trillion out of which the Australian investments in the UK were $408 billion and investments in the US totalled $719 billion.
A Look at Trending Sectors for Investment in Australia
Investors are actively progressing towards investment in different Australian spaces through the equity market. These spaces are emerging strongly in the Australian market, offering differentiated opportunities. Let us have a look at few of these spaces below:
Cannabis Industry: The cannabis industry is flourishing after its legalisation across many countries in the world. The popularity of cannabis increased in Australia for medicinal purposes post the approval from the Australian government over the overseas export of cannabis products in January 2018. The market experts believe that the expected legalisation of recreational cannabis sales in Australia would add substantial revenue to the economy.
Read More on Cannabis Industry Here
Artificial Intelligence: The Australians have witnessed a rapid growth of technological advancement in the country in recent years with the introduction of Artificial Intelligence. The AI technology is likely to shape the future of the country with its ability to make a computer program perform tasks by thinking like human beings.
Read More on Artificial Intelligence Here
Gold Space: Gold has grabbed attention in the past few days with an improvement in its prices. This was due to the prevailing U.S-China trade war that created a gold rush in the international market. The stocks have become riskier amid the slowing global economy, urging investors to move towards safe-haven assets like gold.
Read More on Gold Here
Exchange-Traded Fund (ETF): Another investment category that has attracted investors is the Exchange-Traded Fund, an investment fund that trades on stock exchanges like stocks. It is a basket of securities that follows an underlying index. It has turned up as a demanding investment option among Australian investors in recent years.
Read More on ETFs Here
---
Disclaimer
This website is a service of Kalkine Media Pty. Ltd. A.C.N. 629 651 672. The website has been prepared for informational purposes only and is not intended to be used as a complete source of information on any particular company. Kalkine Media does not in any way endorse or recommend individuals, products or services that may be discussed on this site. Our publications are NOT a solicitation or recommendation to buy, sell or hold. We are neither licensed nor qualified to provide investment advice.