Definition
Related Definitions
Fallen Angel
What is a fallen angel?
A fallen angel is a type of bond that was once rated investment-grade but has now been demoted to junk bond classification in the investment industry. The issuer's financial status has deteriorated, resulting in the downgrading.
Moreover, a stock that has plummeted from its all-time highs is frequently referred to as a fallen angel.
Summary

A fallen angel bond has been downgraded to junk status due to its issuer's financial difficulties.
Its bonds offer more significant returns than investment-grade bonds, but they are also riskier.
Credit rating downgrades, mainly from investment grade to fallen angels, can negatively influence the ease and cost of raising debt for a company.
Frequently Asked Questions (FAQs)
What does the term "fallen angel" mean?
Fallen angel bonds are debt instruments such as sovereign, municipal, or corporate debt, that have been downgraded by a rating agency.
Bond downgrades are caused mainly by a drop in revenue, limiting the issuer's ability to service debt. When diminishing income are combined with rising debt levels, the likelihood of a downgrade increases exponentially.
Contrarian investors who want to profit from the issuer's possible recovery from a temporary setback are often drawn to fallen angel securities.
As per fund-specific covenants, the downgrade process typically begins with debt being put on a negative credit watch, which may oblige portfolio managers to sell assets. The downgrading to junk bond intensifies sale pressure, particularly from funds that are only allowed to hold investment-grade debt.
Fallen angel bonds can be valuable in the high-yield category if the issuer has a fair possibility of recovering from the downgrading.
There may be times when failed angel bond issuers cannot resurrect their businesses or regain their losses. For example, if a company's revenues are dropping due to the advent of superior items on the market, their product may be phased out entirely. Another example is the transition from VCR tapes to DVDs to streaming video, which resulted in VCR cassettes becoming obsolete.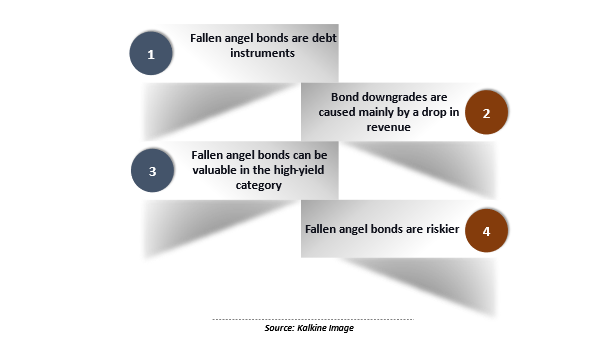 What is the function of a fallen angel?
For the past 10 years, Moody's has assigned Firm ABC an investment-grade rating of A, indicating that the agency feels ABC is a high-quality company with minimal credit risk.
Following a catastrophic economic slump, Company ABC saw a substantial decline in revenue for three consecutive quarters. As a result, Moody's lowered Company ABC's credit rating to CCC, a junk-bond classification reserved for speculative enterprises that may fail to meet their debt obligations. The bond of Company ABC would then be called a fallen angel.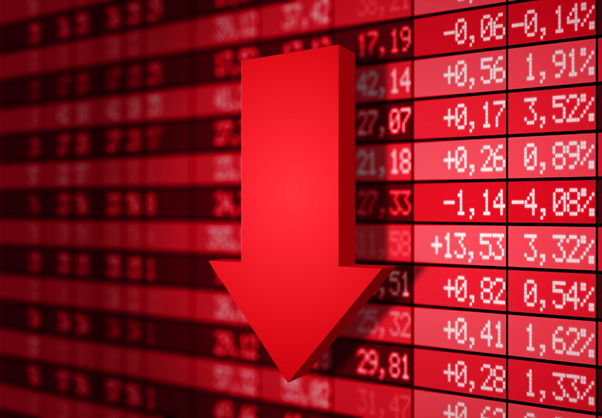 Source: © Thomaspajot | Megapixl.com
What is the importance of a fallen angel?
When investors realise that a bond's credit rating has been reduced to the level of a fallen angel, the bond's price often drops even further. This compounding reduction in value can have significant consequences for a corporation, leading to further falls and rate cuts in the future. Because changes in credit ratings can significantly influence the underlying firms, it is vital for investors that the agencies determining the assignments are unbiased.
Source: © Maciek905 | Megapixl.com
What happens if "angels fall"?
Downgrades in credit ratings, particularly from investment grade to fallen angels, can hurt the ease and cost of a company's debt issuing. Credit rating agencies (CRAs) determine whether an issuer and its obligations are "investment grade" (rated BBB- or higher) or "high yield" (rated BB+ or lower).
Furthermore, a downgrade can push investors to sell stocks because their investment mandates may limit the securities they can keep. It may also result in a significant increase in a company's bond financing costs and reduced market access.
Credit degradation and market repricing do not occur immediately after a downgrade; instead, they occur over time that usually precedes the actual downgrade. Although credit rating downgrades are always based on company-specific considerations, there is also a link between economic activity estimates and credit rating downgrades.
What are the dangers of putting money into fallen angels?
Due to the company's higher risk of default after reporting prolonged losses over several quarters due to dropping oil prices, an oil company's investment-grade bonds may reduce junk status. The company's bond prices will fall due to the rating, while its yields will rise, making them appealing to contrarian investors who regard low oil prices as a temporary circumstance.
Some fallen angels never return to their original circumstances. If a superior product is introduced to the market, for example, a company's revenues will decline. If a corporation fails to innovate, it will be phased out of the market, as evidenced by the transition from VCR cassettes to DVDs to streaming video.
Sovereign and municipal debt issuers may see their investment-grade bonds demoted to junk status thanks to a mixture of stagnating or declining tax revenues and rising debt levels. As debt repayments eat into diminishing income and more bonds are issued to fill the shortfall, these factors can generate a downward spiral toward default.
Source: © Zsoltercsei | Megapixl.com
How can a fallen angle generate high returns?
Even if your angels have fallen, you may still be able to profit from them. Investing during the security's temporary fallen angel status allows investors to access what they know as an investment-grade risk at a temporarily greater return by predicting a temporary downgrade.