Angel Investor
November 03, 2020
Team Kalkine
Who is an angel investor?
Angel investor is an individual who backs budding companies or start-ups with seed capital in exchange for ownership in the company. Often, angel investors provide money to help the businesses get off the ground.
Read: Things you might want to know about Angel Investing
Investments are also made to support businesses through challenging early stages. Angel investors are usually high net worth individuals, retired business executives, or entrepreneurs. They also provide mentorship to entrepreneurs.
The origin of the term comes from Broadway shows which were funded by wealthy individuals. These shows otherwise would have ceded operations due to unavailability of funds. Therefore, these wealthy individuals were called angels.
Professor William Wetzel, in his research, used the term angel to describe the individuals who supported entrepreneurs with seed capital. The motive of angel investors could be beyond just monetary return.
Innovative young companies need great deal of advice and connections in the industry circles, and angel investors provide advice, connections, and mentorship to the budding entrepreneurs.
Since there are no public exchanges for small private companies, entrepreneurs pursue angle investors through contacts, referrals, conferences, angel investor groups etc. Although there is no guarantee of a return, the magnitude could be large when business truns successful.
Funding is the need of every business. When a business is new, risky, and untested, the sources of funding are narrow. Angel investors are ready to take the risk and invest in the business in return of equity or ownership.
Angel group/networks are increasingly getting popular to channelise investments to the needy and deserving. These groups also brainstorm available opportunities in the start-up world and collectively undertake due diligence process.
Some angel investors are driven by societal causes like innovation, research, and social upliftment. They tend to invest in a business that is likely to have positive implications on society through its products or services.
Innovation and research continue to remain at the heart of the structural changes in the society and economies, and some angle investors find their kick in promoting such ideas, innovation, and businesses. For such investors, monetary gain is usually not the motive.
What angel investors usually look for?
Money does not come cheap. When founders seek capital, they are also diluting their interest in the business that could perhaps be worth a lot of money in future. Angel investors also look for many things before investing in a business.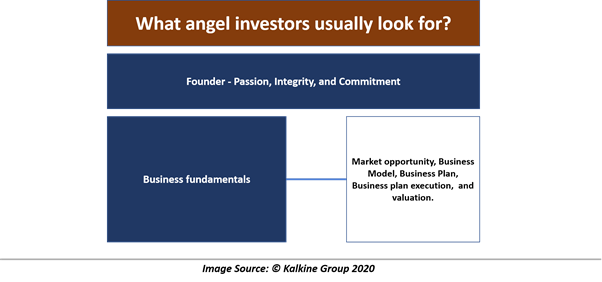 They value the passion, integrity, and commitment of the founders. Business fundamentals are also stressed, such as market opportunity, business model, business plan, evidence of progress towards a business plan, and valuation.
Intellectual property and innovation also remain crucial factors in dictating terms with investors. A business with strong and scalable intellectual property backed by solid innovation is always welcomed with both hands by the investors.
Finding angel investors could be a head-scratching exercise for founders. Angel investors prefer investing in businesses, which usually fall in their circle of competence. Capital raising can take time and involves a great level of exercise by the founders.
Angel investors are inclined to know in and out of business. They would like to know the unit economics of the business, cash burn rate, financial projections of future, amount of capital sought, application of funds, potential margins etc.
Founders should also have a definite plan of how they would scale their business. Angel investors are interested to know the approach of business to market its products, social media strategy, customer acquisition strategy, advertising etc.
Angel investing vs venture capital vs private equity
Venture capital is also a popular source of financing among start-ups. Angel investors can participate in a business that is yet to hit the ground and is in the pre-revenue stage, though this is not necessary. Venture capitalists tend to invest in businesses having a proven revenue model, customers and products.
Private equity investors invest when a business has proven revenue streams, products, cash flows, as well as profitable margins. They also look at whether the company is able to service debt.
Angel investors can invest in small sums of money because sometimes they invest in ideas where product development is far. Venture capital firms invest in companies that have a proven revenue stream and are likely to invest in millions.
Private equity firms typically engage in larger deals, including a takeover of the company. These firms usually invest in a business where they believe further value could be unlocked after taking control of the business. Deal size in private equity can go in billions.
Angel investors typically focus on founders, market opportunity and basic fundamentals of the investments. Venture capitalists emphasise on market share, growth opportunities, revenue margins, cash flows, leadership team, etc.
Private equity firms look into concrete financials of the business, including EBITDA, free cash flow, competitive advantages, market share. Their financial due diligence also includes due diligence of business fundamentals.