Definition
Related Definitions
Entrepreneur
What is an entrepreneur?
Entrepreneurs are those who start a new business to generate a profit, identify a market need and strive to meet those requirements, face bulk of the risks and reap the majority of the gains.
To reach the pinnacles of an entrepreneur's career, one must have unwavering faith, perseverance and a laser concentration on delivering. Moreover, being an entrepreneur necessitates a complete acceptance of unpredictability and a willingness to face challenges regularly. Entrepreneurs are crucial to bringing the economy's growth because they possess the skills and initiative to anticipate needs and bring innovative ideas to market.
What an entrepreneur is?
Those who dared to take a risk and establish startups would be rewarded with fame, wealth, and future prospects for expansion if they would be successful. Those who fail, on the other hand, suffer defeats and have a lower market presence. But if one has the desire, there is a way out of failure.
Summary

Entrepreneurs are those who start a new business to generate a profit, face the bulk of the risks, and reap most of the gains.
Being an entrepreneur necessitates a complete acceptance of unpredictability and a willingness to face challenges regularly.
An entrepreneur must be courageous, assess and accept risks, and not lose hope in the face of setbacks.
Frequently Asked Questions (FAQs)
What is the process of entrepreneurship?
Entrepreneurs are generally viewed as innovators, providing new ideas, services, and commodities. Entrepreneurship focuses on the elements that economists believe are essential to manufacturing:
Source: Kalkine Media
All of them are combined by entrepreneurs to produce commodities or provide services. They usually develop a business plan, get resources and finance, hire employees, and provide leadership and management.
On the other hand, being an entrepreneur is not easy; it necessitates a great deal of courage to confront several challenges when in establishing bus inesses. The majority of people regard the following aspects to be the most challenging:

Source: Kalkine Media
Three thinkers who influenced the inclusion of entrepreneurs are listed below:
Joseph Schumpeter, Australian Economist

Frank Knight, Americal Economist

Israel Kirzner, American Economist
Source: Kalkine Media
What are the traits of a successful entrepreneur?
A few traits of a successful entrepreneur mention below.
Ready to face Challenges
There is a significant danger of failure when starting a new business. Thus, an entrepreneur must be courageous, assess and accept risks, and not lose hope in the face of setbacks.
Innovative
Innovation leads to the creation of new products on the market. To develop fresh ideas, set up a business, and profit from it, entrepreneurs must be incredibly innovative. "Change" can refer to introducing a brand-new product to the market, and entrepreneurs must be very innovative to shape the change into the new product.
Leadership quality
An efficient and effective leader, according to the concept of transformational leadership, is someone who does the following:
Creates an enthralling future vision.
Inspires and motivates others to participate in that vision.
Oversees the vision's implementation.
Coaches and develops a team to be more effective in accomplishing the vision.
To succeed, the entrepreneur must have a clear vision of his new business. However, a large number of personnel and funds are required to make the vision a reality. An entrepreneur must possess strong leadership qualities to show employees the way to success. Employees are motivated and strive for the company's success when a good leader surrounds them. In the opposite case, if an entrepreneur fails to demonstrate good leadership, the business may fail.
Open-minded
It is critical to recognise opportunities when running a firm. Any circumstance could be viewed as an opportunity for the purpose of business. For instance, Google Pay, Paytm, PayPal saw the gravity of demonetisation and realised that the need for online transactions would increase even more. Hence, they took advantage of the situation and grew rapidly during this time. As a result, these organisations were successful in changing people's payment behaviours from cash to digital.
Flexible
An entrepreneur must be flexible and willing to adjust based on the circumstances. Likewise, business owners must adapt to changes in their products and services as they arise to stay at the top.
Knowledgeable
A business owner must be aware of product offers and the industry's newest trends and customer demand. It's critical to determine whether the available product or service satisfies the current market's needs or whether now is the right moment to make changes.
What are the various kinds of entrepreneurship?
Entrepreneurs can build different types of businesses mentioned below.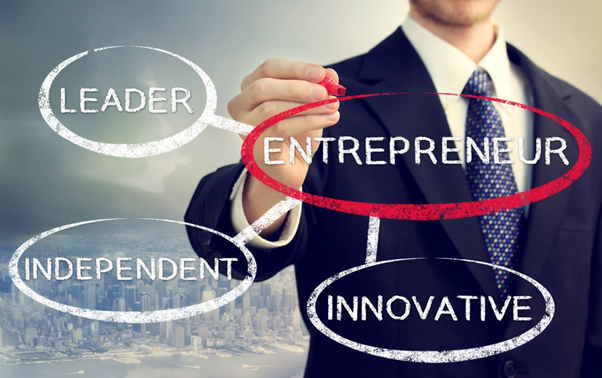 Source: © Melpomenem | Megapixl.com
Small Business Entrepreneurship
Entrepreneurs can form a business without having to open multiple branches or grow it into a major corporation. The following is a collection of small business entrepreneurship ideas –
A retail shop
A single-location restaurant
A grocery shop
Small business owners generally invest their capital and thrive if their company makes a profit. They do not, however, require outside funding and will only take out a loan if necessary.
Social Entrepreneurship
Social entrepreneurship aims to provide a competitive advantage for humanity and society. They focus their goods and services on benefiting communities or the environment, and they are not primarily run for profit.
Large Company
Large company entrepreneurship is the formation of a new business segment within an existing corporation.
Scalable Startup
These businesses begin with a unique concept to innovate with a unique good or service and expand. These businesses frequently require investors and substantial sums of money to expand their vision and reach new markets.