Summary

The growing adoption of relatively new concepts such as new banks and industries such as BNPL has seen the rise of various start-ups in the Australian economy.
With technology being at the forefront of almost every industry, several new tech players have emerged carving a niche for themselves.
Targeting SMEs, Judo Bank entered unchartered territories and has succeeded via its relationship banking model.
Workplace collaboration platform Canva profited the pandemic-led paradigm shift where businesses moved online to stay operation; Company valued at US$6 billion in June
Neobank Xinja revolutionalised the banking industry through the implementation of AI and mobile tech to assist customers.
A lot has been happening lately in the corporate world, and things have taken a different turn for businesses. Off late, numerous domestic start-ups have pouched significant attention from global players and are giving established businesses a run for their money.
Trends across the globe have indicated that technology shall play a pivotal role in steering prosperity in the future. On the back of this notion, we are presently witnessing substantial swell of new tech firms rising at a faster pace.
Notably, in recent years ASX-listed tech stocks have started to substantially outperform the market, with numerous junior tech companies witnessing skyrocketing share prices.
Interesting Read: Investment in Technology Stocks - A Beginner's Guide
More significantly, there has been a thick and fast organic growth across several Australian start-ups and primarily indicates the spiralling success of Australian start-ups.
Let us look at five such start-ups that are creating all the buzz around.
Judo Bank
First Australian SME-focused challenger bank, Judo Bank offers business lending solutions beginning from A$250,000 for small to medium-sized businesses while providing an authentic choice for SMEs to secure the required funding and better service.

Source: Judo Website
In April 2020, Judo announced an intended investment into a Judo lending warehouse of A$500 million by the Australian Office of Financial Management, offering further funding straight to Australian SMEs.
An initial A$250 million would be invested into the Judo lending warehouse, which would be used to provide credit to SMEs countrywide. An additional A$250 million investment is anticipated by way of the Federal Government's A$15 billion Structured Finance Support Fund announced recently.
Judo's relationship banking model underpins its success, and the investments by the ABSF and the SFSF have taken place in time to influence directly and positively small as well as medium-sized enterprises across Australia.
ALSO READ: Tale of Judo Bank: The Latest FinTech Unicorn Amid COVID-19 Crisis
Canva
Founded in 2012, Canva is amongst the most talked-about start-ups of Australia recently. Canva offers design presentations, social media graphics, and more with thousands of beautiful layouts that can be customised using millions of images, photo filters, free icons and shapes and hundreds of fonts.
Presently, Canva is used by millions of users worldwide.
The Company achieved a widely recognised milestone of being the only private tech company formally valued at more than US$1 billion in Australia while moving into 2019.
In 2018, the Sydney software start-up raised a round of venture funding which valued it at US$1 billion, and this pushed Canva into the unicorn category of private tech companies with valuations higher than US$1 billion.
Off late, Canva boasts a new valuation of US$6 billion from US$3.2 billion after raising a US$60 million round backed by its growing prominence as a workplace collaboration platform fuelled by its robust performance in user growth.
Significantly, the need for organisations to develop a reliable remote workplace has escalated more than ever, and they are looking up to modern productivity platforms like Canva to assist in staying flexible as well as scalable.
Canva can affirm its position as a significant workplace collaboration suite with more than 500,000 organisations, more than 90,000 schools and universities worldwide, over 55,000 non-profit organisations like the WHO collaborating with Canva.
Earlier, in February, Canva had partnered with LivTiles Limited (ASX:LVT) where the latter will incorporate Canva's design platform in its services.
Airwallex
Founded in 2015, Airwallex is a global fintech leader that connects businesses and people through smart cross-border payment technology to simplify and enhance their lives ultimately. Over a short period, the business has grown beyond 420 employees across ten global offices.
The Melbourne-based fintech start-up entered the unicorn club in March 2019 when the start-up raised US$100m at a valuation over US$1 billion. More than US$360 million have been secured since its inception in external funding, which is supported by top global investors like Tencent, Hillhouse Capital, Sequoia Capital China, Horizons Ventures and many more.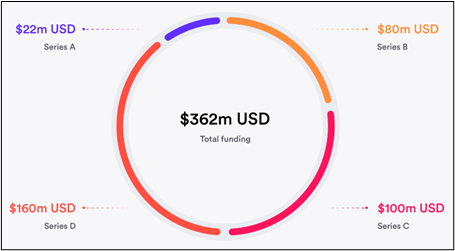 Source: Airwallex Website
Most recently, Airwallex closed its Series D fundraising round at US$160 million, its biggest raise to date, in mid-April 2020. Proceeds from this round of funding shall be used towards the following:
Step Up global growth via customer acquisition and licensing, especially in Europe and the US, as well as new markets like the Middle East.
Growing its product line to incorporate payment receipt capabilities via a patented gateway solution and partner integration.
Investigating acquisitions in the payments space to push offerings
The business is underpinned by its proprietary tech-driven infrastructure that enables low-cost, high-speed, and transparent international collections and payments. Moreover, its business account and borderless card help businesses grow both locally as well as globally.
Xinja Bank
Xinja is an independent, 100% digital neo bank revolutionising banking experience by employing Artificial Intelligence and mobile technology to help customers in tracking their spending as well as saving.
Launched in May 2017, Xinja was granted a full banking licence in September 2019 and now has over 45,000 accounts and more than A$450 million in deposits. Moreover, Xinja's very first app and a prepaid card launched before transaction accounts and a saving account referred to as Stash, which attracted around A$400 million in deposits in less than eight weeks.
Recently, Xinja bagged a multimillion-dollar investment through a 24-month cash injection of A$433 million from the United Arab Emirates wealth fund, with an initial investment of A$160 million. The residual A$273 million shall be accessible to be drawn in several tranches over the next two years as required by Xinja Bank's growth.
DO READ: Opportunities and Challenges for Neobanks in the Present Scenario
uno
Founded in May 2016 after years of innovating in financial technology from Australia to Silicon Valley, uno is Australia's first Active Home Loan Manager which looks after the largest household expense of customers, the home loans.
uno utilises its unique loanScore technology to analyse the home loans of our customers and trace opportunities where customers can save and help them negotiate better deals through experienced brokers.
loanScore is at the heart of Active Home Loan Management and is a simple way to check if the home loan is a good deal by analysing customer's home loan every day against thousands of home loan alternatives in the market.
The business is paid a commission when a home loan is settled and a progressive trail commission every following year a customer has that loan, just like other mortgage brokers.
More significantly, uno's vision is supported by Westpac.