Summary

Renascor's steady endeavours at multiple projects have allowed it to leverage off the timely growth potential offered by varying commodities.
The Company has been engaged in integrating Purified Spherical Graphite (PSG) processing operations with its Siviour Graphite Project, providing exposure to the high growth battery market by offering supply chain diversity outside of China at a time of increasing tension over critical minerals like graphite.
As gold continues to trade at near record levels, significant gold exploration undertakings have been undertaken at Carnding Gold Project and its Soyuz Prospect.
Growth momentum of different projects appears to position Renascor well to tap the lucrative market opportunities.
The prevailing scenario dominated by increasing electric vehicles take-up and skyrocketing gold prices appears to widen the exploration prospects of key projects held by Renascor Resources Limited (ASX: RNU). The Company piggybacking its extensive resources is advancing on the right track, as it continues to turn lucrative opportunities into successful outcomes.
ALSO READ: Renascor's Success-Churning Ride: An Impressive Symbiosis of Lucrative Prospects and Strategic Efforts
Renascor's planned and well-balanced approach in managing different projects has served as a catalyst for growth. Notably, the Company had advanced its 100% owned Carnding Gold Project focussed on near-surface, high-grade gold in an emerging South Australia gold province. Simultaneously, the Company has progressed its Siviour Graphite Project, including with the recent conclusion of a Battery Anode Material Study that confirms the potential to offer low-cost Purified Spherical Graphite to the emerging battery minerals market.
The recent advancements are a testament to the Company's dynamic methodology, which is in rhythm with its steady style of developments focussing on different aspects of growth.
With this backdrop, let us delve into recent undertakings of the Company at different projects that seem boosting the growth trajectory of its exploration activities.
ALSO READ: Lens through the Corporate Directory of Renascor Resources
Exploration Undertakings at Carnding Gold Project
Expansion of the Project
Renascor's recent gold activity includes expanding its Carnding Gold Project in the Central Gawler Craton. The recently acquired area in this emerging gold province includes the area immediately north of the Soyuz Prospect. Previously, initial shallow drilling at the prospect returned anomalous to highly anomalous gold intercepts, including
7m @ 5.14g/t Au from 26m to end of hole, including 2m @ 16.42 g/t Au from 30m
6m @ 4.94g/t Au from 14m
Soyuz, Mir and Sunshine gold prospects are the newly identified prospects at the project.
The newly approved exploration licence application incorporates an extension of a large magnetic anomaly at the Soyuz prospect, concerning a discrete portion of a fractionated Hiltaba Suite intrusion. The extended project area also encompasses geochemical gold anomalies.
Multiple New Shallow Gold Intercepts
Renascor has identified multiple drill-ready gold targets along-strike from the Soyuz prospect at the Carnding Project. Well-defined soil geochemical multi-element rare earth-uranium anomalies are also hosted by the Soyuz, thereby offering the potential for shallow and high-grade gold as well as rare earth minerals.
ALSO READ: Remarkable Bonanza for Renascor with Shallow Gold Intercepts in Central Gawler Craton
Additional shallow gold targets are also hosted by the project. Previous drilling at the targets intersected gold including 10m @ 1.44g/t Au from 56m, including 2m @ 6.65 g/t Au from 60m.
The Central Gawler Craton region of South Australia is quickly emerging as the centre of increased gold exploration and development. Recent activity includes the proposed redevelopment of high-grade Tarcoola gold mine, stationed approximately 20km from Renascor's gold prospects.
Advancing Well on Soyuz Prospect
Renascor is progressing its exploration endeavours at the Soyuz Prospect. Multiple shallow, untested gold targets along-strike have been identified along-strike from the prospect.
An induced polarisation survey identified the new targets, confirming an anomalous zone lying within a coincident geochemical and magnetic anomaly. It lies ~500m along-strike of the previous high-grade drilling at the prospect.
The Company believes that the IP zone contains high priority drill targets and plans on incorporating the IP anomaly in forthcoming drilling programs planned at Soyuz.
Noteworthy PSG Related Developments at Siviour Graphite Project
Renascor is making significant progress in advancing its 100%-owned Siviour Graphite Project in South Australia, with Battery Anode Material Study confirming the value of integrating Purified Spherical Graphite (PSG) processing operations with its Siviour Project. The key findings of the study confirm the integration to be a world-class, low-OPEX project with compelling economics and alignment with off-takers.
The PSG integration would facilitate the diversification of PSG supply chain outside of China, which currently commands 100% of PSG production.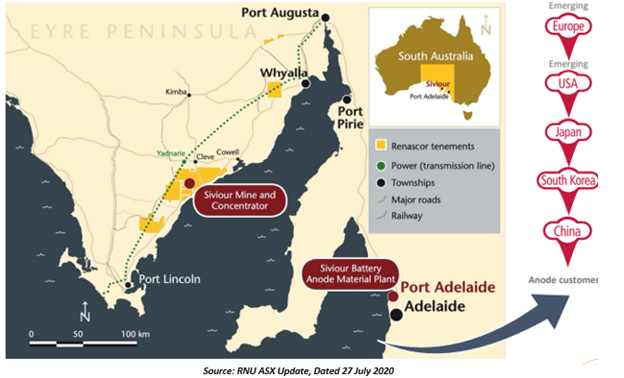 German graphite specialist ProGraphite GmbH conducted independent purification tests validating the ability to process Siviour graphite into high-value PSG via more environmentally friendly caustic roast purification method. The independent qualification tests have further confirmed that Siviour PSG conforms with the product specifications needed to integrate PSG into lithium-ion battery anodes.
Moreover, Siviour Project was confirmed as the largest reported total Ore Reserve of graphite outside of Africa by the Update Mineral Ore Reserve (MRE) estimate. The MRE also confirmed it as the world's second-largest reported Proven Reserve of graphite in the world.
Renascor's exploration and development focus aligns with the dynamic trends and prospects, as the Company taps its projects' high-grade, mineral-rich potential to churn out impressive results. Meanwhile, the steady progress bolstered by well-balanced approach seems to put its robust projects on the sweet spot.
Notably, RNU stock on 9 September 2020 (AEST 12:05 PM) traded at $0.011. The stock, hitching a ride on the recent exploration activities, has appreciated by over 71% in the past six months.
With the pandemic continuing to affect the globe, healthcare companies are evaluating their lead compounds for COVID-19 treatment. Future revenue for these stocks depends on the probability of launching an approved treatment in the market.
CLICK HERE FOR YOUR FREE REPORT!