Summary

Invictus Energy's asset portfolio consists of highly prospective 250k acres within the Cabora Bassa Basin in Zimbabwe.
The world class Cabora Bassa Project has unique combination of low-cost entry, long dated and relatively low-cost work commitments owing to its onshore location with good infrastructure, substantial scale in terms of prospectivity .and running room upon success, along with multiple monetisation pathways.
While Board & Management has focused on reducing costs in the wake of COVID-19, recently secured funding from Mangwana ensures that the Project spending is unaffected and exploration program remains on track.
Recent addition of Mr Joe Mutizwa, one of Zimbabwe's most senior and respected businessmen is likely to add tremendous value to Invictus & the Project
Currently developing the world class Cabora Bassa project in Zimbabwe, independent oil and gas explorer Invictus Energy Limited (ASX:IVZ) is focused on high impact energy resources in sub-Saharan Africa. The Company has been making significant progress at its 80 % owned and operated Special Grant 4571 licence- Cabora Bassa Project, which was classified as a priority development project by the Office of the President and Cabinet of Zimbabwe in the March 2020 quarter.
GOOD READ: Invictus Energy: Lens through Strategies and Asset Overview
Continuing its progress spree, the Company revealed two significant updates on 8 July 2020, pertaining to strategic placement completion along with a key managerial appointment. Post the market update, IVZ stock soared up by 10.34 % mid-day to $0.032, eventually settling the day's trade at $ 0.29.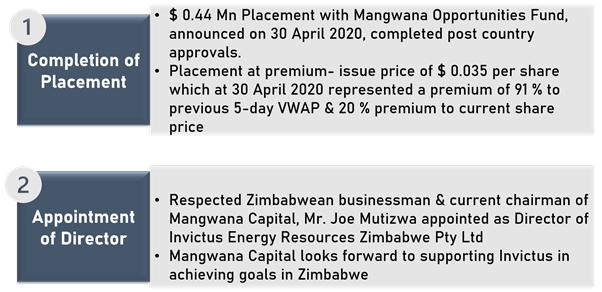 Completion of Placement at a Premium
On 30 April 2020, Invictus signed a binding share subscription agreement with strategic Zimbabwe institutional investor Mangwana Opportunities Fund and a Placement was agreed for 12.5 million shares to raise $ 0.44 million.
The Placement has finally concluded at a premium, with the share subscription agreement raising an equivalent of $ 0.44 million via placement of 12,564,143 shares at an issue price of $ 0.035 per share. The issue price, as at 30 April 2020, represented a premium of 91% to previous 5-day VWAP and 20% premium to current share price.
The completion of Placement followed approval received from the Reserve Bank of Zimbabwe Exchange Control authority, which was a condition precedent to the completion. Besides, the shares issued to Mangwana will be held in escrow for six months from the date of completion.
According to Invictus, funds raised from the placement is expected to be used to-
advance the Cabora Bassa Project- preparatory works in project region, on the ground activity
benefit Invictus' CSR program within Muzarabani and Mbire Districts along with other in-country activities
Moreover, the Company notified that the share subscription agreement makes provision for an additional equity investment by Mangwana for the Cabora Bassa project over the next 12-24 months, supporting Invictus in accomplishing strategic goals in Zimbabwe.
New Director On Board
Noted Zimbabwean businessperson and currently the Chair of Mangwana Capital, Mr. Joe Mutizwa has been appointed as Director of Invictus' 100% owned local subsidiary Invictus Energy Resources Zimbabwe Pty Ltd, communicated earlier on 30 April 2020 as well.
Company MD Scott Macmillan welcomed Mangwana to Invictus' register as a strategic investor, stating that the partnership is already beginning to bear fruits and Mangwana has been supporting Invictus in Zimbabwe in advancing key objectives such as the Production sharing Agreement and other regulatory approvals for the Project.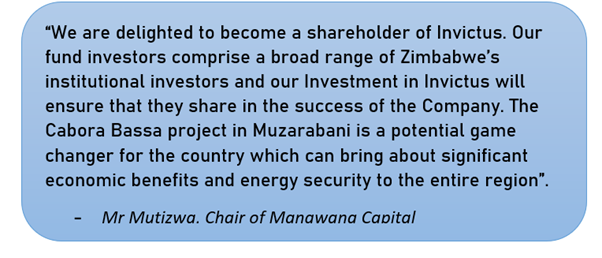 Acquainting with Mangwana Opportunities Fund & Joe Mutziwa
Mangwana Opportunities Fund is a closed end investment company, that is investor-owned. It is managed by Mangwana Capital and funded by institutional investors from Zimbabwe including pension funds. Primarily, it invests in agriculture, mining as well as tourism fields with investment horizon of a decade. It has prescribed asset status and was awarded tax exempt status by the Ministry of Finance.
Mr Mutziwa served for ten years as Chief Executive of Delta Corporation, which is amongst the largest listed companies in Zimbabwe and took early retirement in 2012. Currently, he is part of Presidential Advisory Council, a body appointed by Zimbabwe's President, His Excellency CDE E.D Mnangagwa. The Council consists of experts and leaders from diverse sectors who advise and assist the President in devising key economic policies and strategies. He also chairs the Board of Star Africa Corporation Zimbabwe and the Infrastructure Development Bank of Zimbabwe.
Besides, Mr Mutziwa served on the Board of the Reserve Bank of Zimbabwe during 2015-19. He has a BSc degree from The London School of Economics, MBA from the University of Zimbabwe and an MSc from HEC – Paris and Oxford University.
Invictus seems to be decently positioned amidst huge opportunity in the NZ energy market which is chronically undersupplied and likely to become even more challenging. As it gears up to achieve its goals in Zimbabwe and advance the Cabora Bassa Project, the recent Placement and key Board addition is likely to support further developments.
MUST WATCH! IVZ Overview
(Note: All currency in AUD unless specified otherwise)