Understanding Dividend
Dividend is the amount paid by a company to its shareholders when it earns a profit. From the net profit earned, a certain portion is kept by the company into reserves for its further growth and development, while the remaining amount is distributed among the shareholders in the form of a dividend. The amount to be distributed is decided by the board of directors.
Dividend is paid in cash or in the form of shares or other property. Each dividend paying company has a different timeline for paying dividends. Some pay on a quarterly, half yearly or annually basis, while some make regular dividend distribution.
Dividend Yield and Its Importance
Dividend yield is calculated by dividing the dividend amount paid for each share by the market price of the share. It measures the amount of income secured in proportion to the price of the share.
A lower dividend yield is an indication of either of the two facts:
Market price of the share is high, reflecting market anticipations of a better scope of the company.
Dividend yield could also be lower because of the lower annual dividend paid by the company.
On the other side, a higher dividend yield indicates that the shares are trading in the market below their annual dividend amount paid.
Dividend is a cash inflow to investors or a source of income, which is an addition to capital appreciation. Investors consider dividend paying stocks as a measure of stability in tough times. Additionally, dividend helps in understanding the financial health of a company. A company's willingness, as well as its potential to pay a dividend indicates the fundamental strength of the company. Moreover, it highlights the company's future prospects and performance.
Dividends have a significant meaning to several investors, as it is the evidence of a company's profitability and its prospects.
One player listed on the Australian Stock Exchange that has been a consistent dividend payer is Medibank Private Limited. Let us have a look at the company's business and recent developments.
Medibank Private Limited - Company Overview
Medibank Private Limited (ASX: MPL) is a private health insurance company, which focuses on improving the lives of Aussies by offering them with the best combination of products, services and advice. The company considers itself as a healthcare player that is committed towards offering affordable healthcare to its customers. Additionally, MPL is playing a crucial role towards boosting the health system of the country by partnering with both the government and health professionals on new methods for providing care and delivering reform. Medibank and ahm are the two brands of the company.
Services/Products Offered - Health Insurance, Travel, Pet and Life Insurance
Business
As at 30 June 2019, the company had 3.77 million customers, capturing a 26.9% market share.
The company supports more than 1.3 million hospital admissions, in addition to over 24.3 million extra services and more than 500,000 surgical procedures.
In the financial year 2019, $5.4 billion benefits were paid for clients.
Medibank Private employs a staff of 3,828 people, including 1,300 health professionals.
FY2019 Highlights
The company reported a solid performance in FY2019 for the period ended 30 June 2019.
Revenue generated by the company through Health Insurance premium increased from $6,319.5 million in FY2018 to $6,470.7 million in FY2019.
Revenue through Medibank Health increased by 24% to $185.1 million in FY2019 as compared to the previous corresponding period.
Overall, revenue generated via continued operations increased by 2.9% to $6,655.8 million on pcp.
Revenue from discontinued operations grew by 3.7% to $453.9 million on pcp.
Operating profit through Medibank Health increased by 27.0% to $22.1 million.
Net profit after tax attributable to the shareholders of the company increased by 3.1% to $ 458.7 million.
The company declared a fully franked final dividend of 7.40 cents per share for the six months' period ended 30 June 2019 and a special dividend of 2.50 cents per share (fully franked). Both the dividends are scheduled for payment on 26 September 2019.
Balance sheet of the company remained strong in FY2019. The company's net assets increased from $1,829.2 million in FY2018 to $1,935.4 million in FY2019 as a result of an increase in total assets, followed by a fall in the total liabilities.
The net cash inflow from the operating activities increased from $408.3 million in FY2018 to $ 416.1 million in FY2019.
The company in FY2018 had a net cash flow in FY2018 worth $190.8 million. It improved in FY2019.
The company reported a cash inflow of $129.1 million via investing activities and net cash outflow from financing activities stood at $358.8 million.
Net cash and cash equivalents by the end of FY2019 (30 June 2019) reached $656.5 million.
Outlook
Medibank Private Limited is expecting flat overall PHI market volumes.
Owing to the current policyholder trajectory, the company expects to see stability in the Medibank brand volumes by the FY2020 closure, while growth expected in FY2021.
Growth in hospital and extras utilisation is expected to remain at the existing levels during FY2020.
The company expects prostheses expenses to add modestly to claims growth in FY2020 when compared with FY2019.
The management expenses in FY2020 are likely to go down as compared to FY2019.
The dividend payout ratio is anticipated to be at the top end of the 75%-85% revised target range.
Focus during FY2020 would be towards inorganic growth for Medibank Health as well as PHI.
MPL Dividend History
In the past 5 years, Medibank Private Limited has consistently provided its shareholders with a dividend. Each year since FY2015 till FY2019, the company's dividend payment grew year on year. The annual dividend amount which was at $0.05 per share in FY2015 reached $0.16 per share in FY2019, thereby highlighting the dividend paying potential and sound financial health of the company.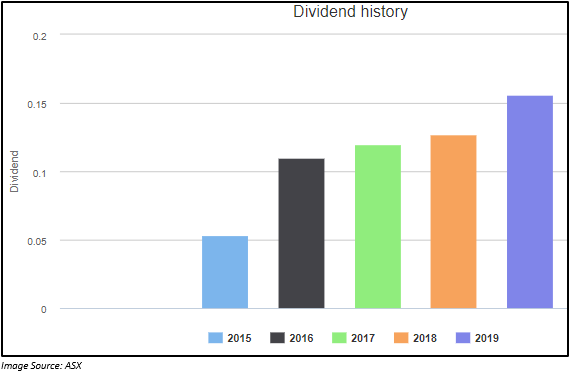 Stock Performance
The shares of Medibank Private Limited have generated a decent YTD return of 35.36%. The shares on 27 September 2019 opened at a price of $3.390, up from $3.360 (last closing price). The shares were trading at a price of $3.440 on 27 September 2019 (AEST 01:56 PM), up by 2.381% from its previous closing price. Around 2,609,769 shares of MPL were trading on ASX. MPL has a market capitalisation of $9.25 billion with approximately 2.75 billion outstanding shares, annual dividend yield of 3.9% and PE ratio of 20.12x.
---
Disclaimer
This website is a service of Kalkine Media Pty. Ltd. A.C.N. 629 651 672. The website has been prepared for informational purposes only and is not intended to be used as a complete source of information on any particular company. Kalkine Media does not in any way endorse or recommend individuals, products or services that may be discussed on this site. Our publications are NOT a solicitation or recommendation to buy, sell or hold. We are neither licensed nor qualified to provide investment advice