The S&P/ASX 200 Health Care Index closed higher at 36,739.2, edging up 0.06% by 22.8 points while the S&P/ASX 200 Information Technology Index also climbed up 0.2% to settle at 1393.0 at the end of trading session on 3 September 2019. Let's take a look at the core business and recent developments of the following companies from the sectors mentioned above.
Medibank Private Limited
Medibank Private Limited (ASX: MPL), based in Docklands, Australia, is a healthcare sector company engaged in the provision of private health insurance and health solutions to over 3.7 million customers in Australia. The range of services offered includes health, travel, pet, and life coverage to overseas students and visitors.
Medibank's market capitalisation stands at around AUD 9.97 billion with ~ 2.75 billion outstanding shares. On 3 September 2019, the MPL stock price settled the day's trading at AUD 3.540, down 2.21% by AUD 0.080 with ~ 8.03 million shares traded. In addition, MPL has delivered positive returns of 44.80% year-to-date, 25.26% for the past 6 months, and 11.38% for the last 3 months. The company's annual dividend yield stands at around 3.62% to date (as per ASX).
Medibank and ahm Response to ACCC Proceedings- On the same day, Medibank Private and ahm reverted to the Australian Competition and Consumer Commission (ACCC) proceedings concerning an issue identifying eligibility when responding to customer enquiries and paying claims for joint investigations and reconstruction procedures for customers on ahm Boost and Lite products.
The ahm Boost and Lite products provided customers with benefits for all joint investigation and reconstruction Medicare Benefits Schedule (MBS) items. However, in 2017, Medibank identified that not all MBS item codes were applicable to this category following customer complaints, which led to the execution of an internal investigation into the issue. Medibank voluntarily notified the ACCC of the issue in 2018 and subsequently, ahm contacted around 130,000 customers in 2018 and paid compensation totalling ~ $ 745,691 to around 175 customers that were affected by the error.
The issue was caused by an internal process failure.
Full Year FY19 Results - On 22 August 2019, Medibank Private announced its results for the financial year ended 30 June 2019, posting Group NPAT from total operations at $ 458.7 million, an increase of 3.1% on $ 445.1 million recorded in FY18, driven primarily by the upswing in Health Insurance operating profit and net investment income. The company's Health Insurance operating profit increased by 1.3% to $ 542.5 million and at a fund level, Medibank Private grew net resident policyholder numbers by 15,100, or 0.8%, reflecting the company's dual brand strategy, improvement in the acquisition and retention of customers, and aspiration for growth at a reasonable margin.
The board also determined a final ordinary dividend of 7.40 cents per share (fully franked), bringing the full-year ordinary dividend to 13.10 cents per share, representing a payout ratio of 80% of the underlying NPAT.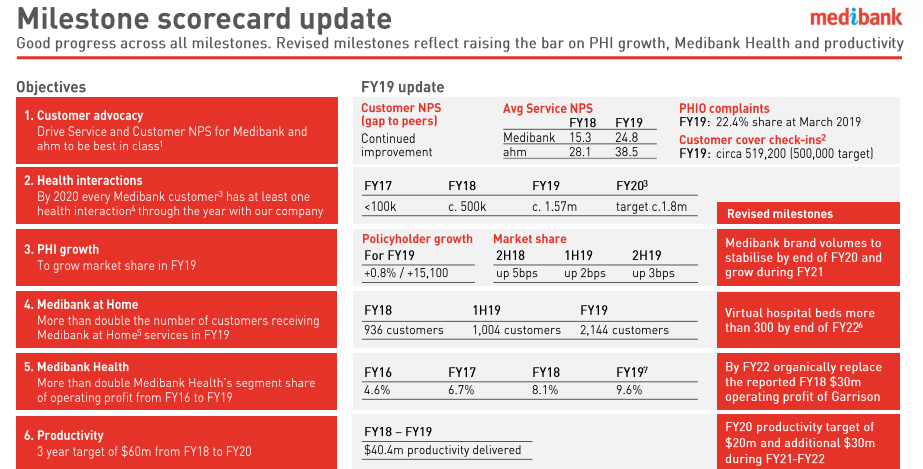 Source: FY19 Results - Investor Presentation
As for the FY2020 outlook, the company's Health Insurance business is well-positioned to grow, and Medibank is gearing up to become a leader in the in-home care market.
Buddy Technologies Limited
Buddy Technologies Limited (ASX: BUD), headquartered in Adelaide, Australia, operates two core businesses comprising Commercial Business and Consumer Business, and assists customers of any size "make every space smarter". The company's two primary offerings include Buddy Ohm and Buddy Managed Services that help customers to fully utilise digital technologies and their advantages in a strategic and sustainable manner.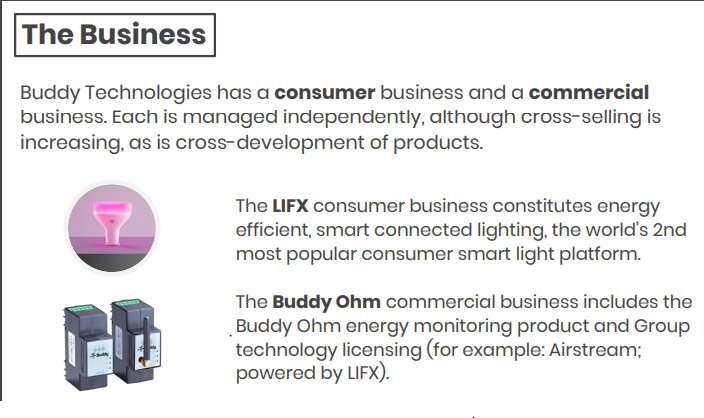 Source: Investor Presentation
Buddy Ohm is a resource monitoring and analytics solution that delivers energy monitoring, reporting and auditing services for commercial and industrial customers. Buddy Managed Services licenses the company's technology platforms to clients for integration into their own products.
Buddy Technologies has a market capitalisation of around AUD 50.52 million with ~ 1.87 billion shares outstanding. On 3 September 2019, the BUD stock price settled the day's trading at AUD 0.027 with no intra-day change and ~ 1.97 million shares traded.
Financing Arrangements Update - On 3 September 2019, the company announced an update on the previously announced trade finance arrangements, stating that while the Facility documentation was executed, achieving financial close was predicated on the completion of various conditions precedent, most of which are customary for a facility of that nature.
Also, following the delay in executing Facility documentation, the Seisun facility due date was extended by a month to 30 September 2019.
On 29 August 2019, the company had informed to have executed facility documentation with Scottish Pacific for the provision of a trade finance (working capital) facility worth AUD 20 million. Some of the key terms of the facility include invoice advance rates varying between 50% and 75%, term period of 24 months, 3 months of notice period for termination, and recourse period (maximum age for underlying receivables) of 90 days. Besides, the Facility would be secured over the assets of certain subsidiaries of the company and includes a service fee of AUD 15,000 per month with interest to be charged from first drawdown.
The company currently has AUD 10 million of inventory on hand (at cost, not retail value), and plans to use the Facility to supplement its inventory capacity to support sales in the fourth quarter of the calendar year.
Gooroo Ventures Limited
Australia-based Gooroo Ventures Limited (ASX: GOO), established in 2012, is an IT sector player, whose unique technology and human thinking science is applied to deliver new meaning to its clients' existing data to aid the process of decision making by people, organisations, and communities, as a result helping them to utilise their true potential.
Gooroo Ventures' Clients and Partners include-
Source: Company's Investor Presentation
The company operates via four key business segments - Human Capital, a Software as a Service (SaaS) based platform and human capital ecosystem; Marketing, an analytical engine that uses large consumer datasets and provides real human insights about the way people think to execute meaningful communication and achieve better outcomes; Careers, another SaaS-based solution that caters to learning institutions, career advisors and students; and lastly Advisory & Training, through which Gooroo Ventures offers professional training and certification courses.
The company has clients and partners in Australia, US, India and the Middle East.
The securities of Gooroo Ventures were suspended from official quotation on the ASX due to non-payment of the annual listing fee by close of 21 August 2019. The GOO stock last traded at AUD 0.057 on 31 July 2019.
Merger with AIS- On 3 September 2019, GOO announced the details of the merger being executed with AIS Anywhere Inc. AIS is a private enterprise established in 2014 and focussed on transforming large organisations via proprietary software and services, leveraging AI, Machine Learning, IoT (Internet of Things) and global ledger/Blockchain, implying that Gooroo software is a natural fit to its business.

Source: Merger with AIS Anywhere - Presentation to Investors
The combined business would result in the formation of a globally focused, advanced AI technology solutions company, delivering revenue growth above combined capabilities; solutions to enterprises and communities undergoing increasing digital disruption; and an established sales and delivery team with a blue-chip customer base in North America. The market position would be characterised by long standing Fortune 500 customer relationships, strong service delivery execution capabilities and international reach (Asia, US and India).
$1.5 Million Capital Raising Update – Recently, GOO also announced the successful completion of a $1.5 million capital raising from sophisticated and professional investors. The key terms of the same are tabulated as follows-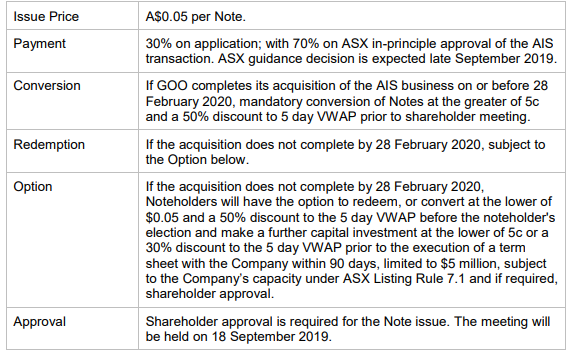 The purpose of the capital raising is to assist Gooroo funding working capital and the transaction/re-compliance costs for the acquisition of AIS Anywhere Inc. The capital raising comprises Gooroo issuing 30 million convertible notes and the company pleasingly informed that AIS' major shareholders also subscribed for $ 1 million of the Note issue. Rawson Lewis acted as Lead Manager on the Capital Raising.
---
Disclaimer
This website is a service of Kalkine Media Pty. Ltd. A.C.N. 629 651 672. The website has been prepared for informational purposes only and is not intended to be used as a complete source of information on any particular company. Kalkine Media does not in any way endorse or recommend individuals, products or services that may be discussed on this site. Our publications are NOT a solicitation or recommendation to buy, sell or hold. We are neither licensed nor qualified to provide investment advice.
With the pandemic continuing to affect the globe, healthcare companies are evaluating their lead compounds for COVID-19 treatment. Future revenue for these stocks depends on the probability of launching an approved treatment in the market.
CLICK HERE FOR YOUR FREE REPORT!