Dividend Stock Investing
Dividend stock investing allows an investor to have a recurring stream of income in the form of dividends. Dividend stock investing means to invest in stocks that have demonstrated relatively better dividend pay-out, and stocks with a sustainable revenue stream, an attractive dividend yield, and prospects for income growth.
Dividends are a part of the company's income that is distributed to the owners (shareholders) of the company. Companies pay dividends out of profits and retained earnings. Majorly, companies follow a dividend policy that is considered before paying any dividend.
Dividend as an Income Stream
Just like debt securities, preferred share capital has a predefined income stream in the form of interest and dividend, respectively. Equity share capital and stapled securities have an income stream in the form of dividends and distribution, respectively.
Investors constructing a portfolio of the dividend stocks over an extended period of time, end up having a bulk of dividends shares in their portfolio, resulting in higher recurring income from dividends, as more shares mean more dividends.
Dividends are less volatile than earnings of the company, and an established company could pay dividends out of retained earnings, if it had suffered loss in the preceding period. Besides, a portfolio of numerous dividend-paying stocks may have an income stream that is recurring on a monthly basis, depending on pay-dates.
In long-term investing, an investor should focus on the companies that pay growing dividends. Buying high-quality dividend-stocks when the market has heavily discounted those very high-quality dividend-stocks, would increase your yield-to-cost. For Example – you bought 300 shares of ABC at a price of $2 per share. A month later, ABC has raised its dividend pay-out, and the now the price of ABC shares is skyrocketing. Consequently, the dividend yield of the stock may not increase – as a result of increased price. However, your yield-to-cost has increased since you bought those shares earlier.
Some Dividend Stocks to look at:
Wesfarmers Limited (ASX: WES)
Wesfarmers Limited is an established company with multiple revenue streams. Although, the main business interest of the company lies in retailing, it operates a substantial business in the industrials sector as well.
Dividends (Source: WES's Full Year Presentation)
During FY ended on 30th June 2019, the company had distributed $2.78 (Fully Franked) in dividends compared to $2.23 in FY 2018. FY 2019 period dividend includes of interim dividend of $1, a final dividend of $0.78, and special dividend of $1.
During FY2019, the company had divested substantial businesses leading to a tremendous jump in net profit after tax. However, NPAT for FY 2019 recorded ~$3.6 billion sourced from discontinued operations, and total NPAT for the period was $5.51 billion.
On 24 September 2019, WES' stock was trading at $40.040, up by 0.326% (at AEST 12:44 PM).
Woolworths Group Limited (ASX: WOW)
Woolworths Group was operating a total of 3,292 retail stores at the FY19 year-end period, which concluded on 30 June 2019. The group operates in five business verticals, consisting of Australian Food, Endeavour Drinks, New Zealand Food, BIG W, and Hotels.
During FY ended on 30th June 2019, the group recorded revenue of ~$60 billion, and NPAT for the period stood at ~$2.7 billion compared to $1.72 billion a year ago. In May 2019, the company returned $1.7 billion in capital to shareholders via an off-market share buy-back, resulting in buying and cancellation of 58.7 million shares.

Dividends (Source: WOW's Full Year Results Presentation)
The group intends to maintain solid investment-grade credit ratings, and it could act for this cause through sale of non-core assets, working capital initiatives, optimising capex, and the property leasing.
In FY2019, the company declared fully franked dividend of $1.02, which included an interim dividend of 45 cents per share, and a final dividend of 57 cents per share.
On 24 September 2019, WOW's was trading at $37.665, up by 0.253% (at AEST 12:52 PM).
Transurban Group (ASX: TCL)
Transurban Group is an infrastructure company engaged in development & management of toll roads in Australia, and North America.
During FY ended on 30th June 2019, the group had distributed the income of 59 cents per security to the shareholders. More importantly, the group has distribution guidance of 62 cents per security for FY20, implying a dividend growth of 5.1% over FY2019 distribution.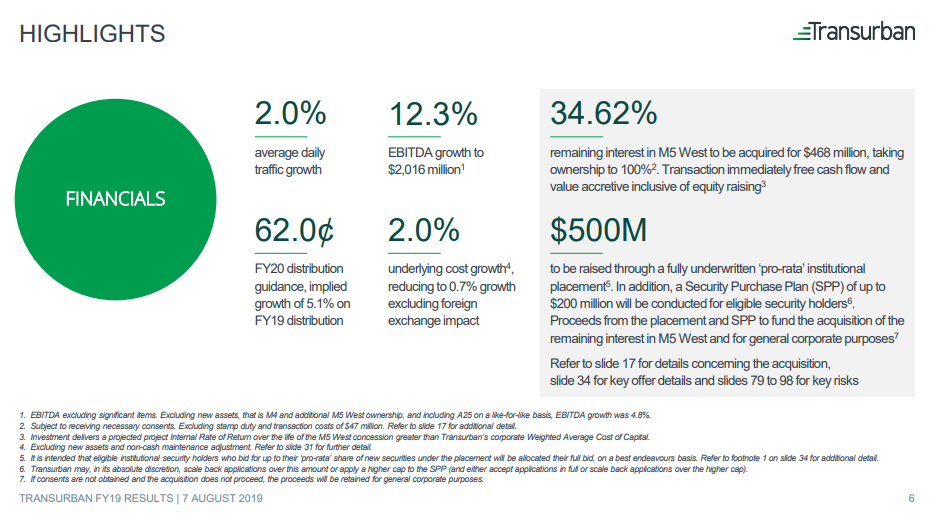 FY2019 Highlights (Source: TCL's FY19 Investor Presentation)
In the full-year release, the group had notified regarding the acquisition of a remaining interest in M5 West. In addition, the group had undertaken a $500 million fully-underwritten placement and announced a share purchase plan to eligible shareholders to access additional capital.
Recently, the share purchase plan was completed, and the group raised a total of $312 million, with an issue of 21.3 million shares at an issue price of $14.64 per security.
On 24 September 2019, TCL's stock was trading at $14.76, up by 0.068% (at AEST 12:55 PM).
APA Group operates and owns energy infrastructure business and leverages its diverse portfolio of over 15,000 kms of gas transmission spanning across Australia.
In its Annual Report for FY ended on 30th June 2019, APA noted that the group has grown on to become one of the largest energy players in the country. It had $21 billion in assets, which are either owned or operated by the group, and it employs over 1,800 employees.
During FY 2019, the group had recorded solid growth, and it was subject to a takeover for a period of six months of the year. Total revenue for the period was up 2.7% to $2,452 million against $2,387 million a year ago. Net profit after tax for the period increased 8.8% to $288 million from $264 in the previous year.
In FY2019, the group distributed 47 cents per security, representing an increase of 4.4% over FY2018 distributions. The group expects to report EBITDA in the range of $1,660 million to $1,690 million for FY2020, and net interest cost between $505 million to $515 million. In addition, the group expects to distribute the income of 50 cents per security in FY2020, before any benefits of the franking credit.
On 24 September 2019, APA's stock was trading at $11.67, up by 0.864% (at AEST 1:00 PM).
Medibank Private Limited (ASX: MPL)
Medibank operates a business of private health insurance, underwriting & distributing private health insurance policies. Besides, the company provides health-related services through health business, and last year, it acquired one business to boost its capability in the health-related services.
In FY ended on 30th June 2019, the company ceased contract with Garrison Health Services. It recorded health insurance premiums of $6.47 billion and expensed claims of $5.32 billion. The total revenue & income for the period was $7.22 billion in FY2019 compared to $7.01 billion in FY2019.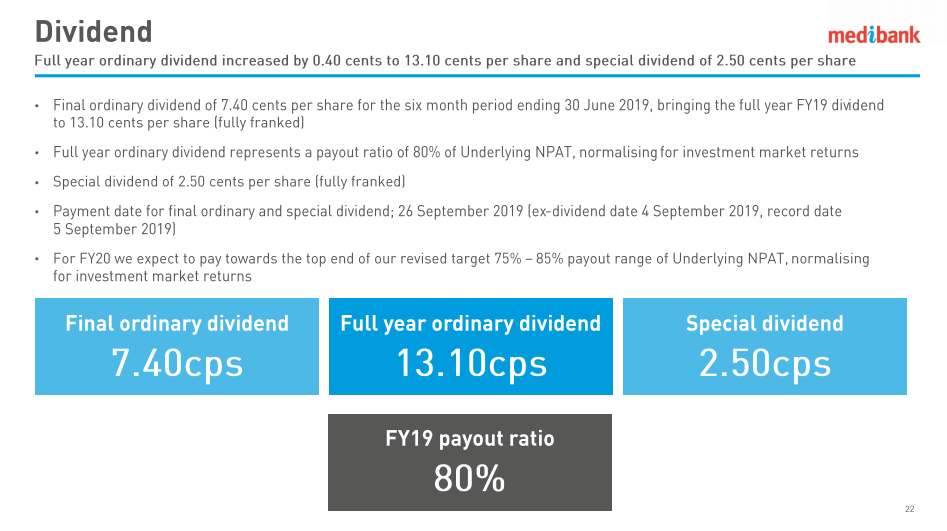 FY 2019 Dividend (Source: MPL's FY19 Results - Investor Presentation)
Further, net profit after tax from continuing operations stood at $437.7 million in FY2019 compared to $424.2 million a year ago. The combined net profit after tax was $458.7 million compared to $445.1 million a year ago.
During FY2019, the company had distributed dividends of 13.1 cents per share, up 3.1% on 12.7 cents per share in FY 2018. In FY20, it expects the payout ratio to be in the range of 75% to 85% of underlying NPAT.
On 24 September 2019, MPL's stock was trading at $3.39, down by 2.586% (at AEST 1:05 PM)
---
Disclaimer
This website is a service of Kalkine Media Pty. Ltd. A.C.N. 629 651 672. The website has been prepared for informational purposes only and is not intended to be used as a complete source of information on any particular company. Kalkine Media does not in any way endorse or recommend individuals, products or services that may be discussed on this site. Our publications are NOT a solicitation or recommendation to buy, sell or hold. We are neither licensed nor qualified to provide investment advice.