The long-lasting drought condition coupled with vigorous winds whipped up the devastating bushfire condition last month, leading to the loss of 1,650 thousand hectares of land and ~500 homes in New South Wales as of mid-November, courtesy to high temperature and low rainfall. The temperature has increased by average of 1°celcius post 20th century, as shown in the figure below.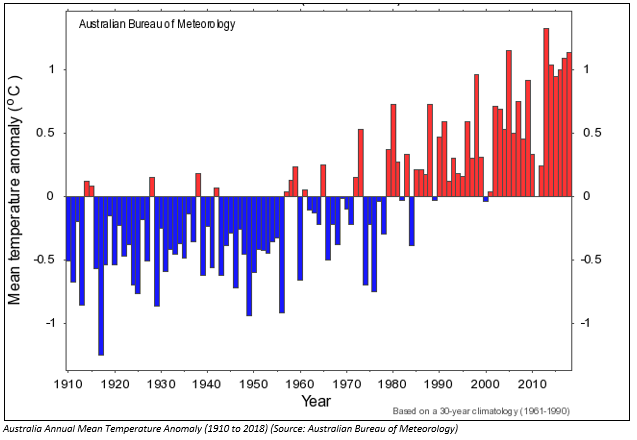 Bushfire is not new due to the Australian hot, dry and prone to drought climate, but the risk has increased in the recent times because of delayed monsoon and increased temperature. The regions that are susceptible to fires are New South Wales and southern Queensland in spring and early summer, and in both the regions, a state of emergency has been declared. The rainfall condition in southeast Australia has also deteriorated and witnessed a decline of average 15% in late autumn and early winter rainfall since the mid-1990s.
This rise in temperature and shift in the monsoon pattern is a testimony to the Climate Change. It has complex relation not domestically but globally as a whole, such as delayed monsoon in India has cascaded the effect of late summer monsoon in Australia. It has not only led to prolonged drought condition and catalyst to fire but also poor yield to soft commodity during summer.
Good Read: A Guide to Soft Commodities – Australian Market
The impact of climate change has worsened the controllability and lengthened the duration of bushfire due to the following factors: -
Fall in Rainfall: January-August witnessed the lowest rainfall in Northern Tablelands (New South Wales) and Southern Downs (Queensland). For instance, rainfall in Tenterfield and Stanthorpe was two-third below the long-term average.
Sparse Vegetation: Vegetation has been extremely dry in some regions of Queensland, and New South Wales due to low moisture content in the soil. This condition is indicative of both long-term below-average rainfall and intense dry conditions.
Drought: Shortage of water leads to the condition where vegetation becomes flammable and thus supports fire.
The incident has created a vicious cycle of increased GHG emissions and poor quality of air. According to a recent study by the NSW Department of Environment, Sydney has faced much higher rates of PM2.5 than the usual average. The smoke has increased ultrafine particles in Sydney by over 20x from Australia's national standard of < 8 µgrams/m³.
As per the Insurance Council of Australia, the bushfire crisis has led to the damages of ~$ 145 million in November. Therefore, it is quintessential to understand the impacts of the bushfire incident on businesses in Australia.
Every catastrophic event has a symptomatic effect on the market, where few companies are gaining and few losing in valuation. Fire incidents have direct relation to the electric utility, insurance and retail sectors among various other sectors.
Electric Utility: - Electricity networks have primary precaution to be made in case of a fire outbreak to reduce the threat by cutting off the electricity supply for a few hours in between. This impacts the business and revenue generation per unit of electricity sold. Majority of bushfire incidents are humanmade, and electricity companies mitigate this risk by maintaining safety check of poles and wires and by cultivating proper vegetation around them. This is done on priority since fire incidents can lead to bankruptcy as in case of Pacific Gas & Electric Co, which filed for corporate bankruptcy due to a huge fine arising from the wildfires, Camp Fire incident and other claims, as recently witnessed in California, USA.
Insurance: - Increase in natural disasters in Australia has risen the premium on insurance to compensate the house, vegetation and other infrastructure loss. More than 130 bushfires occurred across New South Wales (NSW) and Queensland.
Insurance companies have developed an innovative risk transfer model to maximise market-based insurance among communities. Under this model, a homeowner in low fire-prone area is charged a low premium in comparison to high prone area homes. This discourages the owner from building a home at hazardous areas via incorporating high premium.
Insurance Australia Group Limited (ASX:IAG), in collaboration with the US National Center for Atmospheric Research, has developed a model to assess weather-related risks vis-Ã -vis average temperature rise in Australia.
The risks identified are:
Increased severity of tropical cyclones – Destructive cyclones expected in southeast Queensland and northeast NSW
Increased flash rainfall – Short and intense rain is expected across the country, causing flood in urban areas.
Rising sea levels – Rise in global warming can increase the risk of storm surge, river flood and coastal erosion. Hasty shift estimated for the east and southeast coasts of Australia.
Bushfire Risks – The exact quantification of bushfire is complicated due to the nature of its occurrence based on people, vegetation, climate and weather. However, there is strong evidence since past that bushfire is the fastest rising climate risk in Australia.
Retail: - Many cities have been impacted due to the fire incident. Moreover, strong winds have made the dwellers anxious due to the emergency warnings. Batemans Bay fires have scorched around ~16 thousand hectares of land and are quickly spreading towards the coastal community at the north-eastern side.
At Ulladulla and Batemans Bay, evacuation centres have been built whereas areas such as Depot Beach, Pretty Beach, Pebbly Beach, Bawley Point and area from Kiola to North Durras come out to be too late for evacuation. Meanwhile, Queensland residents have been requested to leave the area prone to bushfire such as Brisbane and Naragba to mention few.
Retail sector, which is already in slump, is further under pressure due to bushfire. According to the Australian Retailers Association, retail sales were expected to grow by 2.9% year on year during the Christmas trading period; however, due to the bushfire, the growth predictions seem doubtful.
Having said that, the Australian market is unlikely to witness long-term impact, considering that bushfires occur every year during the summer season. However, the short-term impact of bushfires can't be ignored, opening opportunities for short-term trading ideas.
Investors would be interested in keeping abreast with the impact of bushfires. To wade through the volatile market conditions, the market experts at Kalkine would help you address queries such as which companies to bet on and how the overall index is expected to perform under such circumstances.
The business remains as usual for Kalkine at the moment, while we are cautious of the worsening climate change conditions and impact on any of the agricultural and other businesses that are at the brink of the threat looming from the climate conditions. This also keeps us on our toes with regards to the insurance sector businesses and related stocks.
---
Disclaimer
This website is a service of Kalkine Media Pty. Ltd. A.C.N. 629 651 672. The website has been prepared for informational purposes only and is not intended to be used as a complete source of information on any particular company. Kalkine Media does not in any way endorse or recommend individuals, products or services that may be discussed on this site. Our publications are NOT a solicitation or recommendation to buy, sell or hold. We are neither licensed nor qualified to provide investment advice.