Retail sector stocks have begun trading in their busiest period of the financial year, and online sales are likely to remain a catalyst in driving the overall sales growth. According to the Australian Retailers Association, the Australian retail market has a size of approximately $310 billion, and around 1.2 million Australians make a living through the sector.
A major tailwind, Black Friday/Cyber Monday, for the retail sector growth has recently passed, and Australians are easing into the summers with the holiday season on the cusp. In such a setting, the tailwinds are not only limited to retailers but wider players including leisure, gaming, and entertainment.
Businesses can be good, very good, excellent or outstanding. However, whether the investment in those businesses is good, very good, excellent or outstanding remains a major concern that investors should address in their investment thesis.
Retail Data; the Past Amid October Rate Cut
Economic data reflects the past and not the present!
Incoming retail sector data has signaled a flat prospect, as suggested by the October Retail Trade data by the Australian Bureau of Statistics (ABS). On a seasonally adjusted estimate, the retail turnover was unchanged in the October reading after steady rises in September and August with an increase of 0.2 percent and 0.4 percent, respectively.
Meanwhile, the reading on the trend estimate for retail turnover depicted a rise of 0.2 percent in October, which is consistent with the increases recorded in September and August this year. In current prices, trend and seasonally adjusted estimates for the Australian retail turnover stood at $27,594.2 million and $27,572 million in October, respectively.
Last month, we had noted that Australians really don't like rate-cuts, which was the observation of the Westpac-MI Index of Consumer Sentiment in the November issue. Presently, the Reserve Bank of Australia (RBA) has pulled the brakes on further rate cuts for the time being; this development might help to revive consumer sentiment amid a festive season.
In the September data, on the seasonally adjusted estimates, we had also noted the falling turnover in hardware, building and garden supplies with a slight improvement in furniture, floor coverings, houseware, and textile goods.
[
Here's Why You Might Want to Add Retail Stocks to Your Portfolio For 2020
]
The signs are promising in these two areas in the October retail turnover numbers; the retailing of hardware, building and garden supplies and furniture, floor coverings, houseware, and textile goods increased by 0.6 percent and 0.3 percent, respectively, on the seasonally adjusted estimates. Further, the increases in these two areas were also recorded in the trend estimates.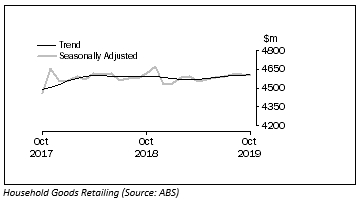 In October numbers, the composition of online retail turnover, in original terms, out of total retail turnover increased 0.6 pts to 6.5 percent compared to 5.9 percent in the year-ago period. Also, the original estimate for the retail turnover in Australia increased by 5.9 percent in the October month; chains and other large retailers were up 6.5 percent, and small retailers were up 4.5 percent during the month.
Black Friday, Cyber Monday & Festive, Holiday Season
According to the Australian Retailers Association, the shoppers have been increasing the volumes each year during the Black Friday and Cyber Monday period. Moreover, new research has observed that around 66 percent of the Black Friday and Cyber Monday shoppers are escalating volumes annually.
Additionally, 75 percent of Aussies believe that sales are getting better. The research survey involved over 1k Australians who shop online. Moreover, the researchers observed that the consumers favor this period due to jaw-dropping sale offers that are appearing attractive increasingly.
Further, the younger generation is quite crucial in driving the outcome, as they make the most of the online shoppers during this period. Around 70 percent of the 18 to 29-year-olds group is said to be splashing more over the last two years.
Deep Discounts But At What Costs?
Investors should note that offering deep discounts might suppress margins and in turn, profitability. The increasing number of astute shoppers has led to a point wherein retailers are providing deep discounts to increase revenues.
In such a setting, the retailers should find ways to improve profitability, and the use of technology in delivering a robust pricing mechanism might be the need of the hour. Moreover, as shoppers are turning astute progressively, the retailers are required to keep up the level to maintain shareholder value.
Black Friday/Cyber Monday Might Not Be The End!
Summer is on while the travelers should be on the way to surf in the beaches of Australia. This could be an additional tailwind to a number of businesses, including fashion retailers, equipment retailers, gaming and lodging, and entertainment.
Also, the power-packed sporty December has commenced already, with Big Bash League starting very soon. Moreover, boxing day test, golf championships, and yacht races are all on the menu. Furthermore, the seasonal economic activity has started.
The growth-seeking fashion retailers might add more firepower to their portfolio, as a nationwide 72-stored fashion retailer – Bardot, established in 1996, has applied for Voluntary Administration in the recent past.
If it were to be sold to any growth-seeking fashion retailer; Bardot could prove to be a bargain-buy due to the long-presence in the market and customer proposition. However, it would depend on the execution by a possible buyer and a potential turnaround story.
Conversely, if the retailer shuts the shop, then it also means there is an opportunity to capture additional market share by the fashion retailers in Australia.
Conclusion
Investing in retailers could prove to be a win-win game, but that would need patience, insights, thesis, rationale, and whatnot. The lag effect of interest-rate cuts is likely to be seen in the near-term, and the discretionary side of the consumers might benefit.
Investing in quality should remain a building block for investors as global jitters are not muted completely. Moreover, the UK general election coupled with the US-China phase one trade deal continues to be the major headwinds for overall markets.
Considering metrics such as high return on invested capital (ROIC), resilient free-cash-flow generation, and steady, consistent growth in revenues, all over a multi-year time frame appears to be conventional wisdom amid uncertainty with sluggish macro-fundamentals.
And, these metrics should be complemented by flawless management that has depicted results, including talent development, strategies, innovation, and capital management.
---
Disclaimer
This website is a service of Kalkine Media Pty. Ltd. A.C.N. 629 651 672. The website has been prepared for informational purposes only and is not intended to be used as a complete source of information on any particular company. Kalkine Media does not in any way endorse or recommend individuals, products or services that may be discussed on this site. Our publications are NOT a solicitation or recommendation to buy, sell or hold. We are neither licensed nor qualified to provide investment advice.