Tekcapital PLC (LON: TEK) is a unique Intellectual Property investment group of the UK, listed on the AIM All-Share market of the London Stock Exchange. Focusing mainly on creating market value from university technology, it aims at introducing new technologies to the market in order to improve the quality of life. It also helps companies and research institutions to discover and evaluate new technologies for commercialisation.
Belluscura PLC, Lyucd Ltd, Salarius Ltd, Guident Ltd and Smart Food Tek Ltd are the portfolio companies of Tekcapital PLC, and the broadening of the market of Tekcapital is directly associated with these companies.
Recently, on May 6, the company released its final result for the year ending on November 30, 2019. It is evident from the result that Tekcpital has had good financial growth. The total revenue increased to USD 7.72 million in 2019 as compared to USD 6.83 million due to a 15% increase in the revenue from services and an increase in the fair value of its portfolio companies. The NAV (Net Asset Value) per share also increased by 16.67% to USD 0.35. The company's profit before tax improved to USD 5.52 million as compared to USD 4.55 million in the previous year.
Guident Ltd
Tekcapital PLC is the 100% owner of Guident Ltd, which develops software Apps which are used by autonomous vehicle (AV) companies and for the remote monitoring of vehicles and delivery drone.
The mobility market is undergoing a transformation which can be categorised in five phases. In the first phase, the mobility industry and the transportation vehicle will enhance delivery efficiencies and on-demand service requirements. The second transformation phase will generate a new market segment for AVs, AIs and AVAI-Maas (Mobility as a Service). The third transformation phase is where Guident is positioned in the market, offering Mobile Apps with technology for those industries. In the fourth transformation phase, consumers will be served by Guident for their different choices in transportation. In the fifth transformation phase, by using the company's patented technology, users of AVs will have different features such as the remote monitoring and control of AV's to help resolve mishaps.
Currently, it is working on the development of new technologies for the safety of AVs. With the help of Guident application platform, the autonomous vehicle can report an accident, can request aid, and can be remotely relocated out of harm's way.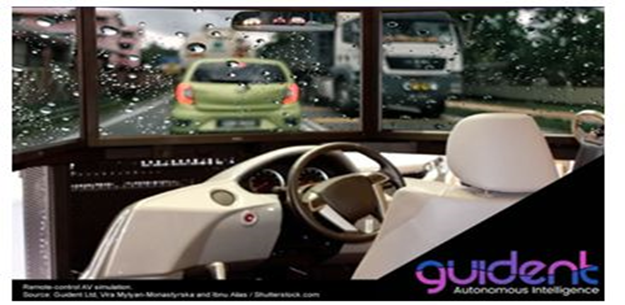 (Source - Tekcapital's investor presentation)
Patent Application
On April 8, Tekcapital PLC announced that Guident's patent application # 16/386,530 had received a Notice of Allowance from the United States Patent and Trademark Office. The application has been entitled "Methods and Systems for Emergency Handoff of an Autonomous Vehicle". This patent covers some components of the functionality of the planned autonomous controller App of Guident. This patent has been issued in June 2020.
An additional patent application has been filed by the company entitled "Intelligent Remote Monitoring and Control of Autonomous Vehicles." It brings five Intellectual Properties to the portfolio of Guident Ltd., out of which four have already been granted. The primary aim of these patents is to enable improved safety of Autonomous Vehicles and delivery drones whilst providing a barrier to entry.
Also, there were some management changes in the recent past with the appointment of Harald Barun, Daniel Grossman, Johan De Nysschen, Micheal Tank and Dr Gabriel Castaneda.
Herald Barun, former CEO of Siemens Networks USA (NYSE: SI) has been appointed as the Chairman and CEO of the company. Daniel Grossman, Dan helped create General Motors mobility division, "Maven", and led all operations as COO, and was a Vice President at Zipcar. He has been appointed as Guident's Chief Revenue Officer. Johan De Nysschen is a director of Guident and is currently serving as the COO of VW Group's North American region. Johan previously served as Executive Vice President of General Motors and President of the Cadillac Motor Division, President of Infiniti Motor Company Ltd, President of Audi of America Inc., and President of Audi Japan Micheal Tank has been appointed as the VP, Software Development and Dr Gabriel Castaneda as Lead Architect, Artificial Intelligence Software of the company. The capable team is positioning the company to take a leading role as an autonomous vehicle service provider.
Accolade for The Company – A Mark of Its Growing Prominence
Guident Ltd added a feather in its cap by winning the Florida Atlantic University (FAU) Tech Runway® Annual Tech Launch competition, in the category of the most promising startup in South Florida. The most striking point of the development was that the company was selected out of more than 200 startups to take the top prize.
Way Forward
During the unprecedented COVID-19 pandemic, it is the technology that has helped the economy to sustain. As per the Allied Market Research, the AV market is anticipated to reach USD 556 billion by 2026 with a CAGR of 39%. At the same time, the drone logistics and transportation market are expected to reach USD 29 billion by 2027. There is a huge requirement of contactless delivery due to the COVID-19 pandemic which is likely to lead to an increase in demand for the land-based delivery drones for food and medicine resulting in improvement of their availability and reduction in cost for such deliveries. Amid all these, safety has been cited as the major concern and Guident is fully equipped to address this concerns through its Apps and IPs that allow users of AV's and delivery drones to control their vehicles remotely when needed.
Stock Price Performance
As on June 26, 2020, at 10:42 A.M GMT, Tekcapital PLC's stock price was hovering at around GBX 11.70, higher by 6.36 percent as compared to the last day's closing price. The 52 weeks high and low range has been recorded at GBX 20.00 / 4.00. The company's market capitalisation at the time of reporting stood at GBP 9.66 million.
(Source: Thomson Reuters)