Headquartered in Oxford, Tekcapital Plc (AIM: TEK) has produced significant returns through capital appreciation from investing in new, university-developed Intellectual Properties (IP). Its net assets rose by 40% to US$22.25 million in FY19 with the continued increase in the fair value of its portfolio companies.
Tekcapital has gained momentum and created value every year since 2016 due to its investment portfolio coupled with turn-key IP investment services that help the global network of universities commercialise their innovations. Using these services, Tekcapital has built a compelling group of portfolio companies to create marketplace value of the high-value properties, it has unearthed.
Detailed View of Portfolio Companies
Tekcapital holds four companies in its portfolio that includes Belluscura, Guident, Lucyd, and Salarius. These portfolio companies are the key driving factor of Tekcapital's growth that are backed by highly experienced management, with each addressing $1billion+ market opportunities.
Belluscura Plc
Bellescura is a medical device company in which Tekcapital holds 18.9% ownership. The company has developed an advanced level of Portable Oxygen Concentrator (POC) that is designed to provide on-the-go supplemental X-PLO2R™, with user-replaceable filter cartridges.
Driven by the objective to make healthcare more affordable, Belluscura, with Separation Design, has been designing and developing next-generation, cost-effective, portable ECMO technology to treat ARDS patients. Belluscura raised US$2.7 million at 15p per share in 2019 to continue with its Food and Drug Administration clearance and go to market strategy.
Belluscura's Portable Oxygen (Source-Tekcapital 2019 Annual Report)
The FDA had issued guidance to increase the availability of respiratory devices, containing Oxygen concentrators, amid the pandemic, a development which can play a vital role in the unceasing growth of the company. The fallout of the COVID-19 pandemic has increased the demand for Portable Oxygen Concentrators, which are estimated to increase sales from 405k units per year in 2019 to 581k units per year in 2026 for a total value of $1.4 billion.
Salarius Ltd
Tekcapital owns 91.7% of food-tech company Salarius that has developed a proprietary low-sodium salt- MicroSalt®. The company specialises in producing salt made with the micron-sized particles that deliver a powerful saltiness as the micro-grains dissolve in the mouth faster, having about 50% less sodium. It underscores the regulatory requirement to reduce sodium levels in the emerging snacks market. Less sodium means a reduced likelihood of developing heart disease, the world's number one killer.
Salarius has recently inked a distribution agreement with North American distributor for its new full flavour potato chip snack line- SaltMe!®. The company has further signed agreements with several U.S. food wholesalers and brokers to sell MicroSalt® to snack food companies throughout the United States. As per the forecast of Future Market Insights, low sodium market is estimated to shoot up to US$1.76 billion by 2025.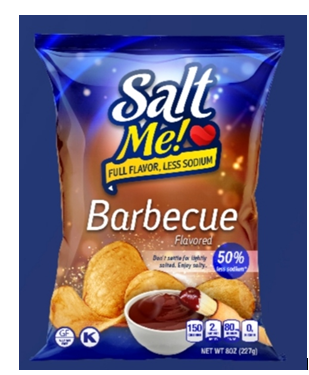 Salarius' SaltMe!(R) crisps (Source - Tekcapital's investor presentation)
Guident Ltd
Guident Ltd is a wholly-owned portfolio company of Tekcapital that has recently received a new patent for controlling autonomous vehicles (AV) after an accident. The company also commercialises its proprietary technology for land-based delivery drones that facilitate 'contact-free' deliveries.
Guident has already started its B2B marketing program to tap the emerging market of autonomous vehicles where the catastrophe of COVID-19 has sharply lifted the demand for contactless delivery of food and medicines. The company further seeks to develop partnerships with vehicle OEM's to provide remote telemonitoring, among other services, required by law in the State of Florida and other jurisdictions.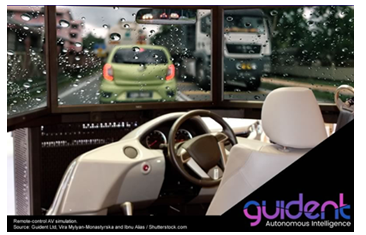 Guident Image (Source - Tekcapital's investor presentation)
Recently Guident Ltd has been awarded as one of the most promising startups in a 200 company competition hosted by Florida Atlantic University (FAU) Tech Runway®, in South Florida. Allied Market Research estimates the market for fully autonomous vehicles to reach US$556 billion by 2026 which is likely to support the growth of Guident Ltd through its offering of improved availability and reduced cost of vehicle deliveries.
Lucyd Ltd
Lucyd Ltd is a tech eyewear company that stands out to be the first company to deliver online prescription smart glasses through global eShop. The company rolled out its third line of Lucyd Loud Bluetooth® glasses in January 2020 that allows the user to answer calls, listen to music, and talk to Google Voice and Siri all through the frames of their glasses at affordable prices. Tekcapital owns 100% in Lucyd Ltd.
It has successfully made its position through Amazon and has expanded its presence on other platforms like Walmart, eBay, and Mercari. As non-essential retail trade has been hampered by the pandemic, Lucyd has joined other marketplaces which offer touch-free delivery of its products.
Lucyd 2020 Bluetooth glasses (Source-Tekcapital's investor presentation)
Lucyd has filed about 20 patents covering its products. The current online market for eyewear is estimated at US$3.8 billion, according to Statista. With major positive reviews of its product and the thriving needs of the global population for corrective lenses and tech that enables you to stay connected to your mobile device, Lucyd has the potential to boost up its market internationally.
Tekcapital is tracking pragmatic growth with the financial upswing year on year. Its four major portfolio companies are built upon ground-breaking technologies and a team of industry experts, who have positioned it as a high-value business in the global market, all of which serves as a potential catalyst for Tekcapital's sustainable growth. TEK stock was trading at GBX 12.75 on June 17 (14:53 PM GMT).

(Source- Thomson Reuters)