As per the industry analysis, more than 80% of the total electricity usage in Australia came from non-renewable sources, o f which nearly 60% came from coal alone.
That means, the renewable energy sources accounted for roughly 17 percent, more than double of what it was a decade ago, with the most trending and sensational being the solar photovoltaics which seems to have finally been successfully used in applications from domestic to industrial all through.
As per the federal policy, popularly known as "Renewal energy Target", the country should generate at least 33,000 GWh from renewable sources by 2020 through large- and small-scale schemes. The LRET (Large Renewal energy Target) was attained ahead of schedule in September 2019 with the 16,500 GWh addition since 2017. This remarkable feat was achieved due to the continuous flow of investments, almost doubling to $20 billion in comparison to the previous year.
The economy continued its growth path to $1.8 trillion and so did the energy appetite which grew to 6,172 PJ. The biggest-energy consuming sector being the transport sector with an aggregate of 28.1% of the total energy mostly coming from the fossil fuels, followed by electricity generation of which 60.39% was roughly generated using coal.
As per the Bloomberg new energy finance's analysis, 82% of electricity generation in Australia would be sourced from renewable sources by 2050. The analysis justifies the closure of thermal based power plant such as the Hazelwood brown coal fired power plant in Victoria, shut in 2017 and the emergence of renewable power projects.
The Chinese have also started restricting the coal imports due to the strict environmental regulations leading to long term reduction of the exports of coal, which was booming until now. The government has also undertaken various initiatives to bring down the dependency on non-renewable energy sources.
The government had announced in August 2018 to implement a Default Market Offer (DMO) for retail customers as suggested by Australian Competition and Consumer Commission to set a price cap in the regions which were not subjected to any pricing regulation until now. This ultimately leads the customers to get power at reasonable prices and an opportunity for energy providers to build up long term loyalty among its customers and switch to lower cost and cleaner renewable power sources.
Source: Bloomberg NEF; Australian Energy Statistics
The renewables currently make up 17% of the total electricity usage, out of which the biggest contribution comes from hydroelectricity which is 36% of the total electricity through renewable sources. The most significant fast-growing segment being the solar photovoltaics, which accounts roughly 22.4% of the renewable electricity production.
The trending renewable sector is not only invested by large cap companies such as AGL Energy and Origin energy but also by mid cap and small firms such as New Energy Solar and Tilt Renewables. The following discussion is to provide an overview of the companies of different sizes and their current and future.
Origin Energy (ASX:ORG)
Origin Energy (ASX:ORG) operates the mammoth, 2880 MW Earing coal-based power plant which is the largest in the nation. The company is not restricted to conventional sources of energy but also added almost 500 MW of contracted renewables to its portfolio in FY2019.
Operational Performance:
The company targets to attain the milestone of 25% of its owned and contracted generation to come from renewable sources by 2020. On 6 December 2019, ORG closed at $ 8.57 on ASX, up by 0.47% with a market capitalisation of $15.09 billion.

Future Guidance:
The company follows a stepwise approach to achieve their following targets-
25% of total electricity generation through renewable sources
Switch completely from thermal electricity generation by 2032
Reduce scope 1 & 3 GHG emissions to half, Scope 3 emissions by 25% by 2032
New Energy Solar (ASX: NEW)
New Energy Solar (ASX: NEW) Established in 2015, New Energy Solar secures, owns and operates large scale solar generation facilities. The company backed by a portfolio of solar power plants has interests in Australia and the United States. Further, New Energy includes over 16 solar power plants with Mount Signal being the largest among them. The total portfolio capacity stands at 846 MW displacing almost 1.2 Mt carbon dioxide emissions.
Operational Performance:
The company owns the Manildra solar power plant in Australia with an option to extend its life till 2030. The company also acquired Beryl solar power plant on which it bets highly to generate roughly 111 MW, started on 7 June 2019.
The power from Beryl is being used by the Sydney metro system under the 15-year purchase power agreement. The stock closed at $ 1.3 on ASX, on 6 December 2019.

Future Guidance:
The company is constructing new projects and optimizing the existing operations to achieve the following targets-
772 MW of operating capacity by end of 2019
Expected annual generation of 1,500+ GWh, once operational
Expected average PPA price of A$75/MWh
TILT Renewables Limited (ASX: TLT)
TILT Renewables Limited (ASX: TLT) aims to manage energy generation assets in Australia and New Zealand. It includes over 20 wind and solar power plants with 8 operational assets. The company acquired Liverpool Range wind farm project, second largest active project in Australia with a capacity of 1000 MW. The project is under development and is scheduled to undergo construction in future.
Operational Performance:
The current operational capacity stands at 636 MW with 322 turbines operational and 469 MW under construction with 111 turbines. The H1 FY 2020 production stood at 1062 GWh.
On 6 December 2019 TLT closed at $ 3.23 on ASX, up by 0.31%.
Source: Company's Report
Future Guidance:
The company is constructing new projects to achieve the following targets-
To develop the Dundonnell and Wapipi Wind Farm
Optimize and grow its portfolio
To develop 3500 MW projects in the pipeline with another 1500 MW in planning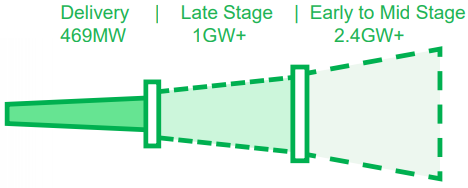 Source: Company's Report
AGL Energy Limited
AGL Energy Limited (ASX: AGL) has been operating for over 180 years with a capacity of 10,413 MW making it the nation's largest private sector electricity generation enterprise. The company operates in both renewable and non-renewable energy markets and includes roughly 20% of the nation's electricity generation capacity and includes over 3.7 million consumers.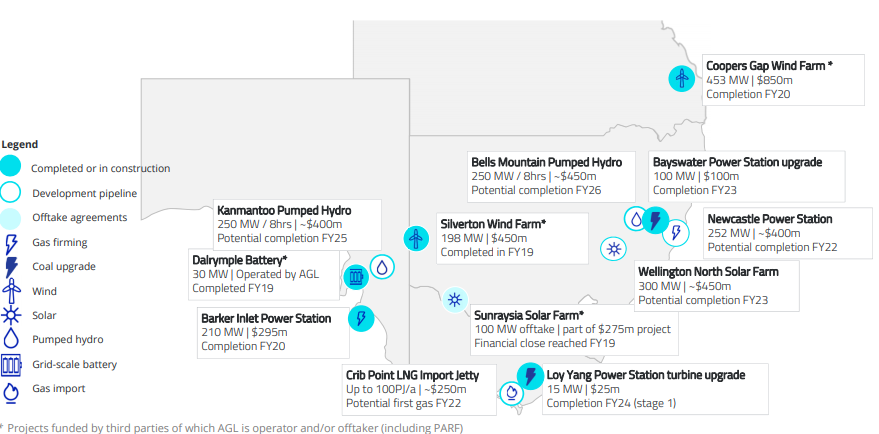 Source: Company's Report
Operational Performance:
Renewable accounts to roughly 19.6% of the company's total capacity supplying over 13,573 GWh electricity to direct customers and 9,773 to large business customers. The company has been investing heavily into the solar, wind and solar batteries, trying to cut the cost to make it accessible for the general public.
On 6 December 2019, AGL closed at $ 20.42 up by 0.89%, with a market capitalisation of $ 13.17 billion.
Future Guidance:
The company is constructing new projects to achieve the following targets-
$ 1.9 billion worth of projects completed or under construction
$ 2 billion worth of projects in the pipeline
Develop grid scale storage at Kanmantoo and Bells Mountain
To become a renewable energy major
---
Disclaimer
This website is a service of Kalkine Media Pty. Ltd. A.C.N. 629 651 672. The website has been prepared for informational purposes only and is not intended to be used as a complete source of information on any particular company. Kalkine Media does not in any way endorse or recommend individuals, products or services that may be discussed on this site. Our publications are NOT a solicitation or recommendation to buy, sell or hold. We are neither licensed nor qualified to provide investment advice.