Soft commodities such as agricultural crop and livestock contributes around 3% in total Australian GDP. It also adds in the improvement of Country's Balance of Payment by exporting its product to the International market. Currently, it stands at top 3rd sector with 10% share in total export market as of FY19. Most of the currency inflow due to the agricultural export is contributed by the China followed by Japan, US and EU etc. The detail is shown in fig 1 below: -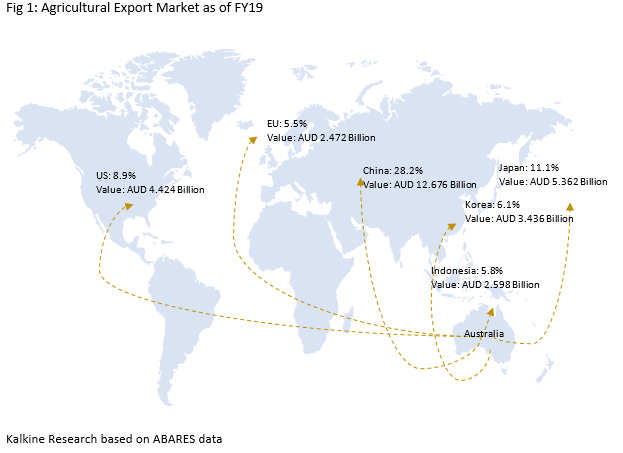 The future volume of export is expected to get reduced due to the anticipated lower agricultural production in FY20 because of low rainfall and poor soil moisture content in summer. The Australian agricultural sector is divided in two seasons i.e. summer and winter. Where, winter is responsible of commodities like wheat, barley, canola, chickpeas etc. and summer season mostly produces cotton lint, cottonseed and rice etc.
In addition to above US-China trade war is expected to create a syndrome which is positive as well as negative for Australian soft commodity. This tension has open market for Australia where China is looking for new suppliers for product like Cotton, fruit and nut etc. However, in contrary it has also formed a competitive scenario where supply from US to China is now redirected to different countries. For example, canola and beef export. Cotton and wool price are also expected to decrease due to ambiguity of Chinese cloth sales in US. Also, foreign country's domestic crisis playing significant role in commodity export, such as African swine flu has raised import demand for China from Australian livestock market.
As per the forecast of FY20 by ABARES Western Australia, South Australia and New South Wales is expected to witness increase in production during winter season in comparison to FY19 whereas other regions and summer season are expected to fall with respect to previous year. The details are given in Fig 2: -
The estimated market for agricultural farm production in FY20 lies in the tune of AUD 59 Billion. To explore this opportunity, it is wise to demystify the major agricultural commodities to understand its past trend and movement in future.
Wheat: Â
The production of wheat in FY20 is expected to increase by 10.43% from FY19. Upsurge in Production and decline in consumption is expected to reduce the commodity price by ~14% from FY19. This fall in prices may boom the export of commodity by 10.85% from FY19.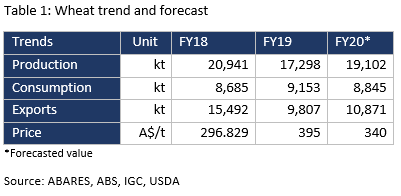 Sugar:
Australia export around ~89% of sugar produced in the country which is expected to fall in FY20 due to the cumulative stocks inventory present in Asian countries specially India. Due to which there is very less significant rise in commodity price expected to witness in FY20 despite the World consumption likely to exceed first time the production.
Natural Fibres:
Both the Cotton and Wool prices are expected to fall in FY20 by 10.85% and 26% respectively. The fall in prices is due to the increase in global production, high inventory and drought condition globally leading to low demand of Wool. Whereas, Australian Cotton production is expected to be reduced or have fallen from FY18 consequently due to the low dam storage in major cotton growing areas leading to poor soil moisture content. Wool production is also expected to decrease by 6.25% in FY20 due to the decline in sheep flock.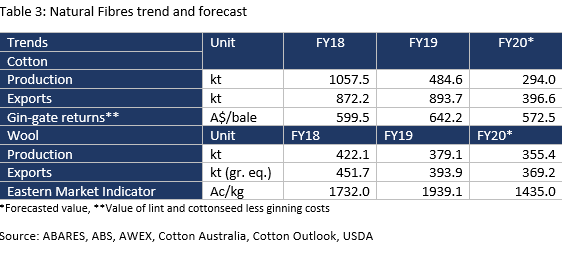 Coarse Grains:
Supply of Coarse grains is expected to increase in FY20 by 10.78% due to the increased plantation area and decent yield. However, Grain sorghum is expected to fall by 22.38% because of seasonal effect and low moisture content of soil. The export sees the rise in 34% due to the fall in production in US and increased demand from Asian countries especially China due to Fall Armyworm outbreak reducing the corn yield by 50%. The rise in demand will not much impact the prices due to the pre-existence stocks.
Oilseeds:
Oilseeds production has reduced by 4.71% in FY20 due to the fall in summer production by 34.59% in FY19 from FY18. Whereas Canola production is expected to rise in FY20 by 5.69% due to the estimated better yield in comparison to FY18. Price is expected to fall due to the outbreak of African Swine flu thus reducing the consumption of Oilseed for Pig in China while Canola anticipated to witness the strong price competition from EU, US and Canada.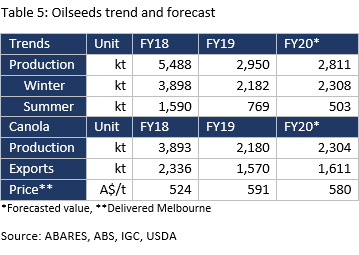 ---
Disclaimer
This website is a service of Kalkine Media Pty. Ltd. A.C.N. 629 651 672. The website has been prepared for informational purposes only and is not intended to be used as a complete source of information on any particular company. Kalkine Media does not in any way endorse or recommend individuals, products or services that may be discussed on this site. Our publications are NOT a solicitation or recommendation to buy, sell or hold. We are neither licensed nor qualified to provide investment advice.