While several countries are still struggling with the first wave of COVID-19 cases, debates around the second wave of the infectious disease already have started raising serious concerns. The challenge now is that once alleviated, the coronavirus might resurface with revived strength, triggering a repetition in escalating infections, and this would swamp medical systems and increase the necessity of lockdowns. Some countries are already facing the heat from the second wave, including China, Japan and Singapore.
Worldwide the virus has infected more than 3.6 million people and killed over 251k according to the World Health Organization data (as of 09:45 AM CEST, 07 May 2020).
According to some studies, a mutant of novel coronavirus has emerged which appears to cause more severe infection. Researchers in the US have also warned about the emergence of a mutant of the coronavirus, that is a more contagious strain of coronavirus. In addition to propagating more rapidly, this strain may make individuals vulnerable to a second infection after the first attack with COVID-19.
ALSO READ: Virus Mutation, Second Wave of Infection and Latest Vaccine Developments
As several nations across the globe reported a peak in the number of new cases of coronavirus infection, health authorities warned about a potential second wave of infection unless rapid testing is expanded. More and more countries, including the US, are chaotically re-commencing many businesses and easing restrictions in lockdown due to significant disruptions in the economy. While the infection rates for different countries are at different stages, managing the mutated infections is as vital as preventing them.
In relation to the second wave, WHO stated that the second wave of this pandemic is in our hands, and also disclosed that COVID-19 is a new coronavirus (SARS-CoV-2) with unknown behaviour.

Germany also warned about the second wave of infection and stated that even a third wave could arise. The country is frightened to re-enforce the restrictions if new cases of coronavirus infection cannot be suppressed.
INTERESTING READ: Search for COVID-19 Vaccine; Top 10 Names Across the Globe
In this backdrop, we will be discussing two-ASX listed healthcare stocks- RHC and MPL
Ramsay Health Care: Finalised the comprehensive agreement with the State of Queensland
ASX-listed global healthcare player Ramsay Health Care Limited (ASX:RHC) is engaged in providing high-quality services and offering excellent patient care as well as hospital management. Ramsay is one of the biggest and most diverse international private health care companies and provides primary and acute health care services from its 480 facilities throughout eleven nations across the globe.
On 7 May 2020, Ramsay Health Care disclosed that the Company had completed the comprehensive agreement with the State of Queensland for making its services and facilities accessible during the ongoing turmoil.
According to the deal, Ramsay will maintain its complete workforce capability at its facilities and would receive net recoverable expenditures for the services it will provide. Moreover, the Company also disclosed that amounts for revenue comprise revenue paid by Queensland for services offered to public patients.
The tenure of this agreement commenced on 31 March 2020. It will end up the earlier of thirty days following the state establishes that the Australian Health Sector Emergency Response Plan activation for COVID-19 has ended, or any such other end date comes to an agreement between both the parties.
The recoverable expenses include corporate overhead costs, direct operating costs, depreciation associated with the pre-existing investment which is owned and repayment of leases and pre-approved capital expenditure. Ramsay mentioned that it does not include debt servicing and interest costs.
Stock Performance:
On 7 May 2020, RHC stock fell by 0.911% to close the day's trading at $62.000 with a market cap of approximately $13.99 billion. The 52-weeks high and low price of the stock was reported at $80.930 and $46.120, respectively. RHC has nearly 223.51 million shares outstanding on the ASX.
COVID-19 RELATED: Gilead's remdesivir reports positive results for COVID-19 study
Medibank: Member Retention Improved During the COVID-19 Pandemic
ASX-listed private health insurance player Medibank Private Limited (ASX:MPL) is the second-largest health insurance service provider across Australia. Medibank provides health insurance services and runs through its two brands-Medibank and ahm. The focus of MPL is towards improving the lives of many Aussies by offering the finest combination of services as well as advice.
ALSO READ: Medibank- What Can Be A Turning Point In Health Insurance?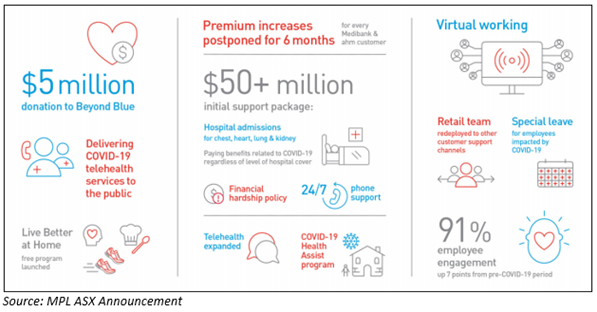 Medibank is Supporting Customers and has introduced several measures to assist its customers, including:
Initial customer support package valued at more than $50 million- Regardless of an existing customer's level of hospital cover, Medibank and ahm are paying benefits towards chest, heart, lung, and kidney hospital admissions, including those related to COVID-19, benefiting 1 million customers.
Rise in Premium Postponed- Medibank and ahm postponed premium surges for six months for all customers, until October 2020. This is nearly a $120 million saving for customers.
Health Assistance for COVID-19- Medibank has brought together its comprehensive variety of health services for developing health assistance for COVID-19.
Extended access to telehealth- Medibank and ahm consumers can now claim for a range of consultations delivered by phone or video (otherwise known as telehealth) as part of their Extras cover. It is noteworthy to mention that Medibank has added seven additional services like psychology, physiotherapy, and dietetics, to telehealth through the pandemic.
The Company is committed to returning any permanent COVID-19 related benefits, additional to the current packages, to its consumers once they are known savings.
FY20 Outlook
Underlying policyholder development since March is moderately lower than as anticipated, with lower acquisition offset in part by improved retention policyholder suspensions associated with customer support package projected to be mostly temporary.
The Company stated that the management expenditures are anticipated to be nearly $545 million for the fiscal year 2020 which comprises $5 million donation to Beyond Blue which offsets the previous savings expected from lower incentives. Moreover, Medibank will provide an update on its productivity program with the financial year 2020 outcomes.
Stock Information:
On 7 May 2020, MPL stock climbed by 3.261% to close the day's trade at $2.850 with a market cap of approximately $7.6 billion. The 52-weeks high and low price of the stock was reported at $3.654 and $2.450, respectively. MPL has nearly 2.75 billion outstanding shares on the ASX.