Highlights

A new COVID-19 variant, XE, has marked its presence in the United Kingdom
XE is a recombinant version of Omicron strain BA.1 and BA.2
So far, there is no sufficient proof to draw conclusions about the new strain's transmissibility, severity, or vaccine effectiveness
Just when the cases of COVID-19 started waning around the globe, a new coronavirus variant, XE was found in the UK. However, according to experts, there is scarce evidence to state that it is more contagious than previous strains.
When a person is afflicted with two or more variants simultaneously, the organism's genetic material is mixed within the patient's body. Such a situation gives rise to a recombinant variant. Recombination is a general phenomenon and during the pandemic, numerous recombinant SARS-CoV-2 variants have been discovered.
The UK Health Security Agency (UKHSA) has analysed three new recombinants, XF, XE, and XD.
XD and XF - recombinants of Delta and Omicron BA.1
XE - recombinant of Omicron BA.1 and BA.2
Do read: COVID-19: Winter booster dose recommended for vulnerable groups
Around 38 cases of XF strain have been reported from the UK. However, they were reported before mid-February and none has been documented since then. Also, the strain hasn't shown any reports of community transmission in the nation.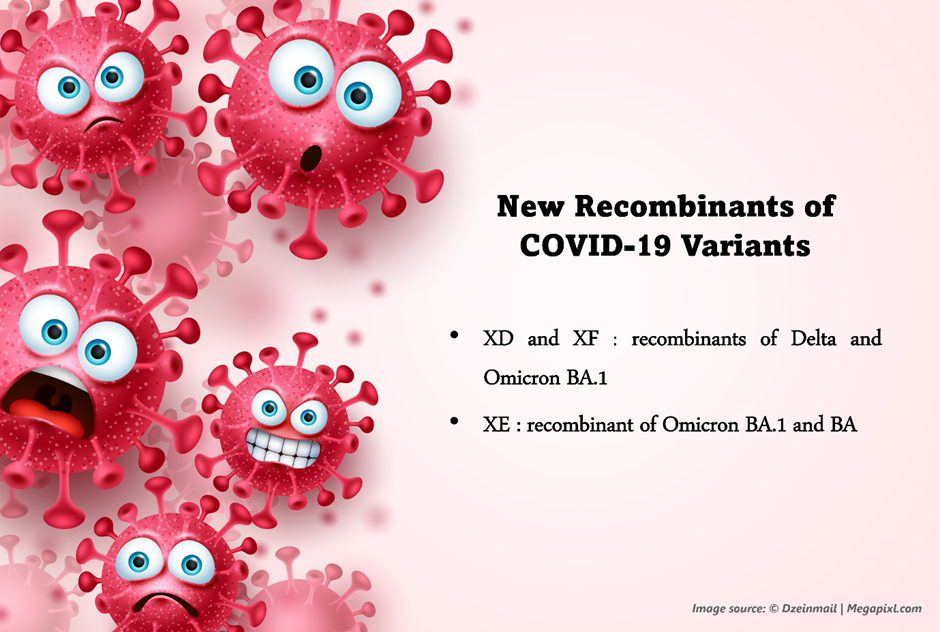 Image source: © 2022 Kalkine Media®
There have been no cases of XD reported in the UK, although a tally of 49 cases were documented on a global basis, mostly from France.
637 cases of XE have been confirmed in the UK. The earliest has a specimen date of January 19, 2022. There is currently inadequate evidence to draw any judgments about the variant's growth advantage or other characteristics.
The agency continuously watches all recombinants as part of its world-class genomic monitoring and sequencing expertise.
Professor Susan Hopkins, Chief Medical Advisor, UKHSA, said:
"Recombinant variants are not an unusual occurrence, particularly when there are several variants in circulation, and several have been identified over the course of the pandemic to date. As with other kinds of variant, most will die off relatively quickly."
XE variant has exhibited a fluctuating growth rate, and it hasn't been confirmed whether it has a true growth advantage. So far, scientists don't have enough proof to make statements about the variant's transmission rate, infection severity, or vaccine effectiveness.
Also read: New COVID-19 variant detected in Israel