Panic-buying, lengthy lines and short supplies have become the norm in the majority of supermarkets around every nation during the COVID-19 pandemic. In the month of March this year, supermarkets were the busiest they have ever been amid the coronavirus panic-buying craze.
According to some media and research reports, March has been the biggest month on record for grocery sales from households. It is not just hoarding that has had an impact on spending - households have also had to adjust with more mouths to feed now, given that people have been working from home and schools are also closed, hence, the frozen food sales also rose up in the last few weeks.
Related: Retail Sector Dynamics amidst current lockdown
As per recent media reports, it is estimated that in Australia, supermarkets would witness ~$9 billion sales boost as customers are eating more at home. After a mammoth March quarter driven by panic stockpiling, sales growth at Woolworths and Coles is anticipated to stay high for more than a year as shoppers are dining regularly at home.
COVID-19 Related: Is it an inflection point for the COVID-19 pandemic?
This would enhance supermarket and grocery sales growth by at least 1.9% in 2021 if 25% of restaurant, cafes and takeaway sales shift to the supermarket channel, and by 3.9% if half of sales switch to supermarkets.
It is anticipated that grocery companies would continue to get advantage from the shift from out-of-home to in-home consumption over the rest of 2020 and so into 2021, owing to health concerns as well as lockdowns.
In this article, we will highlight the recent activities of two ASX listed supermarket stocks- COL, WOW
Coles Group Limited (ASX:COL)
Melbourne based Australian Exchange Securities listed leading retailer Coles Group Limited is a trusted retailer, offering quality value and service to nearly 21 million consumers, COL has above 2.5k retail outlets in Australia. Businesses of Coles group includes- Coles Supermarkets, Coles Online, Coles Financial Services, Coles Liquor, Coles Express, Spirit Hotels and flybuys.
Coles to increase recruitment amid COVID-19 pandemic
According to the media release of Coles, in the beginning of March, the Company recruited more than 8k people in within 2-weeks of time to fulfill the demand of consumers, providing much-needed employment opportunities at a time when many Australians are urgently seeking employment.
The new workers have been progressed into supermarkets business of Coles along with the liquor shops across Australia and have experience in a wide range of businesses, with many that have been forced to shut down or to step down staff for instance in fitness, sport, travel, and hospitality.
Moreover, the Company has now broadened the recruitment drive by opening an additional 5k positions in Australia.
Half-year sales up by 3.3%-
Coles released 6-month report during February this year, for the period ended 5 January 2020 and highlights from the same are as below:
Coles highlighted that the successful execution of strategy inspires its consumers and drives supermarkets growth, an interim dividend of 30 cents/ per share declared.
Total sales revenue for the first half reported to be approximately $18.8 billion, increased by 3.3% as compared to the previous corresponding period (pcp).
The summary of financial highlights of the first half of FY2020 is-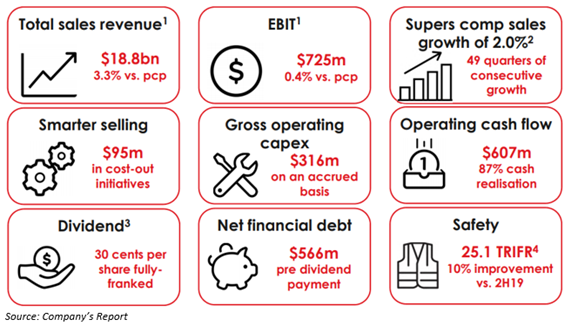 Stock Performance-
On 21 April 2020, COL stock settled the day's trade at $16.000, down by 1.235% with a market capitalisation of nearly $21.61 billion. The COL stock has ~1.33 billion outstanding shares, as mentioned on ASX. The 52 weeks high and low price of the stock was reported to be $18.090 and $12.216, respectively. The Company has delivered a positive return of 8.36% in the previous six months and 1.69% in the last three months.
Woolworths Group Ltd (ASX:WOW)
ASX-listed reputed brand in supermarket segment Woolworths Group Ltd operates through Australian Food and Petrol, New Zealand Supermarkets, Endeavour Drinks segment, Hotels and BIGW. The retailer is working to fill 20k roles to support the community.
Impact of COVID-19
Due to the momentous uncertainty associated with current sales performance, changes to consumers shopping patterns including pantry stocking and the closure of the Hotel business for a lengthy period, the Group is not able to precisely predict the net impact of COVID-19 on results of the financial year 2020.
The Company mentioned that further updates on the impact of coronavirus on the Group's performance would be updated as appropriate.
In past weeks, sales growth across the retail businesses of Woolworths has been strong, reflecting extraordinary demand for a variety of goods as shoppers have consumed more at home and stocked their pantries due to lockdown as a result of COVID-19.
Notably, this has been pronounced in New Zealand and Australian Food, leading to challenges across the supply chain in keeping pace with the requirement, which has regrettably headed to shortages on shelves of the store.
It is noteworthy that the Company has a solid balance sheet, with liquidity and funding access.
Do Read: The Positive Wave Emerging from Woolworths Amidst Job Crisis
Woolworths Basics Box
In an effort for supporting the consumers that are compulsorily at their respective homes, Woolworths Group has partnered with DHL Supply Chain and Australia Post to launch the 'Woolworths Basics Box' across NSW, ACT and Victoria, with other states, anticipated to follow in the coming weeks, as per its press release on 30 March 2020.
Woolworths will be able to get more indispensable products to numerous more vulnerable consumers faster by partnering with DHL for the packing and Australia Post for the delivery.
Woolworths Basics Box comprising snacks, meals and some other important stuffs can be availed for $80, which also includes contactless delivery at doorway by Australia Post that shall be made within an estimated time of 2-5 business days of order.
It is noteworthy that the Company has emerged as one of the most sensitive and consumer-centric retailers in Australia in these gloomy times of COVID-19 pandemic, with its advanced methods intended to cater various consumers according to their specific requirements.
HY20 Group highlights
A few pointers from the six- months results ended 5 January 2020 of the Company is as following:
Group online sales increased by 31.6% as compared to the half-year of FY2019.
Sales from continuing operations reported to be $32,410 million, increased by 6.0% from the first half of the financial year 2019.
Net profit after tax (NPAT) from continuing operations climbed up by 15.7% from the half-year of FY2019.
Summary of financial highlights-
Moreover, the Company mentioned that it would announce sales for the 3rd quarter of FY2020 on 30 April 2020 and the Full Year Earnings for the fiscal year 2020 would be announced on 27 August 2020.
Stock Performance-
On 21 April 2020, WOW stock settled the day's trade at $36.010, up by 2.99 % with a market capitalisation of nearly $ 46.89 billion. The WOW stock has ~ 1.26 billion outstanding shares, as per ASX. The 52 weeks high and low price of the stock was reported to be $43.960 and $ 31.020, respectively. The P/E ratio of WOW stock stands at 18.370x with an annual dividend yield of 2.77%.