In Australia, there is a highly developed health care structure, with health care insurance providing all the coverage for medical expenses to the citizens, depending on the plan chosen by the policyholder. The medial cost includes all the medical services like doctor's visit, emergency room, drug prescription and medical procedures. Insurance has become an essential component of the overall health care system in the country.
However, the economics of the broader private insurance sector is becoming more challenging in the country. Recently, Medibank Private Limited (ASX: MPL), one of the topmost health insurance service providers in Australia, highlighted that an "alarming" and "curious" increase in surgeries is boosting costs as well as threatening the stability of the private health sector.
The company, which is progressing well towards its plan to transform into a heath care giant, in a recent announcement on 6 November 2019, updated the market with additional information related to its full-year 2020 outlook. Since the release of full year 2019 financial results on 22 August 2019, the company experienced higher than expected claims, leading to a $21 million under provision from the 30 June 2019 claims reserve. Owing to this, MPL is expecting the increase of claims per policy unit in H2 FY19 to continue throughout FY20.
The claims were driven higher due to higher private hospital payments and an 8.5% year-on-year increase in volume of prostheses like hip and knee replacements and other medical devices during the year. In the last two years, the growth was reported at 2% and 4%, respectively.
Additionally, Medibank reported continued focus on growing its policyholder numbers and other elements of business that the company can control. During Q1 FY20, the company achieved net resident policyholder growth of around 0.6% or more than 10,000 policyholders, representing growth rate double than registered in the same period a year ago.
The company is on track to achieve its milestone to stabilise the brand policyholder volumes by the end of FY20 and grow in the subsequent year, FY21.
Additionally, MPL would focus on improving its business by paying attention to payment integrity and portfolio management. With this, the company would keep its focus on costs, expecting approximate management expenses of $545 million for FY20.
According to the company, its recent claims experience demonstrates the need for further reforms by the government, with private health insurers remaining focused on affordability challenge management due to increasing costs within the health system.
In FY19 results' release, the company had unveiled priorities for FY20.
MPL would focus on delivering differentiated products & services for customers.
The company would personalise and integrate health into customers' experience.
The company would simplify and enhance the cover options.
For recognition and reward membership, the company would enhance loyalty offerings.
Medibank would continue to improve health care value for customers.
The focus would be on improving customers' health outcomes by providing more ex excellent choice and transparency.
The company would look at new options for delivery to improve health outcomes, enhance patient experience and cost reduction.
The company would expand the offering for customers and focus on the growth of business by strengthening and broadening partnerships.
MPL would focus on corporate growth and diversified portfolios.
It would expand the scope and commercialise payers' services, which include payment integrity program.
FY2019 Highlights (ended on 30 June 2019)
MPL generated revenue of $6,464.7 million from health insurance premium in FY2019, compared with $6,319.5 million in FY2018, and it has reported a reliable performance in FY2019 for the period ended 30 June 2019;
The company registered $542.5 million in operating profit from health insurance for FY2019, up 1.3% year-on-year;
The overall revenue of Medibank via continued operations increased by 2.9% to $6,655.8 million as compared to the previous financial year;
NPAT of the group from continuing operations grew by 3.2% year to year to $437.7 million;
Net assets of the company increased to $1,935.4 million in FY2019;
Net cash inflow from operating activities increased to $416.1 million in FY2019 which was $408.3 million in FY2018;
Cash and cash equivalents at end of the financial year 2019 stood at $656.5 million.
Dividend - Medibank Private Limited, a consistent dividend payer, delivered a full year fully franked ordinary dividend of 13.10 cents per share, in addition to a special dividend of 2.50 cents per share for FY19.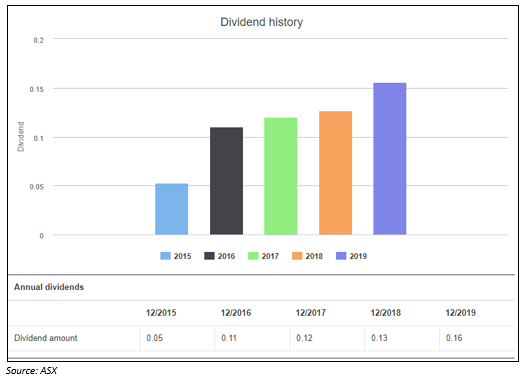 About Medibank Private Limited (ASX: MPL)
Victoria-based, Medibank Private Limited (ASX: MPL) is the second-largest health insurance provider in Australia. The company offers health insurance and runs through two brands (Medibank and ahm). Medibank is continuously boosting health care system in Australia in partnership with the government and health professionals. The company focuses on improving lives of many Australians by providing the best combination of services and advice. MPL is committed to providing economic health care to the customers.
The range of services offered by the company also includes diversified insurance and health services. Diversified insurance includes travel insurance, pet insurance and life insurance. Other health services provided by MPL are telehealth & digital, home health care services and integrated care & coordination. The company is a consistent dividend payer in the Australian health insurance market.
Business Snapshot
The company has a total of 3.77 million customers, as of 30 June 2019;
The market share of MPL was approximately 26.9%, reported on 30 June 2019;
Medibank supports more than 1.3 million hospital admissions, 24.3 million extra services and 500,000 surgical procedures;
The company's productivity savings stood at approximately $20.4 million for the financial year 2019;
The staff of the company includes a total of 3,828 people, including nearly 1,300 health professionals, as on 1 July 2019.
Annual General Meeting - 2019
Medibank notified about its annual general meeting (AGM) 2019, which would be held on Tuesday, 12 November 2019 in Melbourne, Australia. The highlights of this meeting would be the discussion of financials along with some resolutions.
Resolutions to be considered
Receipt of financial statements and reports
Re-election of David Grahame Fagan as a director
Re-election of Linda Bardo Nicholls AO as a director
Adoption of the remuneration report
Grant of performance rights to Chief Executive Officer
Stock Performance
The company's stock was trading at $3.150 on 11 November 2019 (AEST 12:50 PM), down by 1.869 per cent, with approximately 2.75 billion outstanding shares and a market cap of nearly $8.84 billion. The stock has a 52 weeks high price of $3.654 and a 52 weeks low price of $2.274. The stock has delivered a return of 29.31 per cent on a year to date basis and 12.25% in the last six months. The annual dividend yield of the MPL stock stands at 4.08%.
---