The COVID-19 has slaughtered over 251,000 lives, devastated all the health systems and confined billions of persons in their homes. Everyone is waiting desperately for a vaccine, and the investigation is ongoing across the globe toward that goal.
Though there are many scientific developments going on, even than healthcare companies and public health officials still expect it will probably take around a year to one and a half year before the first vaccine is available.
According to PhRMA org, in America, the biopharmaceutical players are leading the approach in developing new vaccines and treatments for COVID-19, and there are 310 clinical trials testing COVID-19 treatments and vaccines, as of April 8, 2020. The quick summary for ongoing clinical trials in different phases-
The type of therapies and vaccine which are under development for COVID-19 are-
Anti-inflammatory therapy
Antiviral therapy
Cell therapies
Convalescent Plasma
Genetic materials (i.e. mRNA and DNA)
Monoclonal antibodies
Protein vaccine
Recombinant vector vaccine
Tuberculosis vaccine
In the backdrop, we will acquaint you with some biopharmaceutical players and research organisations which are engaged in the development of vaccine across the globe- Moderna, University of Oxford, AstraZeneca, Clover Biopharmaceuticals, University of Queensland, Sinovac, BioNTech, INOVIO, Johnson & Johnson and Novavax
Vaccine Leader Moderna Inc. Signs Deal for Manufacturing 1 billion COVID-19 Doses a Year
US-based clinical-stage biotechnology company Moderna Inc (Nasdaq: MRNA) is a pioneer in developing messenger RNA (mRNA) therapeutics and vaccines to build a new generation of transformative medicines for patients. The Company has developed an mRNA vaccine that uses parts of the coronavirus (SARS-CoV-2) genetic material to create an immune response from the human body.
Moderna has also collaborated with Swiss firm Lonza Ltd to enable larger scale (~1 billion) manufacture of Moderna's mRNA vaccine (mRNA-1273) against the novel coronavirus.
On 4 May 2020, shares of Moderna climbed by 5.36% to close the day's trade at USD 50.50.
Oxford COVID-19 Vaccine
The University of Oxford has begun testing a COVID-19 vaccine in human volunteers in Oxford on 23 April 2020, and nearly 1.1k participants will take part in this clinical trial, half receiving the vaccine and the other half is the control group, receiving a widely available meningitis vaccine (MenACWY vaccine).
ChAdOx1 nCoV-19 Vaccine- This vaccine is made from a virus named ChAdOx1, which is a diminished version of a common cold adenovirus that triggers infections in chimpanzees, that has been genetically modified so that it is impossible for it to develop in humans.
AstraZeneca to Work with University of Oxford on COVID-19 Vaccine Development & Distribution
Global science-led biopharmaceutical player AstraZeneca plc (NYSE: AZN) is Cambridge-UK based which focuses on the discovery, development and commercialisation of prescription medicines. These medicines are primarily for the treatment of diseases in three therapy areas (Oncology, Cardiovascular, Renal and Metabolism, and Respiratory and Immunology).
AstraZeneca and Oxford University disclosed an agreement for the global development and distribution of the potential recombinant adenovirus vaccine of the University that is targeted for preventing COVID-19 infection. Under this deal, AZN would be liable for worldwide manufacturing as well as distribution of the vaccine.
Share price of AZN rose by 0.94% to close the day's trade at USD 52.35 on 4 May 2020.
Clover Biopharmaceuticals Obtains CEPI Funding for Covid-19 Vaccine
A global biotechnology company Clover Biopharmaceuticals is into development as well as commercialization of transformative biologic treatments, focusing on autoimmune diseases, oncology, and viral vaccines. To develop the innovative biologics targeting trimerisation dependent routes, Clover is using its own proprietary platform of Trimer-Tag© technology.

CEPI to offer initial USD 3.5 million to Clover Biopharmaceuticals Australia for supporting the preparation and beginning of phase 1 clinical trial of Clover's protein-based COVID-19 S-Trimer vaccine in Australia.
Clover's COVID-19 S-Trimer Vaccine is based on proprietary Trimer-Tag© technology of Clover and S-Trimer is a trimeric coronavirus (SARS-CoV-2 spike) protein subunit vaccine drug. The details of S-Trimer Vaccine are below-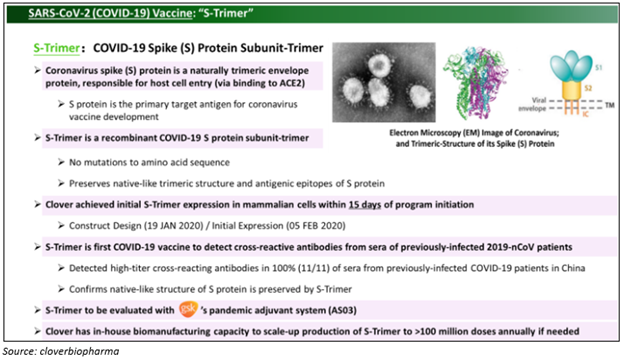 University of Queensland reports positive findings on Covid-19 vaccine
UQ is the only Australian organisation tasked by the Coalition for Epidemic Preparedness Innovations (CEPI) to develop a vaccine against the novel coronavirus.
The COVID-19 vaccine by UQ has been approved for another key breakthrough by demonstrating the capability to increase the levels of antibodies for neutralisation of the virus during the pre-clinical assessment. According to UQ researchers, the vaccine candidate raised significant levels of antibodies to neutralise infection caused by the virus.
The other collaborators include Syneos Health, Thermo Fisher Scientific, Lonza and the Commonwealth Scientific and Industrial Research Organisation (CSIRO). Moreover, the UQ team has also been granted access to crucial adjuvant technology from GlaxoSmithKline, CSL/Seqirus, and Dynavax.
Sinovac's PiCoVacc Experimental Vaccine in Phase I
A China-based biopharmaceutical company Sinovac Biotech Ltd. (Nasdaq: SVA) is focused on the R&D, manufacturing as well as commercialisation of vaccine for infectious diseases having significant unmet medical needs.
Sinovac has developed a vaccine that uses an inactive SARS-CoV-2 to generate an immune response against the active version of the virus. It is being tested on 144 healthy individuals as part of a Phase I trial and is likely to be tested on 744 individuals in Phase II. Animal tests suggest it could provide the complete protection, but human results are still awaited.
On April 13, 2020, the phase 1/2 clinical study which is double-blinded, randomized, placebo-controlled trial of the inactivated SARS-CoV-2 vaccine developed by Sinovac was authorized by National Medical Products Administration of China for evaluating the safety and immunogenicity of its vaccine candidate.
On 4 May 2020, the share price of Sinovac closed the day's trade at USD 6.47 without any change from its previous closing.
BioNTech, a German biotech company collaborates with Pfizer for vaccine clinical trials-
A next-generation immunotherapy company BioNTech SE (Nasdaq: BNTX) is a pioneer in developing novel therapies for cancer and other serious diseases. BioNTech is currently developing vaccine candidate BNT162 in Germany for preventing COVID-19.
Pfizer and BioNTech plan to initiate trials for BNT162 in the US
BioNTech and Pfizer are maintaining the speed of the sweeping COVID-19 as they complete dosing in the first cohort of their COVID-19 test. Both the companies will together develop mRNA-based vaccine candidate BNT162 for preventing the infection induced by the coronavirus. The first cohort of the phase 1/2 clinical trial has been dosed in Germany, and this is the first clinical study of a vaccine for COVID-19 in Germany.
On 4 May 2020, the shares of BioNTech rose by 1.49% to USD 45.78.
INOVIO Expands Manufacturing of COVID-19 DNA Vaccine
US-based biotechnology company INOVIO (Nasdaq:INO) has entered into an agreement to expand its manufacturing partnership with the German contract manufacturer Richter-Helm BioLogic, to support large-scale manufacturing of the investigational DNA vaccine INO-4800, which currently is in Phase 1 clinical testing in the United States for COVID-19 and could potentially advance to Phase 2/3 efficacy trials in upcoming weeks.
INO-4800, is the DNA vaccine candidate by INOVIO against the novel coronavirus which triggers COVID-19. This candidate was designed by employing the proprietary DNA medicine platform of INOVIO rapidly after the publication of the genetic sequence of the COVID-19 causing virus.
On 4 May 2020, the shares of INOVIO rose by 9.24% to USD 11.23.
J&J Leveraging Janssen's proven AdVac® and PER.C6® technologies for Developing Vaccine Against COVID-19
Johnson & Johnson (NYSE:JNJ) revealed a collaboration between the Janssen Pharmaceutical Companies of J&J and Emergent BioSolutions to support the development of its lead investigational COVID-19 vaccine candidate and further the goal to supply more than a billion dosages of the vaccine across the globe.
Johnson & Johnson commenced the development for vaccine candidate in January 2020, as soon as the novel coronavirus sequence was observed. The vaccine program for COVID-19 is leveraging established AdVac® and PER.C6® technologies of Janssen that offer the capability to quickly manufacture new vaccine candidates and increase manufacturing of the optimal vaccine candidate.
On 4 May 2020, the shares of JNJ closed the day's trade at USD 148.27.
Novavax Identified NVX-CoV2373 as SARS-CoV-2 Vaccine Candidate for Phase I Trial
A biotechnology company Novavax Inc (Nasdaq: NVAX) is engaged in manufacturing next-generation vaccines for severe infectious diseases. The Company has discovered a coronavirus vaccine candidate named as NVX-CoV2373. This is a stable, prefusion protein produced by using the proprietary nanoparticle-based technology of Novavax. The first-in-human trial for this candidate would start in mid-May.
On 4 May 2020, the shares of Novavax rose by 4.21% to USD 18.06.