Summary

Greenland Minerals is developing the Kvanefjeld rare earth project, which is likely to become a large-scale, low-cost, long term supplier of products- at the centre of unfolding clean energy revolution.
Major changes can be seen across global rare earths supply, with China looking to cap primary production in 2020, at a point when demand is set to surge.
Greenland Minerals seems to be at the forefront of this strategic evolution, leveraging from the relationship with Shenghe Resources since 2016, its largest shareholder and one of the largest RE producers globally.
Recent addition of Executive General Manager coupled with well-paced licensing process is likely to drive developments at Kvanefjeld.
On 2 July 2020, Greenland Minerals Limited (ASX:GGG), an Australian company operational in Greenland announced the key appointment of Mr Jørn Skov Nielsen as Executive General Manager, an update that Managing Director Dr John Mair regards as "a fantastic development" for Greenland Minerals.
New Executive General Manager on Board
Mr Jørn Skov Nielsen is likely to play a key leadership role at Greenland Minerals. He is expected to drive in-country activities pertaining to the Kvanefjeld rare earth project, the Company's primary focus that is positioned to be a future cornerstone to global rare earth supply.
Reportedly, Mr Nielson's role would particularly revolve around licensing and regulation in Greenland and Denmark, along with commercial developments into Europe.
Mr Mair believes that this new addition to the Company is a key step in building the in-country capacity to develop a globally significant international rare earth business from Greenland.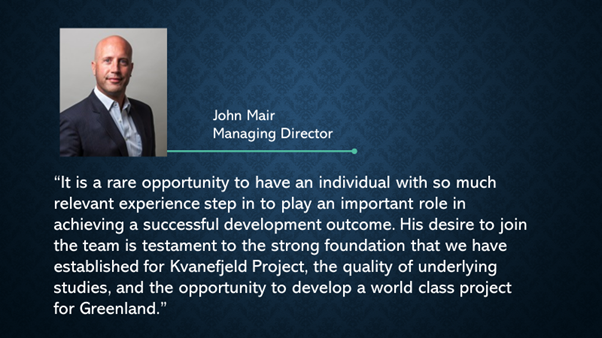 Acquainting with Mr Jørn Skov Nielsen & His Role at GGG
Based in Nuuk, Greenland, Mr Nielsen is an economist and carries extensive managerial experience from over a decade. He has worked across a cross section of senior roles within the Greenland administration.
He has been a Deputy Minister for several areas including industry, mineral resources, trade, energy, research and labour, wherein he led government delegations and presented to significant audiences across Asia, Europe, Australia and North America, attracting foreign investment while promoting interests of Greenland.
Well-experienced in international government as well as commercial negotiations, Mr Nielsen has witnessed negotiations that led to privatisation of a publicly owned supermarket business. He is also is a former board member in the financial sector.
Notably, Mr Nielsen carries in-depth understanding of the Greenlandic society and business sectors, which coupled with vast career experience places him well to join the Company at a pivotal time to strengthen in-country leadership and organisational capacity.
He acknowledged his appointment at Greenland Minerals, looking forward to being a part of the high-quality work undertaken by the Company to develop a project with far-reaching strategic and commercial significance for Greenland and on a global scale.
Commenting on the Kvanefjeld Project, Mr Nielsen stated-
"It is a unique industrial project that has the potential to become a world leader in the extraction of rare earth metals, thus contributing to improved energy efficiency, increasing renewable power generation capacity, and reducing greenhouse gas emissions on a world scale. The project further has a strong perspective in terms of supporting a long-term sustainable development of Greenland's business community, employment and knowledge building".
Recent Developments at Kvanefjeld
GGG continued to make the progress on permitting of the Project through the March 2020 Quarter, with the main focus on completion of additional technical studies undertaken following Environmental Impact Assessment (EIA) reviews in 2019.
Subsequently, on 20 May 2020, an updated EIA was lodged with Greenland's Environmental Agency for Mineral Resource Activities (EAMRA).
Let us cast an eye over recent developments at the Project:
Post in-depth review process by independent specialist Shared Resources, the EIA was lodged with EAMRA, marking an important step towards the Company securing a mining license for the Project.
To know more about details of EIA review, READ HERE- Greenland Minerals Advances Towards Securing Mining License for Kvanefjeld, Updated EIA Lodged
GGG was granted effective documentation of a deposit of exploitable minerals in the license area by Greenland Government, affirmed in writing by Ministry of Mineral Resources and Labour that mineral resource and feasibility reports for the Project stand approved.
GOOD READ: Greenland Minerals Reported Significant Progress on Kvanefjeld Across March 2020 Quarter
What's in Store?
The Project's EIA is currently lodged with EAMRA. Once approved, the Ministry for Mineral Resources will be notified, who will manage the remainder of the licensing process, that includes formalising the public consultation process.
The Company is also likely to conduct the Annual General Meeting on 31 July 2020 at the Subiaco Arts Centre, in compliance with all relevant COVID-19 measures.
GGG settled the day's trade 8 per cent up at $ 0.135 on 2 July 2020.
(Note: All currency in AUD unless specified otherwise)