Key rare earths (RE), particularly the 'magnet metals', have garnered attention off late as critical elements with looming supply shortage. They are deemed to be the clean energy future and are an integral part of number of essentials- offshore wind turbines, rechargeable batteries, screen display panels and latest smartphones.
RE also contributes to reducing greenhouse gas emissions and our dependence on fossil fuels, and make the world's strongest permanent magnets, a vital element in wind power, hybrid and electric vehicles besides in a vast array of electronic devices.
INTRODUCING- Greenland Minerals Limited (ASX:GGG)
Tapping this lucrative opportunity is Greenland Minerals, an Australian company that has been operating in Greenland since 2007. The Company has been focussed on developing the south west GreenlandKvanefjeld RE Project(Project) which is positioned to be a foundation tofuture global RE supply.
Not only is the project one of the most significant emerging RE projects globally, once developed it is believed to be a large-scale, low-cost, long term supplier of products that will unfold the efficient use of energy.
To know about the Kvanefjeld RE Project, PLEASE READ- Acquaint Yourself With Greenland Mineral's Kvanefjeld Project and The Rare Earths Realm
GGG recently released its FY 2019 Annual Report, highlighting the progresses made through the year in the Project and outlined its outlook for FY 2020.
Let's deep dive-
GGG's FY 2019- Significant Highlights
Continuing with its aim to develop materials for an energy efficient future, GGG advanced well with the Project through FY 2019 at the back of diligent and committed efforts of the staff in Greenland and Australia, key consultants and the support of the Company's biggest shareholder and the world's second-largest producer of RE, Shenghe Resources.
International Headlines
With heightened interest from the US towards Greenland's natural resource endowment and strategic location, the Company's international profile was boosted substantially.
In May 2019, GGG took part in the 'Future Greenland' conference held in Nuuk, where Managing Director Dr John Mair presented in the mining session and met the US Ambassador to Denmark, Carla Sands and her aids.
In July 2019, the Company participated in a joint research program conducted by Greenland's Department of Geology and the US Geological Survey, wherein the research team spent several days studying the geology of the Project- visiting outcropping ore zones, examining drill cores at the operations base in Narsaq.
Post this, Ambassador Sands visited southern Greenland and GGG's operations base in Narsaq. Moreover, US Greenlandic Affairs Officer Mr Sung Choi also visited the Project.
In December 2019, Mr Mair joined a delegation from Shenghe to participate in the Confederation of Danish Industry's Greenland-focussed conference in Copenhagen, wherein Shenghe's Chairman Mr Hu Zesong presented an overview to a cross section of industry, government and media representatives from Greenland and Denmark on the RE sector outlook, Shenghe's international growth strategy and significant role the Kvanefjeld Project can play. This visit allowed for a productive meeting of the Shenghe/GGG delegation with Greenland's Minister for Mineral Resources, Mr VittusQujaukitsoq to discuss the forward strategy for the Project.
GOOD READ- Greenland Minerals Presents Kvanefjeld Project Significance At PDAC Mining Conference, Stock Up ~10%
Solid optimisation outcomes
The Project optimisation has been in progress since 2017. It has focused on metallurgical performance and civil design and engineering, which have been built on the 2016 Kvanefjeld Feasibility Study at the back of Shenghe's support.
The excellent outcomes of the optimization program stemmed from what has been a very productive and cooperative working relationship with Shenghe and a joint technical committee oversaw work programs in China and Australia-
The outcomes of these studies were finalised during Q2, 2019 and noted below key achievements-
Capital costsshrunk by 40% to US$505 million, marking the Project to be the lowest capital intensity of emerging ASX-listed RE projects.
Operating costs reduced by 40%, resulting in unit costs of less than US$4 per kg of REO.
The revised civil costs are now estimated to be US $175 million, including indirect costs and contingency.
Project has lower impacts with smaller footprint while producing additional RE.
Reduced power needs and reagent consumption.
Cost reductions were majorlyattained throughupdated port design by specialist groups,considerable reductions in civil earth works for site preparation, and greater use of local materials.
It should be noted that the reduction in the capital cost estimate is the result of optimisation studies from the flowsheet to civil construction. Improvements to the flowsheet include a major enhancement to flotation performance and the development of a simpler, more efficient leaching (refinery) circuit. Shenghe's experience and expertise in RE processing propelled the development of these improvements, which have significantly reduced the scale of the refinery circuit, resulting in the substantial cost reductions.
Improved RE recoveries with the projected output of commercially important rare earths increased to-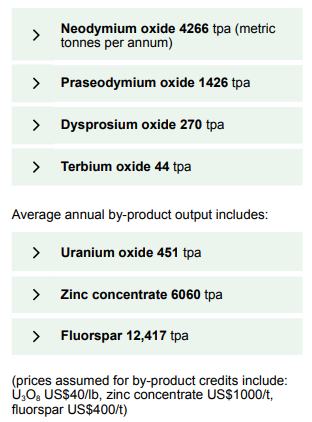 In this backdrop, let us browse over a few facts on the laboratory technical work-
The leach process results in better RE recoveries with the simultaneous dissolution of RE and uranium.
Vendor filtration test work confirmed good filterability of the leach residues and high wash efficiencies.
The lab work was eventually shifted to further improve radionuclide removal, on going test work is likely to confirm that intermediate products can be sent to various facilities for further processing to produce individual RE metals and oxides.
Utilising the optimised flowsheet, SGS Oretest Laboratories (Perth) has been successful in producing uranium oxide from Kvanefjeld ore.
To read about the optimisation studies, CLICK HERE- Greenland Minerals' Studies And Assessment Through 2019
Permitting Process Developments
Along with the optimistation studies, Project permitting continued to be a key focal point through FY 2019. GGG has laid down a new minerals strategy for consultation by the Greenland Government to streamline the permitting process and make it faster, simpler and more transparent.
The acceptance of the social impact assessment (SIA) for public consultation was a significant milestone. Public consultation gives shareholders an opportunity to provide their feedbacks on assessments and aiding companies to ensure that all impacts and issues are addressed and described, to the satisfaction of local communities.
Besides the SIA, substantial progress was made toward finalizing the environmental impact assessment (EIA). Communication and guidance from the Greenland Government (EAMRA), independent specialist consultant Klohn Crippen Berger and Arcadishas been of great assistance in focusing additional studies that are now in the finalisation stage.
The EIA is expected to be ready for public consultation once 'Type 1' issues shortlisted by the EAMRA are settled, after discussions were undertaken to access the additional work to address them. An update on completion is expected around end of Q1 2020.
To Know More About the EIA Status, READ HERE- Greenland Minerals Advancing Well Amid Pandemic- EIA Ramps Up, Productive Meetings Continue
Strengthened Community Ties
Local community support is paramount when it comes to project developments. In March 2019, GGG entered a MoU with Kommune Kujalleq and Kujalleq Business Council at the PDAC Conference in Toronto. This established the parties' intent to finalise a Participation Agreement supporting and supplementing the Impact Benefit Agreement (IBA), a vital ingredient of successful mining licence application for the Project.
The three parties also agreed to focus on development in terms of needs identification and skills development for the local workforce and businesses and the importance of sharing knowledge about local culture and land use practices with the projected influx of Project workers.
Financial Highlights
Moving onto GGG's corporate affairs, the Company conducted a successful capital raise to secure $7 million in July 2019. As at 31 December 2019, net assets worth amounted to $94.5 million. Cash and equivalents at the end of the financial year amounted to $ 8.6 million.
GGG's Bright Outlook Amid Pandemic
In 2020, GGG aims to work in close communication with the Greenland Government to advance the Project through a public consultation phase. Post this, it will follow-up to finalise the requirements of an exploitation license.
Shenghe's role is likely to continue to be integral as GGG advances its development plans, where greater focus will shift to off-take and marketing discussions and the downstream processing strategy. The Company had already built ties with the European industry in 2019 and will aim to ramp it further.
The COVID 19 virus will unquestionably influence global logistics through 2020, acknowledges Non-executive Chairman, Anthony Ho. This might impact field work in Greenland and have considerable economic disruptions. Though the financial effects of the virus outbreak remain uncertain, the Company has proactively implemented a number of actions, with a range of expenditure containment measures designed to deal with prolonged economic and logistical impacts.Further contingency measures will be implemented as deemed necessary.
GGG last quoted $ 0.088 after market close on 30 March 2020 and has delivered returns of 78% in the past one year.
GOOD READ- Greenland Minerals Advancing Well at the Emerging World-Class Kvanefjeld RE Project
---
Disclaimer
This website is a service of Kalkine Media Pty. Ltd. A.C.N. 629 651 672. The website has been prepared for informational purposes only and is not intended to be used as a complete source of information on any particular company. The above article is sponsored but NOT a solicitation or recommendation to buy, sell or hold the stock of the company (or companies) under discussion. We are neither licensed nor qualified to provide investment advice through this platform.