Researchers opine that raw material diplomacy has begun with rare earths (RE) becoming important at the back of technological advances. Being the essential elements of electric motors, wind turbines and smartphones, RE have been associated with the sustainable development of the society.
The Rare Earths Dominance
The RE are 17 distinct metals and belong to the segment of critical metals. They are difficult to get off the ground and put into the process of production.
However, in 2018, around 170,000 tonnes of RE were produced and used in various technologies. Industry experts believe that the RE will be critically important in the future with demand set to surge.
Currently, China holds over 80% of the RE market. The country is known to hold both technology and value chain when it comes to the production and sale of RE and has the expertise and marketing channel to make RE a profitable business.
In this regard, we present to you, ASX-listed Greenland Minerals (ASX:GGG), which is developing the Kvanefjeld RE project in south-west Greenland, which has an abundance of RE.
GOOD READ- Greenland Minerals Developing Materials For An Energy Efficient Future
Greenland Minerals' Interest in Rare Earths- Kvanefjeld Project
For a very long time, researchers did not see the opportunity that lay beneath the surface of the mountainside of Kvanefjeld. Since 2007, GGG has been licensed to mine the RE realm in Kvanefjeld.
The Project is anticipated to be the future keystone to global RE supply. Post-development, it is believed to be a low-cost, large-scale, long term provider of products that will eventually be the crux of unfolding the revolution in energy's efficient use.
The Company ended 2019 positively after a highly productive and successful year in advancing the Project towards development.
Recent Developments at Kvanefjeld Project
Let us look at the recent developments of this world-class RE Project-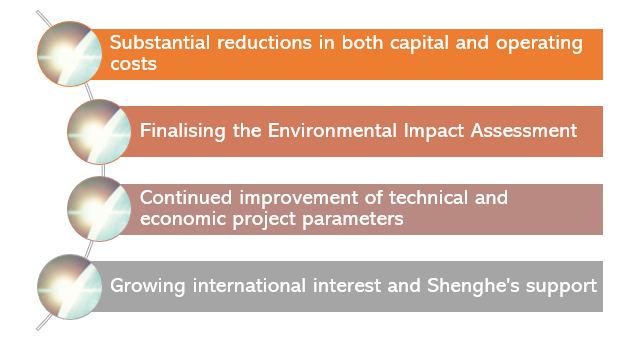 Substantial Cost Reduction
The reductions in both capital and operating costs in FY19 demonstrates a highly competitive cost structure for the Project.
In July 2019, the Company had conducted a share placement to institutional investors and existing shareholders to raise $7 million before costs.
The successful capital raise and the consecutive completion of a highly successful feasibility optimisation program resulted in a significant 40% reduction in both the capital and operating cost estimates of the Project.
Consequently, Kvanefjeld is believed to bear the lowest capital intensity and unit costs of production along with the longest mine life of ASX?listed (emerging) RE projects.
EIA Progress towards Finalisation
Through August – September 2019, the Government of Greenland's Environmental Agency for Mineral Resource Activities (EAMRA) reviewed GGG's Environmental Impact Assessment (EIA).
Feedback was received in October 2019, with EAMRA categorising environmental issues into Type 1 and 2. In November 2019 and initial December, the Company conducted meetings with the EAMRA (along with its advisors), to address the Type 1 issues, a step towards rolling out the EIA for public consultation.
GGG remains assured that the Type 1 issues can be efficiently handled. Independent specialist consultant Klohn Crippen Berger has been performing supplemental tailings studies related to the Type 1 issues (expected to be completed in February 2020).
Arcadis will conduct supplemental work and provide further clarification on the results of present studies, which will add more detailing to the EIA and be instrumental in developing it to the highest standards.
In late March 2020, the updated EIA (integrating the supplemental studies) will be lodged with the Government of Greenland.
Enhanced Technical and Economic Project Parameters
Outstanding technical progress was made on the Project through 2019. For instance, GGG was focused on the ongoing test work to remove uranium, thorium and other radionuclides from the rare earth intermediate product to purify it.
The test work was successful in reducing the uranium and thorium to extremely low levels using a commercially proven precipitation method.
The results of this work will be available in Q1 2020 and are likely to showcase that the optimised flowsheet will produce a RE intermediate product with extremely low residual radiation. This validates the Company's international strategy to supply RE end?user markets globally without technical restrictions.
Moving on, GGG's exploration license is inclusive of all economic components including both REs and uranium.
On the economic front, it is important to note that the European Union has approved the existence of a classification system (unified) to contribute to a climate neutral economy and promote private investment in sustainable growth.
GGG's Project will produce uranium oxide as one of a by?products to RE production, signifying that the Project will provide materials that cater to a climate neutral economy.
It is safe to state that the Project has solid economic metrics along with minimal capital intensity and operating costs in a constructive global macro environment.
Growing international interest and Shenghe's support
The Project has been gaining significant traction from the international media and RE enthusiasts. A Danish news media, Berlingske, reported in an article in January 2020 pertaining to the Kvanefjeld Project and its downstream processing strategy.
The Company has also initiated a European industry engagement strategy, given that Europe is a major growth market for future RE demand, with multiple opportunities for collaboration.
Furthermore, the role of the world's second-largest producer of RE and GGG's largest shareholder and strategic partner since 2016 - Chinese company Shenghe Resources has been of utmost importance in the Project's development.
Shenghe surveyed more than 60 RE projects in the world and chose the Kvanefjeld Project to be its first choice, addressing it as one of the world's most significant and high-quality RE projects with unique, special and advantageous metallurgy.
Ever since, both the companies have been working to develop the project, with GGG gaining Shenghe's expertise and Shenghe supporting GGG in maximising the potential and doubling the Project value.
Recently, Shenghe's Chairman, Mr Hu Zesong presented in Copenhagen, at the Confederation of Danish Industry's Greenland?focussed conference. He discussed the RE sector outlook, Shenghe's global growth strategy and major role of GGG's Project.
Building on to investor sentiment positively, the GGG stock has delivered returns of 9.52% in the last three months (as on 12 February 2020). The stock closed the day's trading session at $0.120, up 4.4% on 13 February 2020.
Noticeably, the significant contribution of a key shareholder with complete proficiency across the RE value chain (specifically the downstream RE separation) is a huge benefit for Greenland Minerals. Moreover, it aims to play key role in new RE supply networks with favourable project location, robust economic and technical metrics, ideal production profile across key RE and largest code compliant RE ore reserve and resource base.
---
Disclaimer
This website is a service of Kalkine Media Pty. Ltd. A.C.N. 629 651 672. The website has been prepared for informational purposes only and is not intended to be used as a complete source of information on any particular company. The above article is sponsored but NOT a solicitation or recommendation to buy, sell or hold the stock of the company (or companies) under discussion. We are neither licensed nor qualified to provide investment advice through this platform.