Developing 100% owned Kvanefjeld rare earth project considered as a future cornerstone to global rare earth (RE) supply, Greenland Minerals Limited (ASX:GGG) concedes that Kvanefjeld is positioned to become the most significant western world producer of RE.
GGG's Project is centred on Ilimaussaq Alkaline Complex, a globally unique location in south Greenland. It leverages from several unique attributes, including outcropping massive bulk resources, year-round direct shipping access, ores that are conducive to simple, cost-competitive processing, along with mineralisation that is hosted by lujavrite, enriched in RE, uranium, and zinc.
GOOD READ- Globally Significant Greenland Minerals Fostering Rare Earths Realm
Since past few months, the Company has been focused on working through the permitting phase for the Project - a specialty metal project of global significance. Permitting in Greenland necessitates three key impact assessments in conjunction with supporting studies to be arranged and accepted for public consultation- the EIA, Social Impact Assessment (SIA), and Maritime Safety study.
GGG has intimated that the Greenland Government has been proactive in taking a supportive and cooperative position to assist companies operating in the mineral resources sector through the COVID 19 crisis.
The Company has recently notified that an updated EIA (Environmental Impact Assessment) has been lodged with Greenland's Environmental Agency for Mineral Resource Activities (EAMRA), marking an important step towards securing a mining license for world-class Project.
GGG Lodges EIA with EAMRA
On 20 May 2020, the Company lodged an updated EIA with EAMRA post concluding several additional independent technical studies addressing issues previously raised by EAMRA.
The Company agreed with EAMRA that the studies merited certain supplementary analysis. The EIA and supplementary technical studies then underwent an in-depth review process by Shared Resources, an independent specialist that engaged with EAMRA to customise the report as per EAMRA's requirements.
The main EIA report has been updated to reveal additional work as well as external reviews.
EAMRA has given an indicative period of eight weeks to carry out the review process. Once the report meets its expectations, the Ministry for Mineral Resources and Labour, that is supposed to manage the remaining licensing process (inclusive of formalisation of public consultation process) will be informed.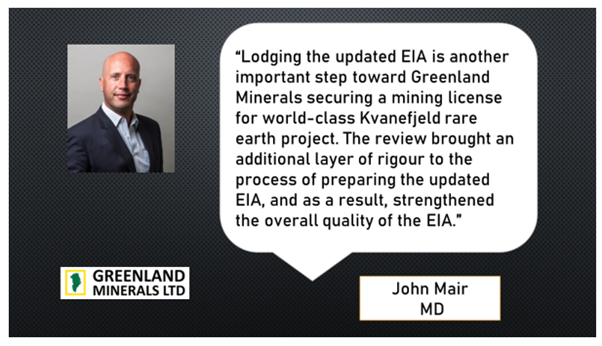 Issues Previously Raised by EAMRA- Subsequently Updated
Through the March 2020 Quarter, GGG's main focus was on completion of the additional technical studies undertaken following EIA reviews in 2019 that address recommendations from EAMRA and provide additional detail to support and add rigour to the Kvanefjeld EIA.
An overall review of the EIA was undertaken to ensure consistency and cross-checking that new studies address recommendations.
Let us cast an eye over the issues raised by EAMRA-
'Type 1' issues- required further clarification prior to the EIA being accepted for public consultation. Studies were associated with tailings management methods. Post a series of constructive meetings with EAMRA and their advisors, GGG has been confident that these issues can all be effectively addressed. Additional studies, conducted by Klohn Crippen Berger (KCB), related to tailings management have been completed. New reports, updated by Shared Resources, are currently undergoing review by EAMRA and their advisors.
'Type 2' issues- can be countered post formal public consultation procedure concludes and can be finalised prior to exploitation plans approval.
Below are the studies conducted by KCB's pertaining to 'Type 1' issues-
To read about the 'Type 1' issues in detail- CLICK HERE- Greenland Minerals Advancing Well Amid Pandemic- EIA Ramps Up, Productive Meetings Continue
The EIA draws on contributions from a broad cross-section of specialist consultancies. The development strategy for Kvanefjeld has sought to apply Best Available Technology and Best Environmental Practice.
Besides KCB's work, GGG conducted a series of meetings with Government of Greenland's advisors to discuss probable influences on the local water environment, to eventually integrate it into the updated EIA document.
Additional lab test work to ascertain the surface area of samples used for radon release test work in 2018 was conducted. Arcadis, an independent consultant, verified their radiation impact assessments and affirmed that the latest information is consistent with previous calculations.
Decent Progress Towards Mining License
The Project's SIA and Maritime Safety Study have already been accepted for public consultation. Additional efficient documentation- deposit of exploitable minerals in the license area, another key requisite for final grant of a much-awaited mining license, has also been approved by Greenland's Government.
Written confirmation has been provided by the Ministry stating that feasibility reports and mineral resource for exclusive exploration license EL 2010/02 (GGG's Project) stands approved.
With the updated EIA lodged to EAMRA, GGG seems to be on an remarkable trajectory towards securing a mining license for its Project, which when developed, will be a large-scale, low-cost, long term supplier of products, unfolding a revolution in the efficient use of energy.
GGG last traded at $0.125 on 21 May 2020. In the past month, the stock has delivered 26.26% return.