A license to mine provides the license holder with the sole right to mine for specified minerals in its defined area of interest. Mining license is one of the most important milestones for a company that plans to conduct mining activities and development in its project portfolio. The procedure involves fulfilling certain pre-requisites, including effective R&D, submission of essential documents to regulatory authorities and providing required additional information with the support of consultants.
An Australian company operating in Greenland since 2007, Greenland Minerals Limited (ASX:GGG) has been flourishing in the rare earths realm through its 100% owned Kvanefjeld rare earth project in south west Greenland. It has been on the path to obtaining a mining license for the Project. GGG has recently updated that another important milestone in this path has been achieved in the form of Government approval of exploitable minerals documentation.
Post the update, GGG stock price jumped up by 9.52% on 28 April 2020 to $ 0.115. Notably, the stock has delivered ~18% return in the past one month.
Greenland Government Nods at Kvanefjeld's Exploitable Minerals Documentation
On 28 April 2020, GGG reported that the Greenland Government's Ministry of Mineral Resources and Labour has provided written confirmation that the Company's mineral resource and feasibility reports for exclusive exploration license EL 2010/02, i.e. the Kvanefjeld Project stand approved.
The effective documentation of a deposit of exploitable minerals in the license area is one of the most important requirements for the granting of an exploitation (mining) license, under Greenland's Mineral Resources Act.
Auralia Mining Consultants conducted the evaluation on the directives of the Ministry of Mineral Resources and Labour for the Project. The procedure comprised of the review of a series of reports on the Project, most of which had been conducted by SRK Consulting.
Reportedly, the mineral resources for the Kvanefjeld mine plan (initial 37-year operation) are largely of the 'measured' category (highest confidence category). Auralia verified that the resource estimation of 16 oxides and 1 metal have been completed to JORC (2012) standards, as depicted below-
Another Leap Towards Kvanefjeld Licensing Process- EIA
Last week, GGG had intimated about another progress that inched the Project closer to receiving a license. An indicative period of 8 weeks was offered by the Greenland Government's Environmental Agency for Mineral Resource Activities to review the Kvanefjeld's decisive Environmental Impact Assessment Report (EIA).
Once this approval is met, management of the remaining licensing procedure, comprising of formalising the public consultation process, will be adhered by the Ministry of Mineral Resources.
To know more about the EIA status, PLEASE READ- Greenland Minerals Receives EIA Review Timeline, Licensing Process Advances
Casting Eye on Kvanefjeld Project
GGG's Non-executive Chairman Mr Anthony Ho opines that Kvanefjeld is one of, if not the most, significant emerging rare earth projects globally. The vast Kvanefjeld resource is enriched in all commercially important rare earth elements.
Well-positioned as a future cornerstone to world-wide rare earth supply upon development, the Project is expected to be a long term provider of products that are vital in the efficient use of energy revolution, at big-scale and minimal-cost.
Below are the unique attributes of the Kvanefjeld Project-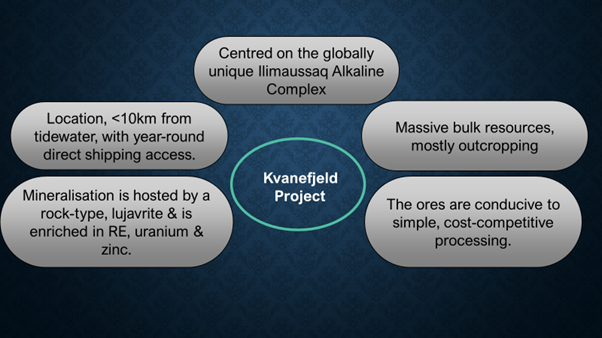 Recent Developments at Kvanefjeld Project
At the back of excellent outcomes of the optimisation program at the Project in 2019, markedly improved civil engineering costs that led to circa 40% reductions in both capital and operating costs and advancement in project permitting, GGG hit the international headlines boosting its profile and mainstream awareness.
Moreover, strengthened community ties has fostered local participation in the project.
The extremely productive and cooperative working relationship with Shenghe Resources Holding Co Ltd, GGG's largest shareholder and the world's second largest producer of rare earths, has been a boon for the Project.
Shenghe's internationally renowned metallurgical expertise and a joint technical committee oversaw work programs in China and Australia, outcomes of which have positioned Kvanefjeld as one of the lowest-cost emerging producers that has a unique production profile rich in neodymium, praseodymium, terbium and dysprosium.
The Company has already progressed with project permitting, with the social impact assessment accepted for public consultation and the EIA paving way towards finalisation.
To read about Kvanefjeld developments in detail, CLICK HERE- Greenland Minerals Accomplishes Significant Milestones Across 2019, 2020 Focused on Progressing Kvanefjeld
GGG's Outlook for 2020
It is an undeniable fact that there have been considerable economic disruptions arising from the outbreak of COVID-19 virus, with global logistics being impacted.
GGG considers this to be a non-adjusting (post) balance sheet affair. The Company has not commented on any financial effects of the outbreak but has implemented actions, with a range of expenditure containment measures developed to deal with the prolonged economic and logistical impacts. Further contingency measures remain in place, to be implemented as and when required.
In 2020, GGG aims to-
Finalise the EIA document,
Lodge additional studies and environmental document with the Greenland Government prior to public consultation and a schedule for follow-up steps,
Undertake pilot plant operations of the optimised flow sheet, with a flotation pilot plant,
Work closely with Shenghe to progress the development strategy,
Focus on downstream processing, marketing and off-take, and project finance,
Establish greater ties with European industry to tap the opportunity in the EV manufacturing space.