Highlights

Ardern-led NZ Government released its emissions reduction plan recently, inviting the public to put across new measures till 24 November, on lessening the emissions.
Meridian Energy announces the issuance of share rights.
New Zealand Oil & Gas reveals the successful completion of the Kupe plant's compression project.
Lately, the NZ Government released its first emissions reduction plan to the public, to be on track with its commitment to go carbon neutral by 2050.
James Shaw, NZ's Climate Change Minister, revealed that the said plan would help the country in lowering down its greenhouse gases across various sectors like transport, energy, agriculture, etc., thereby setting the direction for climate action through 2035.
Hence, the Government plans to put across a wide range of ideas that would enable carbon reductions and help in creating more employment opportunities.
For this, it is inviting feedback from various businesses, unions, Moari and local communities to propose new measures until 24 November.
With this overview, let us quickly get acquainted with the five popular NZ energy stocks that would pave the way for the country's reduced emissions.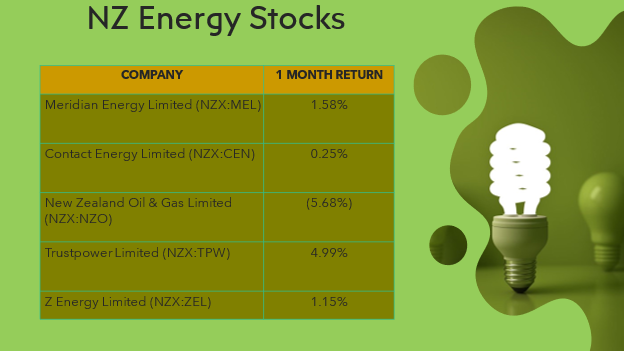 Image source: © 2021 Kalkine Media New Zealand Ltd, data source- Refinitiv
Meridian Energy Limited (NZX:MEL)
Based in Wellington, the leading electricity generator across Kiwiland is Meridian Energy Limited. The Company has recently announced issuing share rights to a select few Meridian employees pertaining to its Executive LTI Scheme.
The issuance of such rights is likely to be done on 21 October.
On 15 October, Meridian Energy fell by 0.71%, at NZ$4.865, at the time of writing.
Related Read: Are these the 5 most active stocks on NZX?
Contact Energy Limited (NZX:CEN)
Contact Energy Limited has been voted as the country's most trusted energy provider for the year by Reader's Digest. CEN has scheduled its Annual Shareholder Meeting 2021 for 10 November.
Interesting Read: Is Contact Energy (NZX:CEN) government owned? Is it based in NZ?
It is noted that the said meeting would be held online, wherein few resolutions like the election and re-election of directors are intended to be passed.
Shares of Contact Energy declined by 0.97% at NZ$8.130, at the time of writing, on 15 October.
New Zealand Oil & Gas Limited (NZX:NZO)
New Zealand Oil & Gas Limited is a petroleum exploration and production company. Today, the Company has announced the successful completion of its Kupe Compression Project.
The said inlet compression project is now fully operational.
At the time of writing, New Zealand Oil & Gas was up by 1.92%, at NZ$0.530, on 15 October.
Related Read: New Zealand Oil & Gas (NZX:NZO): All about its latest acquisition
Trustpower Limited (NZX:TPW)
Functioning as the country's leading gas, electricity, and internet company is Trustpower Limited. The Company has intimated all its stakeholders regarding the clearance given by Commerce Commission to Mercury NZ Limited for acquiring TPW's business.
Must Read: Are these 5 NZX mid-cap aiming to become large-cap stocks?
Apart from the grant of the Commission's approval, obtaining shareholders' consent by Trustpower was one of the other conditions for sale, which was approved in the Company's ASM.
On 15 October, shares of Trustpower gained 0.55% at NZ$7.260, at the time of writing.
Z Energy Limited (NZX:ZEL)
Functioning as a Kiwi transport fuel company, Z Energy Limited is headquartered in Wellington. The Company today disclosed the departure of its General Manager Supply, David (Dave) Binnie.
He would be leaving ZEL in Q4 of FY22.
Meanwhile, the Company is likely to announce the replacement before the year-end.
Z Energy traded flat at NZ$3.630, on 15 October, at the time of writing.
Related Read: Has Z Energy (NZX:ZEL) agreed to the takeover deal by Ampol?
Bottom Line
Energy stocks are the biggest contributor to the country's emissions; hence their support is vital for the nation's commitments for a cleaner and greener future.