Coronavirus has hit British businesses hard, and a majority of small & large companies are struggling to survive. Job layoffs are taking place across sectors and unemployment is already very high, with no signs of reversal in the near future. In fact, most of the large businesses are further likely to prune their staff strength, according to a latest survey by ManpowerGroup, a leading recruitment firm in the UK. This is the weakest outlook forecast of the firm since it began its operations, three decades ago.
British Government has been supporting the financially stressed out companies across all the sectors, not just through business loans, but also by extending a long furlough scheme, which has been paying 80 percent of the employee salaries for these companies since March this year, with a cap of £2,500.
Furlough Scheme
Coronavirus Job Retention Scheme Statistics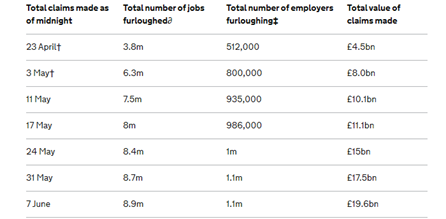 (Source: Government of UK)
With more than one-fourth of UK workers furloughed till now, the Government's bill continues to rise each week, since the time the Furlough scheme was launched by the it on April 20, and backdated to March 1, 2020. According to the latest statistics, the total number of jobs furloughed was 8.9 million on June 7, 2020 with the claims totaling £19.6 billion. The UK Government will be publishing this data every week, till the scheme ceases to exist in October end this year. (It compiles data for number of applications, furloughed jobs and claims made.) The scheme was initially intended to end in July this year, but now has been extended for three more months. However, starting this August, Government's contribution will be gradually reducing, and employers' have to start pitching in, which is not going to be easy for them, given the tough economic scenario with falling demand and interrupted supply chains. Employees will be allowed to start coming back to their offices on a part-time basis, beginning this July.
Scheme to support the self-employed
After lending a helping hand to employees affected by the corona pandemic in April, a new scheme was launched to support a whole lot of self-employed businessmen in Britain, beginning May 13, 2020, and was named the Self-Employment Income Support Scheme (SEISS).
Self-Employment Income Support Scheme Statistics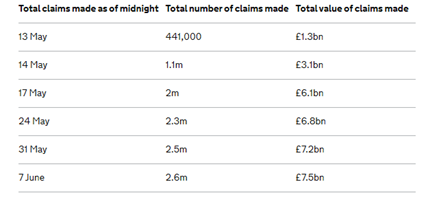 (Source: Government of UK)
The latest statistics of the SEISS scheme are shared in the above table. By the end of June 7, 2020, total claims made by self-employed businesses in Britain were £7.5 billion.
This current SEISS scheme will end on July 13 this year, but Government has already announced that it will be coming up with a second grant for the same scheme whose details are expected on June 12, 2020, with applications to open up in August. While the first instalment was capped at £7,500, this second grant comes with a cap of £6,570 for each self-employed businessman, and will be paid out as a single instalment, summing 3-month company profit.
The applications for the first instalment would be accepted till July 13 this year, and its grant period is valid from March 2020. This grant has also been paid out in a similar fashion, as a single payment summing up to profits of three months. Once the claim is made, usually payments are rolled out within 6 weeks of that.
Both these grants are taxable, and the businessmen will be paying out income tax along with the applicable national insurance, back to the Government.
Business Loans
Business loans have touched £35 billion, under the UK Government's various Covid related credit support schemes such as Bounce Back Loan Scheme (BBLS), Coronavirus Business Interruption Loan Scheme (CBILS) and Coronavirus Large Business Interruption Loan Scheme (CLBILS). It is now being feared that some of these Government loans could become unsustainable, given the severe economic slowdown economy is passing through and companies might still run out of business, despite the help extended.
While the BBLS scheme saw a loan uptake of £23.8 billion till the week ending June 7, lending under the CBILS scheme summed up to reach a figure of £9.6 billion till the same day this year.
BBLS scheme sanctions business loans with a limit of 50,000 pounds, and CBILS gives an eighty percent guarantee for loans with an upper cap of 5 million pounds.
Another scheme named CLBILS saw a corporate lending offtake worth £1.6 billion till June 7 this year.
VAT payments deferral scheme
Not just the above listed programs, the UK Government has been trying to support its businesses through another scheme called the VAT Payments Deferral Scheme, launched on March 20 this year. The latest estimates for the scheme's disbursal are available till May 7, with the total amount of VAT deferred till the mentioned date being £22.4 billion.
Government deficit to reach £300 billion
All these Government support programs are putting huge pressure on public finances and Government's rising fiscal deficit numbers, with an added fear that some of the business loans might not be recovered. According to a preliminary Government estimates, around a third of the total business loan that the UK Government has extended to British companies, may not be paid back.
Office for Budget Responsibility (OBR), the independent fiscal watchdog of Britain, has calculated that corona emergency expense of the Government will be roughly worth £133 billion in the year 2020-21, raising the country's fiscal deficit to almost that which was experienced during World War II. Coupled with the fact that the tax revenues are also expected to nosedive in these war-like corona times, the fiscal deficit of the UK Government can touch up to a humongous figure of £300 billion for the year.
With an all-time high Government support in sustaining businesses and retaining employment levels, Government's fiscal situation is expected to be tight, at least for 2020. Further, the UK economy has been shrinking at one of the highest levels experienced during the modern times, and it will take a long time to completely recover from the impact of deadly coronavirus.