Is the world progressing at a pace that it would "go green" when it comes to legalizing of cannabis? The controversy that this topic of taboo holds for the globe is paramount and never-ending; but lately, there has been paradigm shift and advancement in the cannabis space. Amid the debates and discussions, the one thing clear that is clear is that unlike older times, cannabis is no longer a topic to be nipped in the bud and can be openly talked about with the federal, state, and local authorities; paying heed to its positive effects on people and businesses.
Before we explore the cannabis space closer to home in Australia, let us look at a few positive developments that the no-more-a-taboo-word has made in recent times:
Over 40 countries have legalised medical cannabis up to a certain level. Last year in November, South Korea became the first East Asian country to having joined the bandwagon.
Uruguay, Canada, Alaska and North Korea are countries where cannabis is legal.
Pot stocks, as they are referred to, the stocks of companies that deal with cannabis, have increased in number on various exchange markets.
Market researchers believe that the global sales would soar by 38 per cent and amount to ~17 billion this year and hit $50 billion by 2029. This seems achievable after the sales in the US rose by ~100 per cent to $26.6 million last year.
In June 2018, The U.S. Food and Drug Administration legalized its very first cannabis-derived drug from GW Pharmaceuticals.
Hawai recently (10 July 2019) became 26th US state to decriminalise possession of small amounts (3 grams) of marijuana; change in law would be effective January 2020.
What is cannabis and why is it important?
The World Health Organisation explains Cannabis explains the term as the different psychoactive preparations of the Cannabis sativa plant. The Alcohol and Drug Foundation categorizes cannabis as a cannabinoid drug. In its origin, the sativa plant, the prime cannabinoids are non-psychoactive cannabidiol and psychoactive cannabinoid THC. Cannabis is vaporised, smoked or even eaten in a number of forms and is regarded as the the most widely trafficked and cultivated drug.
Cannabis has its own adverse side effects if consumed in large amounts. However, the drug has found a safe haven in the medical industry after it has proved to be an aid to cure illnesses. Below mentioned is the medicinal significance of cannabis:
Cures adverse side effects in critical ailments such cancer and AIDS.
Treats asthma and glaucoma.
Works as an antidepressant, and cures PTSD, mental illnesses and social anxiety.
Acts as an appetite stimulant, anticonvulsant and anti-spasmodic.
Used for effective treatment of epilepsy and other ailments pertaining to seizure.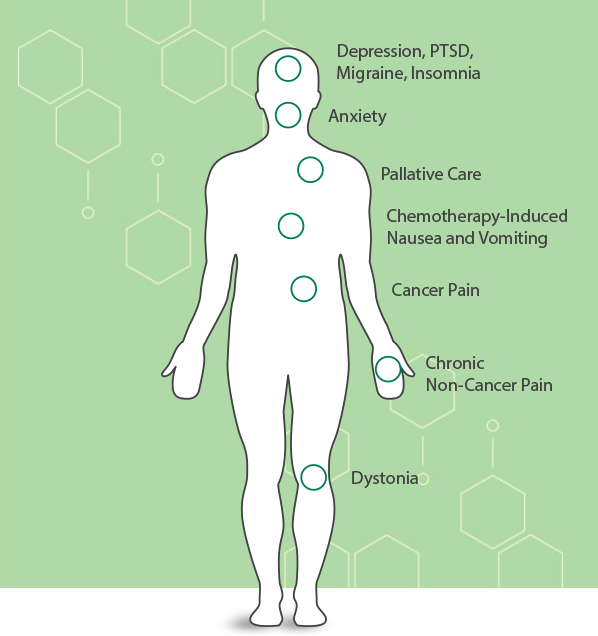 Areas tapped by medicinal cannabis (Source: AGH website)
Cannabis in Australia and the recreational appeal:
Statistics say that almost 750,000 Australians use cannabis every week and it is the second most common drug type identified at toxicology for accidental deaths in 2016. Progressing along with other economies of the world, Australia legalised medicinal cannabis at the federal level in 2016. The recreational cannabis use is currently illegal in Australia and debates on its legalisation is doing its rounds amongst the country's senators and representatives. The cannabis market in the Aussie land is expected to be worth ~$55 billion by 2025.
Several market experts believe that Australia is falling behind by billions in tax revenue by failing and postponing legalisation of the recreational cannabis sales. It is arguable that the extra revenue generation from this sector can be further utilised towards causes of betterment like education, health and environment upgradation. Countries like the US and Canada, who have legalised cannabis, already reaping these benefits, should be considered as footprints to be followed. With one of the highest prevalence rates of cannabis in the country, Australians have often showcased their willingness to have cannabis legalised for recreational purposes and take pride to the fact that medical uses were made legal.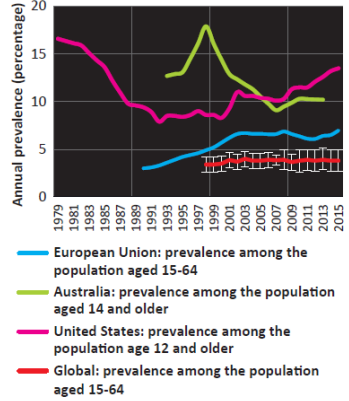 Annual Cannabis Prevalence (Source: UNODC)
Who can use Cannabis in Australia?
The legal framework of The Narcotic Drug Amendment Bill 2016 allows cannabis cultivation in the country specially and only for medicinal and related research purposes. The law makes sure that during the commencement of the cultivation, production and manufacture of cannabis, international obligations are complied with. The cannabis use for recreational purposed is presently not legal in Australia.
There are three kinds of licenses prevalent in Australia associated with cultivation, production, packaging, storing and transportation of cannabis plants/resins: Cannabis Research Permit for research purposes, Medicinal Cannabis Permit for medicinal purposes and Cannabis Manufacture Permit for converting cannabis into drugs for research/medical use.
The market for medicinal cannabis in Australia is limited by demand. However, few companies are increasingly exporting after the export of medicinal cannabis products was legalised in February 2018 via the Narcotic Drugs Amendment (Cannabis) Regulations 2018.; like Medical Cannabis Australia have begun export to a German pharmaceutical research firm for research initiatives in developing pain-relieving drugs.
Even with the discussions and debates to blaze up recreational cannabis in moderation in the country by the contemporary section of parties and people, the issue remains in doldrums. What the future would have in store in this regard, would be an interesting watch.
Let us now look at 5 Pot Stocks, which listed on the Australian Securities Exchange and understand their latest updates and stock performances:
Auscann Group Holdings Limited (ASX: AC8)
Profile: A cultivator, manufacturer and supplier of medical cannabis products, AC8 was listed on ASX in 1989.

AC8's partners (Source: Company website)
Stock Update: After the close of business on 12 July 2019, the stock of AC8 settled the day's trade at A$0.405, down by 2.41 per cent relative to its last trade. It has generated return of 16.90% over last month.
Supply agreement: On 1 July 2019, the company signed a new supply agreement to buy a minimum of 30% cannabis resin from Tasmanian Alkaloids, the world's largest manufacturer of controlled substances producing alkaloid raw material, for an initial three-year period and extend the term by three more years. The company intends to obtain high-quality raw material for its hard-shell capsules and product pipeline.
Althea Group Holdings Limited (ASX: AGH)
Profile: AGH is the parent company of Althea Company Limited which holds several permits for the cultivation , importation and supply of medicinal cannabis in Australia.
Stock Update: After the close of business on 12 July 2019, the stock of AGH settled at A$1.150, up by 8.49 per cent relative to its last trade. It has generated returns of 118.56 per cent and 265.52 per cent in the last three and six months, respectively.
First UK National Medical Cannabis Pilot: On 25 June 2019, the company announced that its wholly-owned subsidiary Althea MMJ UK Ltd had furthered its relationship with Drug Science for the Project TWENTY21, to enrol 20,000 patients before the end of 2021 post launch of UK's first national pilot for medical cannabis.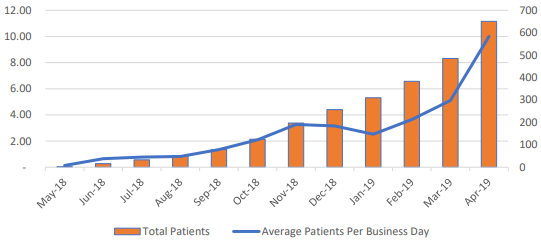 AGH's Patient growth over the past year (Source: Company's report)
BOD Australia Limited (ASX: BDA)
Profile: BDA is a consumer discretionary player that distributes and markets two premium brands and products for the skincare, beauty and health industries, Dr Roebuck's and BIOEFFECT. The company leverages the health benefits associated with cannabis and hemp.

Few company products (Source: Company website)
Stock Update: After the close of business on 12 July 2019, the stock of BDA settled at A$0.345, up by 9.52 per cent relative to its last trade. It has generated negative returns of 4.55 per cent and 29.21 per cent in the last three and six months, respectively.
New distribution Agreement: On 21 June 2019, the company announced that it has signed a distribution agreement with Burleigh Heads Cannabis (BHC) and partner associate, Cannabis Doctors Australia (CDA) for BDA's pharma grade medicinal cannabis product, MediCabilis™, to meet growing demands. The company would access BHC's wholesale network. CDA, on the other hand, had begun patient approvals for MediCabilis™ via its clinics and tele-health service.
Creso Pharma Limited (ASX: CPH)
Profile: Dedicated towards developing and commercialising pharmaceutical-grade hemp-based products for industrial, research and medical purposes, CPH was listed on ASX in 2016.
Product portfolio (Source: Company's website)
Stock Update: After the close of business on 12 July 2019, the stock of CPH was valued at A$0.450, down by 3.23 per cent relative to its last trade. It has generated negative returns of 4.12 per cent and 11.43 per cent in the last one and six months, respectively.
Revenue Generation from Canadian Cannabis Sales: CPH, via its Nova Scotia based Mernova Medical facility has commenced its first dried flower Canadian sale. The company expects initial delivery invoice of C$150K, which may generate more than C$5 million for the rest of the year.
MGC Pharmaceuticals Limited (ASX: MXC):
Profile: A European based specialist medical cannabis biopharma company, the company aims to make Phytomedicines available in pharmacies and to patients in need.
Company's snapshot (Source: Company website)
Stock Update: After the close of business on 12 July 2019, the stock of MXC settled at A$0.060, up by 13.21 per cent relative to its last trade. It has generated returns of 1.92 per cent and 51.43 per cent in the last one and six months, respectively.
June Quarterly Report: On 11 July 2019, the company released its report for the three months ended 30 June 2019 and stated that sales and revenues had increased in the quarter with additional revenue of A$763k. Pharma product purchase orders received in the first month of operation were ~A$300k. Five global partners were signed who have access to the UK, Germany, Austria, Switzerland, Australia and Brazil market.
---
Disclaimer
This website is a service of Kalkine Media Pty. Ltd. A.C.N. 629 651 672. The website has been prepared for informational purposes only and is not intended to be used as a complete source of information on any particular company. Kalkine Media does not in any way endorse or recommend individuals, products or services that may be discussed on this site. Our publications are NOT a solicitation or recommendation to buy, sell or hold. We are neither licensed nor qualified to provide investment advice.