The mining sector accounted for about 35 per cent of the total GDP growth in 2018-19 and reflected 8.5 per cent in the total GDP for the same period. Australia exports rose above the first quartile of $1 trillion to carve a record high of $279 billion in 2018-19, and further expected by the Department of Industry, Innovation and Science (or DIIS) to touch a new record high of $280 billion in 2019-20.
The resource sector (mining) is a large contributor towards this revenue along with the depreciating domestic currency. In the status quo, the DIIS forecasts that the export earnings would take a hit of 9 per cent in 2020-21 to stand at $256 billion, which is yet above the first quartile of $1 trillion, amid weak projected commodity prices ahead and appreciating dollar.
However, there are industry doubts and variance, which need to be thoroughly considered post reaching any conclusion, and the mining sector has a reputation to preserve, which means, the sector must generate enough volume to overcome the fall in value, which post considering the array of significant projects, looks likely.
Major Themes of Upcoming Projects
Australia which is already sitting among the top LNG supplier is further looking to expand the export capacity, and the upcoming projects comprise 47 per cent of LNG/Gas/Oil projects.
To Know More, About the LNG Expansion, Do Read: LNG-Hero or Hubris for ASX Energy Stocks?
While the prices of iron ore have cooled down recently, expansion is on its way in Australia with 25 per cent of committed projects being related to iron ore.
Also Read: Mid-Year Budget Lowers Iron Ore Price Forecast; Emerging High-Yielding Dividend Opportunity?
The value of committed projects stood at $30 billion in October 2019, which remained unchanged against the previous corresponding period (or pcp), and a number of major resources and energy projects were completed during the twelve months to October 2019.
Projects such as Greater Enfield oil project expansion ($2.6 billion), Amrun bauxite mine expansion ($1.9 billion), and the Byerwen coal project ($1.8 billion) marked the completion in October 2019.
Till October 2019, the committed projects remained low amid the completion of prior committed projects; however, now a number of Final Investment Decisions (FIDs) over new projects are expected to increase the overall value of committed projects in the coming years.
Adani Carmichael coal mine along with five gold projects and expansion marks the value of $3.3 billion of investment. The gold projects have progressed to the committed stage this year, and the DIIS anticipates higher gold export against pcp in 2020-21, encouraged by the record high gold prices in the domestic market and glittery future outlook.
Gold Outlook: Get Ready to Pay ~2.8k for 24k Gold; Gold Bulls Break the Gated Cage
Halt on Coal
There has been an increase in both the number of new projects and expansion projects; however, there is a larger distribution of projects ranked as unlikely or possible, which might reflect the plunge in few commodities or uncertainty around the global market.
While coal contributes marginally in the export earnings, the coal-related projects are halted at the feasibility stage, and currently, there are 46 coal projects at the feasibility stage with a combined capacity of over 390 million tonnes.
The investing community remains to support expansion or new projects of coal with low commitment towards coal greenfields project, and many investing institutions have clearly mentioned that they would not finance thermal coal projects.
Related Read: Coal Down 37% From Peak Thanks to Falling Renewable Cost and Natural Gas Prices
Project Conversion
There has been a lift in activity at the early stages of the investment pipeline, with the value of projects at the feasibility stage increasing for a third straight year in 2019, which reflects the impact of relatively strong commodity prices in AUD and surmounting global demand outlook, particularly from emerging Asia.
Exploration Expenditure
The anticipated increase in commodity prices over the improved demand from emerging Asia has supported an increase in exploration expenditure, particularly around the base metals and gold.
Also Read: Copper- An Emerging Gold for ASX Copper Stocks; Long-dated Spreads in Contango
Gold is currently witnessing a high expenditure, especially in the Western region, which is now being called as the golden hub of Australia. Gold now accounts ~25 per cent of all exploration expenditure, is further fanning the proponents to tackle more difficult deposits across a range of mineral commodities.
Overall Projects
The iron ore projects are currently gaining impetus from the high demand anticipation from China, and currently accounts for over $40 billion of the investment expenditure; however, the majority of projects in the pipeline are challenging in terms of extraction.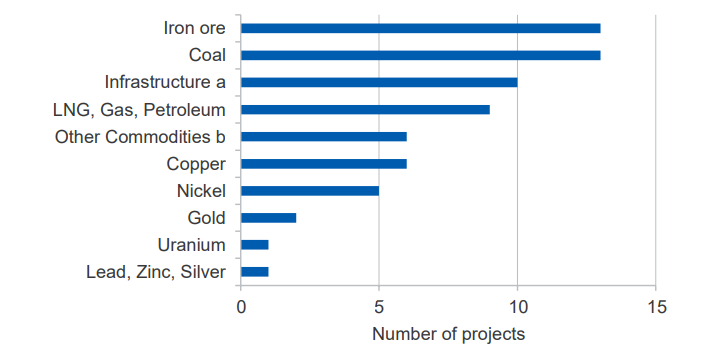 Number of projects at the publicly announced stage (Source: DIIS)
Other projects including gold, base metals and other commodities account for $28 billion investment expenditure and are currently either publicly announced or are in feasibility with a rating of likely and possible to receive a final investment decision.
Nickel, cobalt, rare earths and lithium account for more than a third of this $28 billion
Exploration Expenditure
The overall exploration expenditure surged by 20 per cent in 2018-19 to stand at $3.6 billion with the majority of exploration on existing resources; however, the exploration expenditure on new deposits is particularly gaining momentum over the high demand anticipation from China.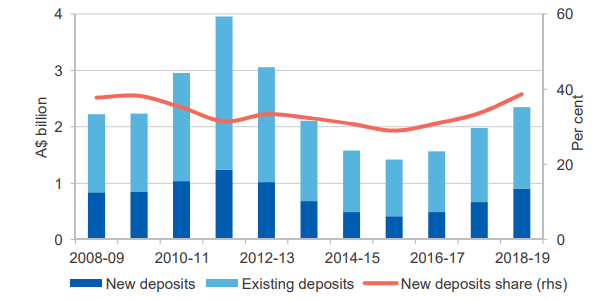 Mineral exploration by deposit type (Source: DIIS)
Gold exploration expenditure surged by 19 per cent against pcp in 2018-19 to stand at $967 million and accounted for 45 per cent of the total mineral exploration expenditure during the period.
Likewise, base metals exploration expenditure soared by 25 per cent against pcp in 2018-19 to stand at $621 million.
Coal exploration expenditure stood at $182 million to mark an increase of 18 per cent against pcp in 2018-19 due to high prices of metallurgical coal, supported by the rally in iron ore prices; however, against the 2011-12 peak, the exploration expenditure remained 80 per cent lower.
Iron ore exploration surged by 11 per cent in 2018-19 against the pcp to stand at $324 million; however, still remained lower against the peak of $1.2 billion in 2011-12.
Nickel and cobalt expenditure remained relatively muted as compared to other commodities in 2018-19.
Australia is witnessing a surge in exploration expenditure and in the number of projects in the pipeline, which could further help the resource sector to maintain its charm in Australia and stand stall against the short-term price headwinds ahead.
However, the "unlikely" rating of a large number of projects could lay challenges ahead, and it would be worth noticing if the resource sector could take advantage of producing right commodity at the right time to stand tall against all the possible challenges which lie ahead of them.
Exploration expenditure, 2007–08 to 2018–19 (Source: DIIS)
---
Disclaimer
This website is a service of Kalkine Media Pty. Ltd. A.C.N. 629 651 672. The website has been prepared for informational purposes only and is not intended to be used as a complete source of information on any particular company. Kalkine Media does not in any way endorse or recommend individuals, products or services that may be discussed on this site. Our publications are NOT a solicitation or recommendation to buy, sell or hold. We are neither licensed nor qualified to provide investment advice.