Benchmark US indices fell sharply on Thursday, June 16, pulled down by mega-cap tech stocks as investors' concerns grew over a possible recession a day after Fed's rate hike.
The S&P 500 was down 3.25% to 3,666.77. The Dow Jones lost 2.42% to 29,927.07. The NASDAQ Composite fell 4.08% to 10,646.10, and the small-cap Russell 2000 declined 4.70% to 1,649.84.
On Wednesday, the central bank raised the interest rates by 75 basis points to calm inflation. Britain and Switzerland have also increased their rates following Fed's revision.
Fed has raised the rates three times this year, in March, May, and June. It increased them by 25 basis points and half-a-percentage point on the first two occasions.
On the labor market front, the unemployment benefits claims fell by 3,000 to 229,000 in the previous week, suggesting the market could be cooling off after the central bank's actions.
On Thursday, all the S&P 500 segments stayed negative, with energy, information technology, and consumer discretionary sectors dropping the most.
Shares of Tesla, Inc. (TSLA) fell over 10% after media reports that it is increasing the prices of its US car models. It had earlier expressed worry over supply-chain hurdles and rising raw materials costs.
Retail giant Kroger Co. (KR) stock dropped 1.51% after raising its annual profit guidance.
Jabil Inc. (JBL) stock plummeted 9.90% in intraday trading after its quarterly earnings topped Wall Street estimates. The company said it is seeing strong demand currently.
In the energy sector, Exxon Mobil Corporation (XOM) decreased by 3.70%, Chevron Corporation (CVX) fell 5.38%, and Shell plc (SHEL) plunged 4.39%. PetroChina Company Limited (PTR) and TotalEnergies SE (TTE) ticked down 3.15% and 2.51, respectively.
In technology stocks, Apple Inc. (AAPL) slumped 4.21%, Microsoft Corporation (MSFT) declined 3.00%, and NVIDIA Corporation (NVDA) tumbled 6.01%. Broadcom Inc. (AVGO) and ASML Holding N.V. (ASML) plummeted 5.81% and 7.51%, respectively.
In the consumer discretionary sector, Amazon.com, Inc. (AMZN) retreated 4.34%, The Home Depot, Inc. (HD) lost 2.61%, and Alibaba Group Holding Company (BABA) fell 6.28%. McDonald's Corporation (MCD) and Nike, Inc. (NKE) decreased by 1.79% and 6.04%, respectively.
In the crypto space, Bitcoin (BTC) and Ethereum (ETH) plunged by 4.11% and 7.55%, respectively. The global crypto market cap tumbled 4.82% to US$900.97 billion at 3:47 pm ET on June 16.
Also Read: Why is Solana (SOL) crypto gaining attention?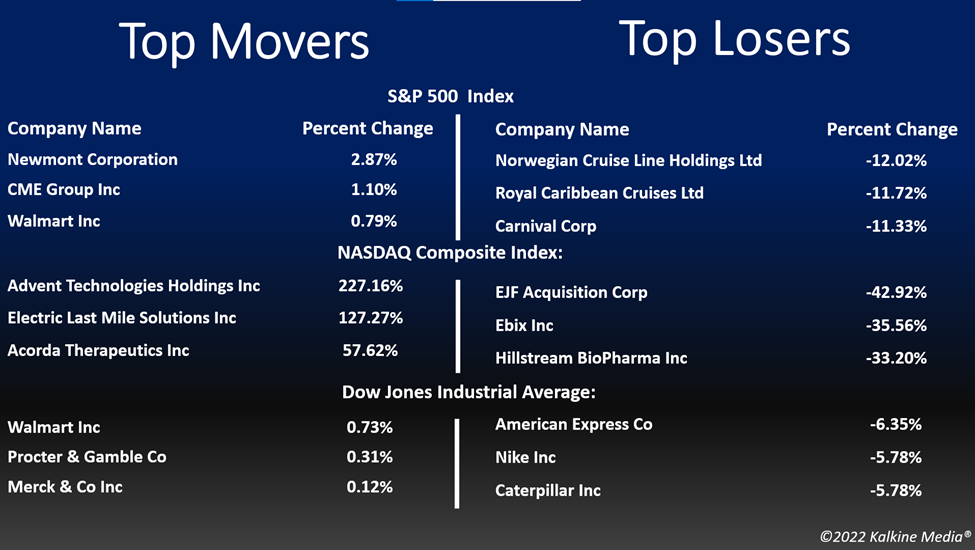 Also Read: Five financial stocks to watch in Q3: FHN, Y, WRB, LPLA & PGR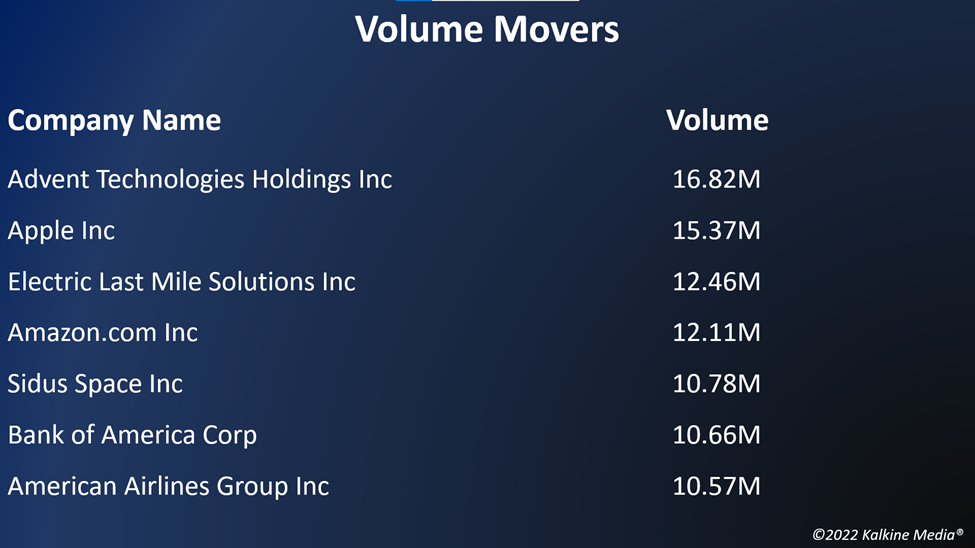 Also Read: Binance's US$200 mn Forbes deal uncertain as investors pour cold water
Futures & Commodities
Gold futures were up 2.09% to US$1,857.65 per ounce. Silver increased by 2.54% to US$21.965 per ounce, while copper fell 1.39% to US$4.1055.
Brent oil futures increased by 0.63% to US$119.26 per barrel and WTI crude was up 1.53% to US$117.08.
Also Read: VALE to KR: Can these 5 stocks protect against stagflation?
Bond Market
The 30-year Treasury bond yields were down 4.06% to 3.270, while the 10-year bond yields fell 5.11% to 3.221.
US Dollar Futures Index decreased by 1.23% to US$103.642.