Benchmark US indices closed in the red on Tuesday, January 25, amid a volatile session and as the Federal Reserve began its two-day monthly monetary policy meeting.
The S&P 500 fell 1.22% to 4,356.45. The Dow Jones decreased 0.19% to 34,297.73. The NASDAQ Composite was down 2.28% to 13,539.29, and the small-cap Russell 2000 fell 1.20% to 2,008.78.
Traders will eagerly wait for the outcome of the Fed's meeting on Wednesday. Central bank chief Jerome Powell is expected to brief the press after the conference.
After a remarkable run last year, US markets have been pulling back this year. The surge in Omicron cases and rate hike fears have dampened the spirits. The bank hasn't set a date yet for the rate revision.
Meanwhile, quarterly results of several big companies, such as Tesla, Apple, and Microsoft, are due this week. The results might lift the sinking sentiment in the market. According to Refinitiv data, 81% of the 79 S&P 500 companies reported so far have beat Wall Street expectations.
On Tuesday, eight out of the 11 stock segments on the S&P 500 closed in the red. Energy, financials, and real estate sectors were top gainers. Technology and consumer discretionary sectors retreated.
General Electric Company (GE) stock plunged more than 5.8% intraday trading after reporting a drop in revenue in its latest quarterly results due to supply chain disruption.
The IBM stock rose 6% after posting robust quarterly revenue from its cloud and consulting business. Its consulting business revenue increased by 13.1%, and cloud revenue rose 16% in the quarter.
Shares of American Express (AXP) jumped more than 9.4% after reporting better-than-expected quarterly earnings. Its revenue increased by 30% to US$12.1 billion in the fourth quarter.
In the energy sector, Exxon Mobile Corporation (XOM) jumped 3.07%, Chevron Corporation (CVX) rose 3.84%, and ConocoPhillips (COP) rose 4.70%.
EOG Resources Inc. (EOG) was up 4.44%, and Schlumberger N.V. (SLB) increased by 5.78%.
In the financial sector, JP Morgan Chase & Co. (JPM) stock surged 0.43%, Bank of America Corporation (BAC) jumped 1.87%, and Wells Fargo & Company (WFC) increased by 0.30%. Morgan Stanley (MS) and Charles Schwab Corporation (SCHW) were up 1.19% and 0.48%, respectively.
In the technology sector, Apple Inc. (AAPL) stock fell 0.58%, Microsoft Corp. (MSFT) fell 1.88%, and Nvidia Corporation (NVDA) declined 3.97%. Adobe Inc. (ADBE) and Mastercard Incorporated (MA) were down 2.76% and 2.46%, respectively.
The global cryptocurrency market was up 1.51% to US$1.67 trillion, as per coinmarketcap.com at 3:51 pm ET. Bitcoin (BTC) rose 1.20% to US$36,935.15 in the last 24 hours to Tuesday evening.
Also Read: LatAmGrowth SPAC IPO: All you need to know
Also Read: FGI Industries Ltd (FGI) prices IPO, set to debut on Nasdaq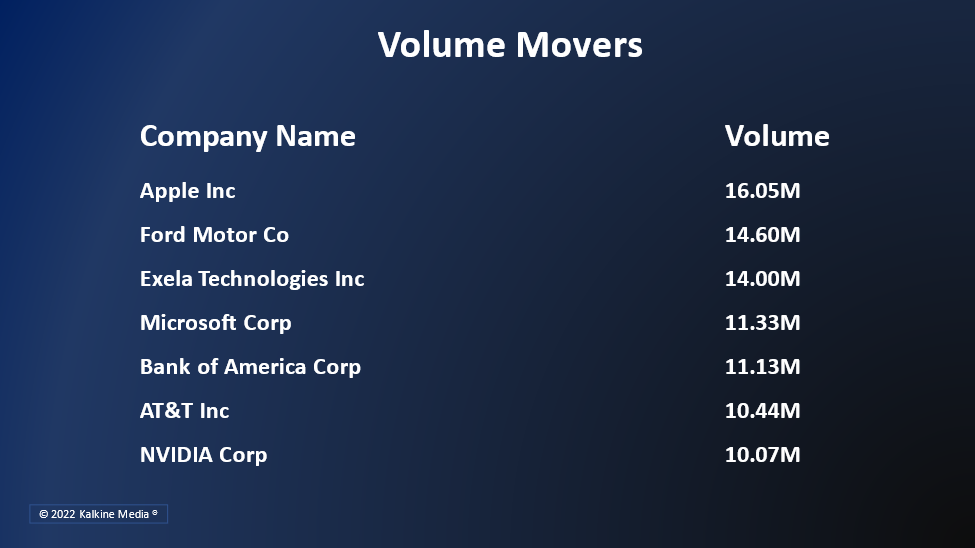 Also Read: BitTorrent surges 9% as exchanges start accepting BTT token migration
Futures & Commodities
Gold futures surged 0.34% to US$1,848.05 per ounce. Silver futures increased by 0.38% to US$23.890 per ounce, while copper surged 1.10% to US$4.4610.
Brent oil futures increased by 1.95% to US$87.10 per barrel and WTI crude futures were up by 2.50% to US$85.38.
Bond Market
The 30-year Treasury bond yields increased 1.78% to 2.122, while the 10-year bond yields were up 2.47% to 1.778.
US Dollar Futures Index surged 0.05% at US$95.953