Highlights

The company is offering 13 million units in the IPO.


The pricing of IPO is US$10 per unit.


The company will start trading on Nasdaq Global Market on January 25.
Blank-check company LatAmGrowth SPAC is set to debut in the US stock market on Tuesday after it announced the pricing of its initial public offering (IPO) on the previous day.
LatAmGrowth, a special purpose acquisition company, was founded to effect a merger and focuses on high-growth companies in the United States and Latin America.
It aims to establish business ties with companies having a strong technological advantage.
Also Read: Coinbase stock slips 10% - Will the dip stop dipping?
LatAmGrowth IPO
On Monday, the company announced to offer 13 million shares in the IPO. Each unit comprises one Class A ordinary share and one-half of one redeemable warrant.
The IPO is priced at US$10 per share. The holder of each whole warrant is entitled to purchase one Class A ordinary share for US$11.50 per share.
As per rules, only whole warrants can be bought or sold.
Also Read: Crypto market loses US$130 bn in 24 hours as Bitcoin, Ethereum slip
The company will start trading its Class A ordinary shares and redeemable warrants on the Nasdaq Global Market (NASDAQ) under the ticker symbols LATG and LATGU, respectively.
The underwriters are offered an additional 1.95 million shares, which they can purchase within 45 days at the offering price, in case of over-allotments, if any.
Also Read: Chime aims for US$40-billion valuation in IPO: Report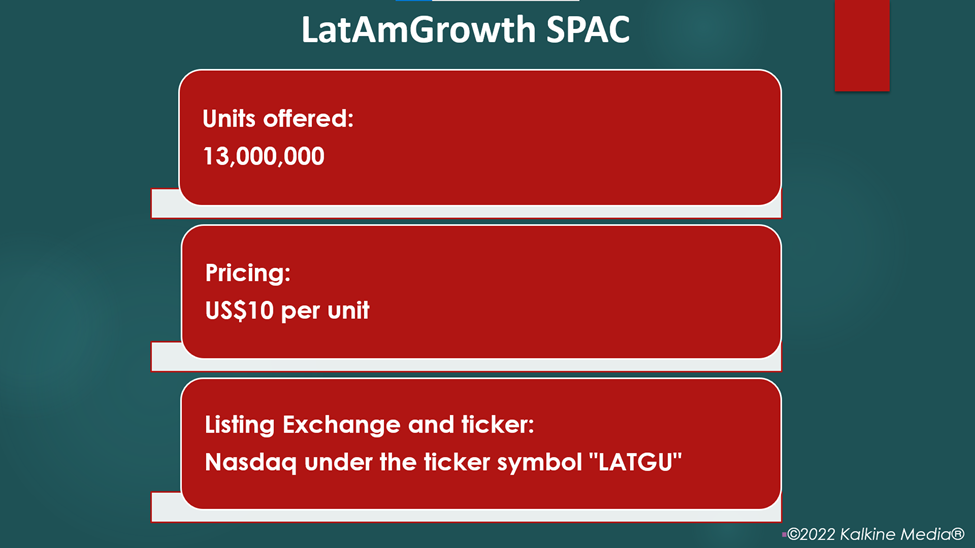 Also Read: Falling prices stoke a winter of discontent for the crypto market
Bottomline
The book-running managers for the offering are BofA Securities and Banco BTG Pactual S.A. The US IPO market has cooled down lately after seeing a record number of offerings last year. Market volatility, inflation, and other unfavorable macro-economic factors have forced companies to delay their IPO plans in the first quarter.