Highlights

FGI Industries Ltd supplies kitchen and bath products worldwide.


The company has priced its IPO at US$6.00 per share.


It was scheduled to debut on Nasdaq Capital Market on January 25, under the ticker symbols FGI and FGIWW for the ordinary shares and warrants, respectively.
Kitchen and bath products supplier FGI Industries Ltd announced the pricing of its initial public offering (IPO) at US$6.00 per share on Tuesday.
The price range has been set between US$6.00 and US$8.00 ahead of its Nasdaq debut on Tuesday. The New Jersey-based company is offering 2,500,000 shares, each comprising one ordinary share and one warrant.
These units will be issued separately. The ordinary shares and warrants were scheduled to start trading on January 25. The ticker symbol for the common shares and warrants are FGI and FGIWW, respectively.
Additionally, up to 375,000 shares are offered to underwriters at the offering price after deducting underwriting commission and discounts. They will have 45 days to use that option.
The offering is expected to close on January 27.
Also Read: How to research a stock? A beginner's guide to share selection
The gross proceeds from the offering are expected to be US$15,000,000 before deducting expenses and US$17,250,000 million if underwriters exercise their option in full.
The Benchmark Company is the lead book-running manager, and Northland Securities Inc. is the joint book-running manager for the IPO.
After the offering, FGI will have 9,500,000 ordinary shares outstanding, of which its affiliates and insiders will hold 74%, and public investors will hold the rest 26%, as per the filing.
Also Read: Top 5 US semiconductor stocks to watch in 2022
The company has been in the market for the last 30 years. It supplies kitchen and bath products such as sinks, pedestals, toilet seats, mirrors, cabinets, and accessories.
It sells its products through commercial distributors, retail centers, wholesale distributors, and online and specialty stores. It had applied for IPO on September 10, 2021. The company had 130 employees as of December 31, 2021.

Also Read: Seven hottest IPOs to explore in 2022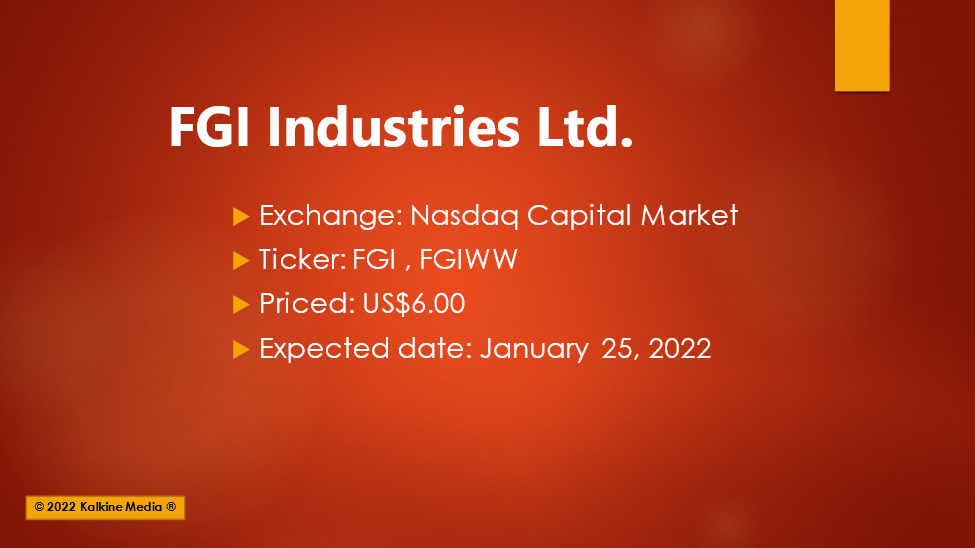 Also Read: REITs with over 5.5% dividend yield to explore
Financials
For the nine months ended September 30, 2021, its revenue was US$129.7 million compared to US$99.3 million in the comparable period in 2020.
The net income for the same period was US$6.9 million versus US$4.0 million in 2020. Its operating margin was 5.5% compared to 5.1% in the same period a year ago.
Also Read: Top 5G stocks to explore as US rolls out the service
Bottomline
Due to the volatility in the market, many companies have delayed their IPOs. Most analysts forecast the US IPO market to rebound in the second half of 2022.