Summary

Reabold Resources has completed a transaction that increased its share in Corallian Energy to 49.99%.
Corallian Energy has a 100% interest in Victory Gas field (Licence P2596) located in the UK North Sea, North West of Shetlands
Victory is fully appraised, and a commercially attractive gas discovery, with first gas production expected in the fourth quarter of 2024.
Reabold Resources Plc (LON: RBD) is an investment company, which invests in low-risk upstream oil and gas projects. Its long-term strategy is to fund work programmes on the projects, monetise them after proving up their intrinsic value and re-investing the capital earned for the growth of the company. It aims to generate supernormal returns through this strategy because even high-quality oil and gas projects can be stranded given current market inefficiencies. Providing sufficient capital for a work programme to demonstrate the project's intrinsic value can therefore deliver returns that are multiples of the initial investment.
The company has four major investments: West Newton, which is onshore UK, Reabold California in the US, Danube Petroleum in Romania, and Corallian, offshore UK.
Corallian – UK
Earlier, Reabold Resources held a 36.9% stake in Corallian Energy, which is a UK private oil and gas company that has a 100% interest in the significant Victory gas field. Last year, Corallian was awarded the licence that contained the Victory field which is in shallow water and was discovered by well 207/1-3 drilled in 1977 by Texaco.
Corallian also has a rich portfolio of other projects including interests in the Laxford gas discovery in block 207/1a, Scourie prospects in blocks 214/29c and 214/30c, as well as in the Oulton oil discovery in block 3/11a.
Also Read: Reabold Resources Plc: An E&P Sector Investment Company Doing Things Differently
Reabold's Strategic Investment
In April, the company announced a conditional offer to acquire additional Corallian shares from Corallian's existing shareholders. The offer was successful and Reabold issued 474 Reabold shares for each Corallian share it acquired. Reabold increased its equity holding in Corallian to 49.99% from 36.9%. Reabold acquired 989,439 Corallian shares and Reabold, in turn, issued 468,994,086 Reabold shares.
More about Victory well
Victory is a fully appraised and commercially attractive gas discovery. Reabold believes that the development will be a straightforward single well with a sub-sea tie back for production. Subject to the successful negotiation of infrastructure access, the field could be economically developed by tying in to the Total operated Greater Laggan Area gas pipeline (GLA), which has an access tee for third party business situated 18km south of the Victory discovery well. GLA takes unprocessed gas to the Shetland Gas Plant, and from there onshore UK, where the gas is readily distributed by pipeline to end customers.
First gas production from Victory is expected in Q4 2024. From 2025, a three-year gas production phase has been planned at 70 mmscf/d, which would deliver 25 BCF gas every year, while the total gas production from the project in the eight-year period is expected to be 157 BCF.
The Victory project value (NPV10) is estimated to be around £85 million based on the existing gas price forecast of 42.5 pence/therm to £146 based on the historical average gas price of 50 pence /therm. Therefore, the value (NPV10) of Victory, based on its increased 49.99% interest in Corallian, is £32-£73 million.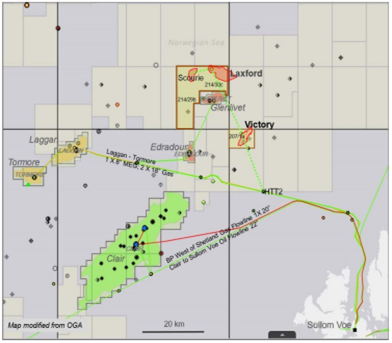 (Image Source: Company Presentation)
Also Read: West Newton: A Fast Pathway to Monetisation for Reabold
Road ahead
The Victory project is a simple, low-risk gas development that has been fully evaluated. The project now doesn't have any further pre-development drilling requirement. The company is carrying out the work programme required to deliver the draft field development plan to the Oil and Gas Authority by the end of the year, a key milestone for the project.
The stake increase for Reabold in Corallian is as per its stated strategy of gaining exposure to assets with limited downside and high potential upside and is going to yield benefits with first gas production expected by 2024.