Highlights

Self-managed super funds allow super account holders to become trustees in the fund and decide where to invest.
Cryptocurrencies have become an increasingly popular form of investment over the past few years.
Crypto markets are highly volatile and prone to some suspicious activities involving theft and embezzlement.
Over the last few years, investors have developed a major liking for cryptocurrencies and other unconventional forms of investment. In fact, the young investors entering the market have carved a niche in cryptocurrency investments and related assets. As newer forms of investment take centre stage, self-managed super funds (SMSFs) have become increasingly popular in Australia.
Cryptocurrencies have disrupted the markets with such vigorous intensity that super fund holders are now shifting to SMSFs to invest in cryptocurrencies. To the uninitiated, an SMSF allows the account owner to become a trustee in the fund and decide where the fund would be invested. However, becoming a trustee is a painstaking responsibility that requires a hefty amount of research and in-depth knowledge.
It is worth noting that individuals may not get the option to invest in a high return portfolio with privately managed super funds. Thus, Aussies have shown an increased tendency to shift to SMSFs, which allows them greater flexibility to choose investments options. However, as cryptocurrency investment remains a questionable area, with some nations even seeking a ban on it, SMSF holders remain perplexed about investing in the crypto space.
ALSO READ: How Australia's big four banks are preparing ahead of anticipated rate hikes?
Managing Cryptocurrencies Through Self Managed Super Funds?
Are SMSFs subject to crypto scams?
At this point, it is a well-known fact that the cryptocurrency space is home to some dubious operations. The past few years have been marked with large-scale scams involving embezzlement and fraud, which have cost many investors dearly. A big risk arising out of SMSF funds pouring into cryptocurrencies is the possibility of trustees falling for a fraudulent crypto scheme on the internet.
While mainstream cryptocurrencies are less likely to fall into embezzlement related frauds, they are still considered risky investments due to their volatile nature. Investing in the more popular cryptocurrencies can help steer clear of any suspicious crypto-related activities.
Trustees must take full responsibility for the SMSF and where the fund money is invested. If an unexpected loss is incurred on SMSF investments, the trustees would not be eligible for reimbursement or any adjustments. This means that if crypto-related investments are to be made, they should be included in the clauses of the fund's deed.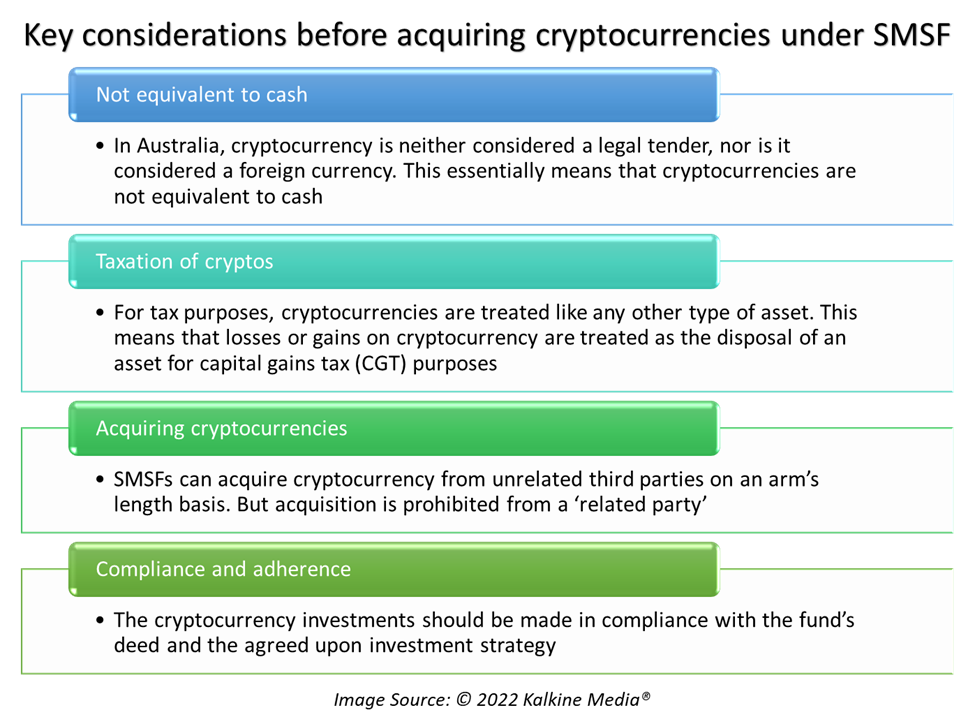 ALSO READ: Why are Australia's housing growth rates losing momentum?
How to effectively invest in cryptocurrencies?
A crucial investment rule is to never keep all eggs in one basket, which is code for 'diversification. It might seem like a lucrative opportunity to invest all the fund money into cryptocurrencies; after all, the greater the investment, the greater is the return.
However, superannuation money could be equivalent to the entire life's savings for many individuals. Investing money saved over a lifetime can be costly for individuals. Thus, it is crucial to diversify one's investment into other available alternatives as well.
What is a crypto Bubble, and What Does it Mean?
As trustees are solely responsible for the fund's investments, it seems wise to not carelessly invest in any schemes that appear attractive on the surface. Instead, SMSF holders can take financial advice from those familiar with cryptocurrencies or can even hire a company to do the tedious work for them. Even the most stable and prominent cryptocurrencies are susceptible to shocks, and huge dips in their value can land investors into unrecoverable losses.
In a nutshell, investing SMSF money into cryptocurrencies requires thorough knowledge of the market and a large appetite for risk. For those nearing retirement, using their super funds to invest in cryptocurrencies may not be an ideal choice. However, this does not negate the fact that sound financial thinking might help trustees double or even triple their investments with cryptocurrencies.
DO NOT MISS: Who is Michele Bullock, the first female RBA deputy governor?