Highlights

Housing prices in Sydney and Melbourne have started to decline, leading to speculations that the property market is losing momentum.

The pandemic has taught the markets that supply-side challenges are more pronounced than high immigration demand.
Sydney, one of the most expensive capital cities, has seen prices reducing for the second consecutive month in March.
After showcasing an unparalleled boom, housing prices in Sydney and Melbourne have started to show signs of cool off. Prices in these capital cities had previously soared during the pandemic as buyer demand surpassed existing housing supply levels. These capital cities, which were once highly desired housing locations, are now the first ones to see a downturn in prices.
As per the property consultant CoreLogic, Sydney's housing prices have fallen for a second consecutive month in March with a drop of 0.2%. At the same time, property prices in Melbourne dropped 0.1% in March. The fall in housing prices contributed to a slower price rise across combined capitals of 0.3%.
However, as circumstances become volatile due to the global market uncertainties, the property market also remains susceptible to shocks. Most notably, the housing market could be affected by an interest rate rise, which is expected to arrive sometime later this year.
ALSO READ: Australians borrow more via BNPL, payday lenders as living costs spike
Why is property in Australia so expensive?
Australian property prices have a long history of growth, which involves an underdeveloped housing supply structure. Being home to many immigrants, Australia has seen a housing demand surge never seen anywhere else during pre-pandemic times.
The pandemic has also taught the markets that high immigration is not the only problem. Even as Australia was cut off from the rest of the world due to the pandemic, prices soared to unpalatable levels, beating all previous records. This puts into perspective the underlying weakness of slow construction in the real estate sector.
An obvious solution to the problem of insufficient housing supply is building more dwellings and housing structures. However, such construction takes time to finalise and often results in "sticky" prices. Essentially, this means that the long duration required for the construction of dwellings causes a prolonged dearth of supply, keeping prices steady at higher rates.
ALSO READ: Why interest rate hike is a threat to Australia's booming housing market?
Is the property market slowing down in Australia?
Sydney and Melbourne's latest housing price fall has fuelled speculations that Australia's property boom might be losing momentum. On the contrary, prices across smaller cities have been on an incline, reflecting a reversal of the ongoing trend.
The latest data from the Australian Bureau of Statistics (ABS) shows that new housing loan commitments are also declining. The statistical body reported that new housing loan commitments fell 3.7% in February 2022, after a record high in January. The value of loans taken by new owner-occupiers also slid 1% in February 2022 compared to February 2021.
Meanwhile, dwelling approvals surged in February, rising by 43.5% during the month alone. While private housing was not the main component of this rise, apartment approvals drove the increase in dwelling approvals in February.
Despite lower mortgage lending and a sharper rise in dwelling approvals, housing values continued to rise through the first quarter of 2022. Some market pundits might suggest that this points to an inherent bubble in the market. However, this may correct soon as prices drop across all cities.
Why are property prices falling?
The slower lending data in February suggest that a property sector meltdown might be on its way. As buyers take a backseat from diving into the market, the fall in prices seems imminent. Shockingly, the Australian city with the highest level of unaffordability has seen the price drop for two consecutive months.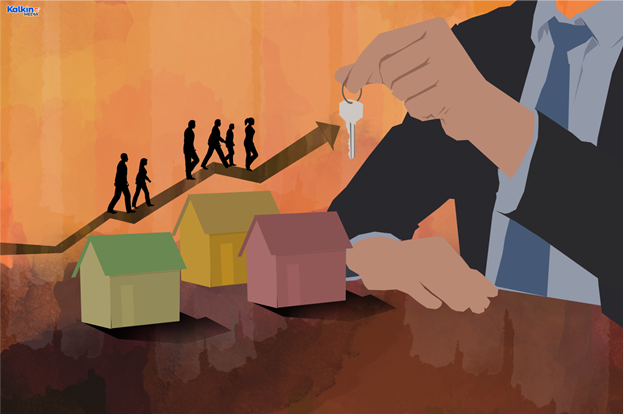 Image Source: © 2022 Kalkine Media®
Meanwhile, buyers might be affected by the prospect of rising interest rates later in 2022. The future projection of a rate hike by the central bank has inadvertently caused a cooldown in the market, urging many to refrain from getting into mortgage payments that might rise exorbitantly as the year ends.
The cash rate is projected to see multiple hikes by the Reserve Bank of Australia (RBA) later this year. While there is no certainty on the timeline for this hike, market commentators suggest the first rise may occur in mid-2022.
DO NOT MISS: Who is Michele Bullock, the first female RBA deputy governor?
Bottom line
However, there is no single route for housing prices, as the market is also affected by investor demand. Experts predict that as private housing blows off some steam and the immigrant population increases again, apartments and related housing can see an upswing due to higher investor demand.