Highlights

Crypto crash of 2022 has to be read considering Bitcoin price movement vis-à-vis a few altcoins
Dominance of Bitcoin is gradually diminishing, and new concepts like blockchain gaming are gaining value
Investors can make the most of crypto market by keeping a close tab on innovative and viable blockchain projects
That 'Bitcoin may touch US$100,000 by the end of 2021' was the favorite theme of speculators when Bitcoin price touched US$68,000 in early November.
By December 31, 2021, Bitcoin had slipped to under-US$50,000 level. The fall in Bitcoin price was a gentle reminder of wild volatility and price swings that ail the multi-trillion-dollar crypto investment market. Is there any particular timeframe for a bearish or a bullish trend to strike the crypto market? Analysts believe that the stock market usually performs well during the last weeks of December every year, and this phenomenon is called Santa Claus Rally. Similarly, there's something called the January effect, which suggests stocks gain during the beginning of the year due to the heavy selling at the end of December and aggressive buying in January.
Are there such trends in cryptos? Let's find out by analyzing the movement in Bitcoin prices.
Also read: The top crypto gainers of 2021, and a couple of underperformers
Bitcoin price movement
When Bitcoin entered the first pandemic year 2020 with a humble price tag of approximately US$7,000, no one could have imagined what's coming. Though there is a general perception that the onset of Covid was the beginning of the bullish phase in cryptos, this is not what numbers say.
By mid-March, the time when most economies were contemplating lockdowns, BTC price – which fell to below US$5,000 – followed the wider trend that had gripped the global stock market. A solid bull-run in price was not noticeable until October 2020. A subsequent sustained rally helped Bitcoin end the year 2020 with over 300 per cent returns.
From January 2021 till mid-April, it was a dream run for Bitcoin backers. From US$29,000 to as high as approximately US$65,000, Bitcoin price appreciation dwarfed gains on stocks and precious metals.
From here on, however, the winds changed. Bitcoin entered a deep bearish phase, eventually losing half its value over the next three months. A limited surge took the price to nearly US$68,000 in November, but the momentum faded quickly.
Image description: Market dominance of cryptocurrencies
Data provided by CoinMarketCap.com
What impacts crypto prices?
Decoding crypto crash is not easy. Consider this. El Salvador became the first country in 2021 to make Bitcoin legal tender, something the cryptocurrency's creators always envisioned from the start. It was a watershed moment for the entire crypto space, but no major positive impact on Bitcoin price was seen in the aftermath of this development.
Also read: Cryptocurrencies vs. stock market: What can be the best pick for 2022?
Similarly, when China cracked down on crypto mining and trading in 2021, it served as a trigger for a sharp decline in prices of almost every crypto asset. But did China reverse its ban when bulls returned to Bitcoin market after July 2021? No, and hence, it is clear that any major positive or negative change has only a limited impact on cryptos.
Maybe the crypto market is a market of sentiments, not fundamentals. Meme stocks like GameStop and BlackBerry were a major trend in 2021, and it owed to sentiments of Reddit communities, not to how the two companies were performing with respect to revenue growth. The unpredictable movement in crypto prices may be a reflection of how sentiments of retail investors quickly change.
The outliers during crash
Though Bitcoin serves as the heart of the cryptocurrency market, its dominance is waning with each passing day.
In January 2021, Bitcoin's share in the total market cap of all crypto assets tracked by CoinMarketCap was over 67 per cent. A year later, Bitcoin's share has declined to under 40 per cent. Bitcoin has lost its status as the barometer of the crypto market. Ether, the second most powerful crypto, is increasing its share in the dominance chart, and it now makes over 20 per cent of the total crypto market cap.
On January 1, 2020, Ether was priced at nearly US$130. By early January 2021, it was trading at over US$1,000. By this measure, Ether was a better investment in 2020 as compared to Bitcoin. Ether gained more than Bitcoin in 2021 as well. But that's not all about cryptocurrencies' prices. Cryptos like AXS of Axie Infinity's blockchain game and SOL of Solana's blockchain network gained so over 10,000 per cent in 2021.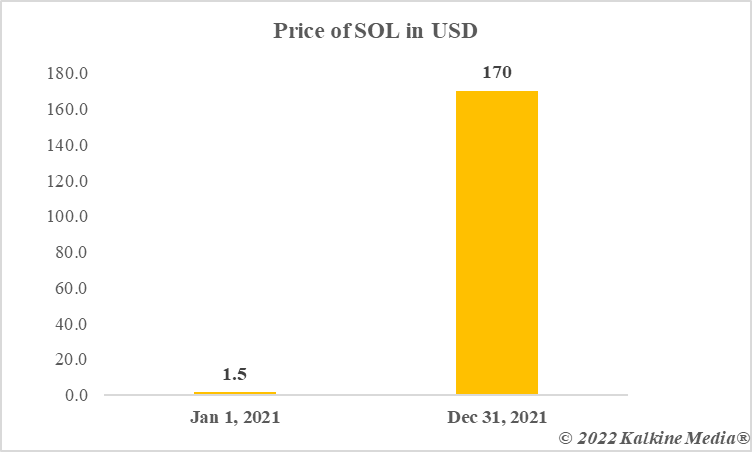 Image description: Price movement of SOL in 2021
Data provided by CoinMarketCap.com
So far in 2022, though both Bitcoin and Ether are trading at subdued price levels, altcoins like ALCX and FTM have gained. There is a long list of altcoins that have defied the odds and returned positive at a time when both the top two cryptos have lost value.
Altcoins defy crypto crash
The crypto investment market is no linger about Bitcoin or Ether.
The sub-sectors within the market, including non-fungible tokens (NFTs), decentralized finance (DeFi), and blockchain gaming are functioning independently. OpenSea, an NFT trading platform has become a multi-billion-dollar project in a span of a few months. Metaverse tokens like Decentraland and The Sandbox are also carving their own niche. People are buying virtual real estate using these native tokens to earn revenue from digital assets.
Also read: Why are people buying virtual real estate? Should you too?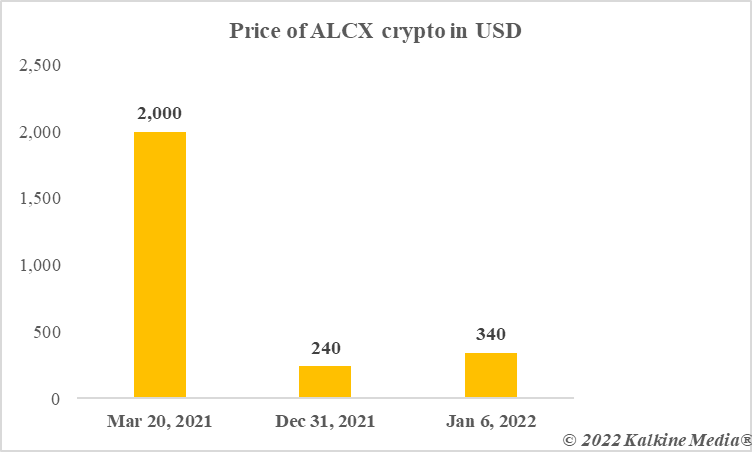 Image description: Price movement of ALCX altcoin in 2022
Data provided by CoinMarketCap.com
DeFi platforms enable lending and borrowing without having to sell off crypto holding. These are the new trends in cryptos that are likely to shape how the overall market performs in 2022.
Also read: As we enter 2022, know how Bitcoin compares with the US dollar
Viewpoint
Crypto crash is a narrow term. It reflects the mood of backers of major cryptos like Bitcoin and Ether. But there is a high possibility that a few altcoins may be treading an upward path amid crash in price of large market cap cryptocurrencies.
Bitcoin is no longer synonymous to cryptocurrencies. Likewise, BTC crash does not necessarily mean that all crypto assets would gain or lose value during a particular timeframe. Investors have now shifted to taking note of any blockchain-based project's utility and viability. If a metaverse project like Axie Infinity can garner more users owing to its decentralized gaming features, the price of native AXS token may rise even as BTC is falling.
Maybe 2022 will be the yet-another year with wild swings in crypto prices, but not every crypto asset will gain or lose in the same proportion.