Highlights

Year 2021 was first ruled by NFTs, and the last couple of months saw the rise of metaverse
New blockchain networks also gained in 2021, especially because they threaten Ethereum's dominance
Bitcoin's ups and downs in 2021 can serve as an investment guide for 2022
Many things have changed from the first day of 2021 to the dawn of 2022. In the wider world, people are getting vaccinated to keep the harsh fallouts of any new variant's spread at bay. In the crypto world, altcoins are steadily rising to keep any Bitcoin monopoly in blockchain-based currencies at bay.
The share of Bitcoin in the total market cap of all major cryptos tracked by CoinMarketCap was approximately 70 per cent at the beginning of 2021. Today, this share is nearly 40 per cent. In fact, Bitcoin's share fell below 40 per cent in mid-May, but the world's most popular digital currency managed to stand out in a changed scene where investors were willing to bet on low market cap altcoins like Axie Infinity.
Which were the altcoins that grew the most in 2021? Numbers say Cocos-BCX (COCOS) has registered the maximum year-to-date (YTD) return. But the market cap of COCOS is too humble, US$87 million, to make a major impact in a space where tens of assets have multi-billion-dollar market cap.
Below are the top three gainers of 2021, which had a major impact on the market due to their billion-dollar market cap.
Image description: Share of Bitcoin in total market cap of crypto assets
Data provided by CoinMarketCap.com
1. Axie Infinity (AXS)
The rise of an altcoin like AXS in 2021 sums up the mood of investors.
Axie Infinity is neither like Bitcoin, which aims to function as money, nor it is like Ether, which is the native token of a blockchain network, Ethereum. AXS is the governance token of a blockchain game.
Blockchain gaming was one of the top trends of 2021. One of the reasons is it resembles metaverse, the fictional world that even Facebook now wants to explore. Besides, Axie Infinity has non-fungible token (NFT) underpinnings, and NFTs were a rage in 2021.
The 2021 return of AXS is over 15,000 per cent.
Also read: Cryptocurrencies vs. stock market: What can be the best pick for 2022?
2. Solana (SOL)
When everyone was talking about the Bitcoin vs. Ether thing, newer blockchain networks were silently changing the landscape. Solana is one such blockchain that is threatening to dethrone Ethereum.
Solana works on two consensus protocols -- proof-of-history and proof-of-stake -- which it claims makes it a better alternative to Ethereum's decentralized ledger services. Solana is also considered to be a probable 'Ethereum Killer', but it has a long way to go.
SOL, the native token of the network, gained nearly 10,000 per cent in 2021.
Also read: Bitcoin vs. Ethereum – All you must know before 2021 ends
3. The Sandbox (SAND)
Metaverse was by far the biggest crypto trend in the last couple of months of 2021. It was not just the social media giant, Facebook, but also companies like Nike and Adidas and celebrities like Paris Hilton that were announcing at least some activity in the metaverse's virtual reality world.
This compelled SoftBank to invest in The Sandbox, a blockchain gaming project, which has features to make it a formidable metaverse crypto. Digital assets on The Sandbox can be purchased by users in the form of NFTs, which can later be listed on OpenSea or other platforms.
SAND, the governance native token of the project, gained nearly 16,000 per cent in 2021.
Also read: Top cryptos by market cap that ruled in 2021
The underperformers
The discussion on top gainer cryptos cannot be complete without a mention of a couple of cryptos that underperformed in 2021. This also corroborates the fact that cryptos are volatile, and investors must not overlook this aspect in 2022.
Monero (XMR)
Monero was the favorite of a section of investors that wanted cryptocurrencies to be more shadowy and privacy-focused.
But the wider investment world seems to have rejected this idea, which made some crypto exchanges delist the XMR token. At one time in May, Monero was priced at US$480, but it ended the year with a price tag of nearly US$220.
Bitcoin (BTC)
Bitcoin deserves a mention for multiple reasons. One, it was predicted by some that BTC may touch a six-digit price figure by the end of 2021. This was when price peaked to almost US$68,000 in November after having dropped to below US$30,000 in July. But Bitcoin ended the year at under-US$50,000 price tag.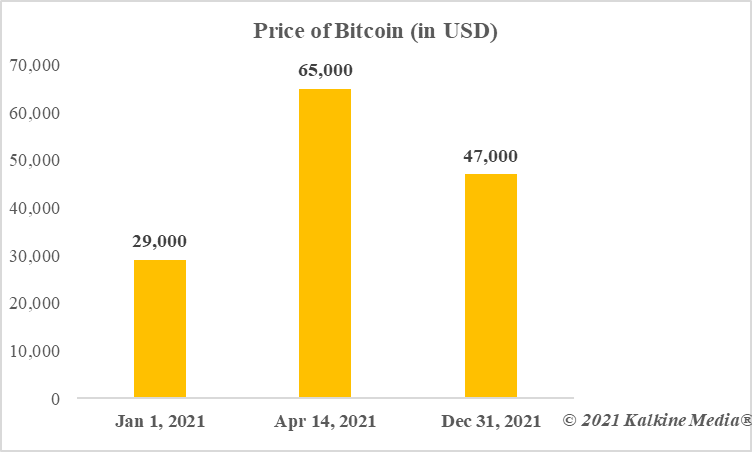 Image description: Price movement of Bitcoin in 2021
Data provided by CoinMarketCap.com
Two, Bitcoin's continuous rise and fall through 2021 is enough to warn investors of how things can change radically in the crypto market.
Bottom line
Gains and losses in cryptos are also a matter of perspective. In a particular timeframe, say one-month or three-month, a crypto asset may appear to be doing very well, and in some other timeframe, the same asset may be losing value. And hence, investors must exercise caution and due diligence before deciding to invest in crypto assets.