Highlights

If Dogecoin and Axie Infinity were wealth creators, top cryptos by market cap were like the blue-chips of crypto world
The top five cryptos today may look a little different tomorrow, but Bitcoin and Ether are difficult to displace
The fight for the number three position may turn more interesting in 2022, with Ethereum rivals facing competition by meme coins and metaverse tokens
Calendar 2021 was arguably the best- ever year for the crypto market. No, it is not just about price gains. The year brought so much including the entry of biggies like S&P Dow Jones that it will go down as a milestone for the crypto industry.
The year 2022 can be even bigger. Bitcoin and Dogecoin feature regularly in news articles, and maybe more nations would want to enter the uncharted territory just like El Salvador.
Let's turn the clock back a little to know which cryptocurrencies ruled in 2021. A few like Shiba Inu and Dogecoin indeed made more headlines than others, but let's focus on market cap. Market cap is one of the fundamentals that are relied upon to forecast the trajectory of a security. In the world of blockchain-based digital currencies, these 'blue-chip' crypto assets command the largest market cap.
Also read: Is Bitcoin better than gold as hedge against high inflation?
1. Bitcoin (BTC)
The king of cryptos, the heart of the blockchain world, Bitcoin has a whopping 40 per cent share in the total market cap of over 15,000 cryptos tracked by CoinMarketCap.
Bitcoin was always the #1.
There are compelling reasons why. Many analysts consider cryptocurrency and Bitcoin as synonyms even to this day. If any ace investor like Warren Buffett comments on the future of cryptocurrencies, Bitcoin is what they focus on. While 2021 may have been the year of meme currencies and metaverse gaming coins when it comes to price appreciation, Bitcoin's hegemony has remained unopposed.
Bitcoin has a market cap of over US$1 trillion as of now. At the beginning of 2021, the market cap was well under US$600 billion. Though altcoins like SOL and AXS sit far above BTC in terms of gains, it is notable that blue-chip companies and developed countries will, more often than not, have a lower growth rate than new emerging stocks or economies.
Bitcoin price aside, it is the biggest blue-chip cryptocurrency, the most 'developed' among its peers.
Also read: Can Bitcoin be termed as the 'asset of the century'?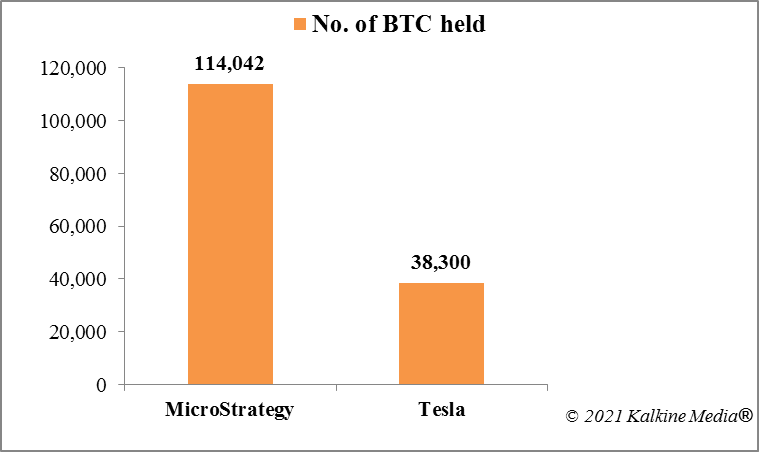 2. Ethereum (Ether)
A distant second to Bitcoin, Ether (ETH) is a silent mover. Though every crypto enthusiast knows that Ether is the native token of Ethereum's widely adopted blockchain network, the crypto is not as big a newsmaker as Bitcoin.
From under US$80 billion on January 1, 2021, Ether is an over US$500 billion market cap crypto as of now. This appreciation beats Bitcoin by a huge margin. And just like Bitcoin, which surged due to a range of reasons like legalization as currency in El Salvador, Ether too rose on solid fundamentals.
Non-fungible tokens (NFTs) were one of the biggest crazes in 2021. Most of these tokens are registered on Ethereum's network. Many ERC-20 cryptocurrencies are themselves worth billions of dollars each. In a world that is looking favorably toward decentralized apps and distributed ledger tech, Ethereum holds value. And Ether, which is used to pay fees for using Ethereum's services, had every reason to rise.
A few debates are focused on whether Ether can replace Bitcoin as the largest crypto in 2022.
3. Binance Coin (BNB)
The rise of BNB in 2021 is indicative of how fundamentals are shaping the crypto market.
From nearly US$5 billion at the start of 2021, BNB is all set to end the year as the third largest crypto. Linked to the world's leading crypto exchange Binance, BNB has a definite use case. Binance has forayed into blockchain services, and its network BSC (Binance Smart Chain) has emerged as a rival to Ethereum. The project is said to be a complete ecosystem in the distributed ledger world.
In 2021, Binance's crypto exchange services were dealt a blow in multiple jurisdictions. This caused some trouble in the crypto's uninterrupted upward ride until mid-May. BNB surpassed US$100 billion market cap on multiple occasions during the year, but volatility has it sitting at nearly US$98 billion as of now.
BNB's third rank isn't as secure as Bitcoin and Ether. Below are the two cryptos that can easily topple it.
Also read: Explained: Cryptocurrency categories – DeFi, NFT, Metaverse
4. Solana (SOL)
A relatively lesser-known cryptocurrency, Solana was the most profitable crypto in 2021.
Why? Proponents claim that Solana's blockchain services have an edge over Ethereum's network. This single element was enough for Solana to rise from literally nowhere to becoming the fourth largest crypto by market cap by the end of 2021. From not even US$100 million on January 1 to nearly US$60 billion as of now, Solana has been on a dream ride.
More than BNB, Solana has been cited as the probable 'Ethereum killer'. This makes it a tough fight for at least the third rank in 2022.
Also read: Is investing in altcoins better than Bitcoin?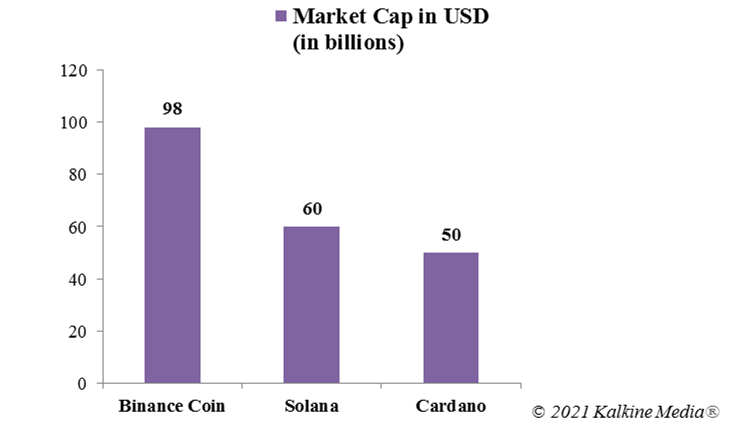 5. Cardano (ADA)
In August 2021, Cardano displaced Binance Coin to occupy the third position, but for a very limited time. By one count, Cardano may be a quite undervalued cryptocurrency. Fifth in terms of market cap, ADA coin is worth only US$1.4 apiece as of now.
Like BNB and Solana, Cardano is another Ethereum competitor. Cardano is a proof-of-stake blockchain, and it allows developers to build DApps and smart contracts.
For now, each blockchain network claims to have superiority over its competitors. Maybe, 2022 will be a year when the dust settles. Cardano's market cap of nearly US$50 billion faces tough competition in 2022 from cryptos like XRP, Polkadot, and Dogecoin.
Also read: 5 breakout altcoins with metaverse underpinning
Bottom line
The above list does not include stablecoin Tether (USDT), which has a market cap of nearly US$75 billion.
At least two cryptocurrencies in the list, the number one and two, enjoy near-hegemony. The third spot is vulnerable to quick changes. The list of largest cryptos by market cap may not include the most profitable cryptos, but it is valuable due to underlying fundamentals, just like blue-chip or S&P 500 stocks.