Highlights

Since the introduction of EIP-1559 on 5th August, around US$2 billion of Ether has been burned
The EIP intends to prevent inflation, boost Ether's economic worth and stabilise the transaction fee market.
Since the introduction of EIP-1559 on 5th August, around US$2 billion of Ethereum has been burned, marking a new high in the crypto world.
Ethereum is being burned at an alarming rate due to the EIP-1559 upgrade. According to Media reports, more than 600k ETH have been burned, amounting to almost US$2.5 billion at the current price of US$4,205.69.
The London hard fork's Ethereum Improvement Proposal (EIP) 1559 plays a vital part in burning ETH. The EIP intends to prevent inflation, boost Ether's economic worth and stabilise the transaction fee market.
We will delve deep into the article to evaluate what causes Ethereum to burn.
Source: © Lightboxx | Megapixl.com
What is "coin burning", and how does it affect Ethereum's supply and demand?
Since the first implementation of EIP-1559, about 297,000 ETH in base fees have been burnt and permanently removed from the circulating supply, valued at over $1 billion at the current exchange rate.
Many people are taken aback by the term "coin burning," as they are perplexed about how the burning process might regulate the price of any cryptocurrencies.
To keep any cryptocurrency prices under control, crypto designers and miners favour the coin burning method, which involves removing a certain amount of coins from circulation.
The question now is, how should the cryptocurrency be burned? In the crypto world, "burning" a coin means deliberately eliminating it from circulation.
"Burning" massive quantities of cryptocurrencies might result in a shortage of coins, which could be used to curb rising prices. This method is similar to share repurchase intentions in financial markets. Corporations buy shares of their common stock to boost market scarcity and the value of shares owned by investors.
With such high demand, fresh tokens are constantly entering circulation and mined; cryptocurrencies must ensure that the market is not oversupplied. Therefore, it's worth remembering that the demand and supply economic notion shapes pricing in the digital currency market.
Furthermore, the predominance of high transaction fees on the network, as a result of persistent demand, is one of the reasons why so much ETH is being burned. The burning mechanism is on track to remove the 2.56 million ETH that would otherwise be inflating the supply over a year. This represents almost 2.2% of Ethereum's total market value at current prices of $8.89 billion.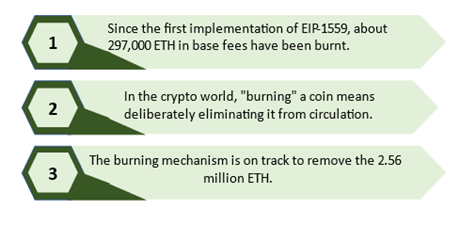 Source: Copyright © 2021 Kalkine Media
Related Article : Bitcoin vs Ethereum: Where to invest?
What is the advantage of the 'London Upgrade' for Ethereum?
The trendy, open-source blockchain had undergone a massive upgrade on 5th August, a much-awaited event for Ethereum admirers. In addition, it has gotten the London Hard Fork update, which is intended to yield a big boost on other crypto platforms. Following the hard fork, the network began to benefit from the upgrade.
Although it has nothing to do with London, many folks may be misled by the name "London Hard Fork update".
Moreover, the newest version focuses on decreasing Ethereum transaction fees while also bringing a new method to mine the cryptocurrency, a long-standing conundrum for Ethereum aficionados, particularly miners. Thanks to a boom in nonfungible coins based on Ethereum's blockchain, the problem has gotten far worse in recent months. The most recent update brings a solution to these problems by burning Ether coins.
The London Hard Fork update will assure that the transaction fee is automatically set based on current demand and supply dynamics.
According to Hitesh Malviya, founder of itsblockchain.com,
Which another platform also supported Ethereum burning?
CyberKongz VX was primarily responsible for the massive quantity of Ethereum burnt. CyberKongz debuted in early March 2021 as a randomly created 1000 monkey-themed, nonfungible tokens (NFT).
The Ethereum network reached a high burn rate of 27.90 ETH per minute on 15th August 2021, as users battled to mint CyberKongz VX NFTs. The CyberKongz VX mint resulted in the burning of about US$4.7 million worth of Ethereum in total.
Related Article: The Rise of Ethereum – Can ETH hit the US$100K-mark?
Bottom line
The world's biggest innovative contract platform started burning Ethereum, bringing the regular supply of Ethereum under severe strain.
The upgrade makes it easy to price transaction fees by adding a new burning mechanism. Consequently, the rate of inflation for Ethereum has been dropping.
Related Article: Ethereum Crosses $3K-Mark To Hit All-Time High. What Next?