Definition
Social Media
What is social media, and how does it work?
On the use of social media, Ardath Albee, CEO of Marketinginteractions.com, said:
Source: Copyright © 2021 Kalkine Media
Social media is a computer-based technique that enables users to share their thoughts, ideas, and data across virtual networking and community building processes.
The significance of social media in assisting businesses cannot be underlined. It permits the blending of social engagement on e-commerce platforms, making it easier for businesses to communicate with clients and consumers. Its data-gathering capabilities can help you concentrate on marketing and market intelligence. It facilitates the promotion of goods and services by permitting targeted, on-time, and exclusive sales and coupons to be distributed to prospective consumers. Furthermore, social media-connected loyalty programmes can assist in the building of consumer relationships.
It's a term used to denote websites and applications that emphasise content sharing, communication, collaboration, community-based input, and engagement.
Many folks prefer social media to connect and communicate with friends and relatives, while others use it to contact various communities. Many firms prefer to market and publicise their goods using social media. Furthermore, users' social elements like comment fields are included on business to consumer (B2C) websites. Other techniques have been built to aid in the tracking of brand mentions and perception.
LinkedIn, Facebook, and Twitter are just a few instances of social media that have expanded in demand due to the availability of mobile phone applications.
What is Social Media? Top social media platforms & benefits
Furthermore, social media is a set of web-based communication technologies that permit people to interact by consuming and sharing data.
However, social media is both broad and somewhat expressive. Even though many social media sites enforce numerous restrictions, such as deleting photos that contain nudity or violence. There are significantly fewer restrictions on what could be shared than other forms of mass communication like tv, radio, and newspapers.
Whoever has access to the internet could create a social media account. They could use that account to share any content they wish, and anyone who visits their profile or page will be able to see it.
Highlights

Social media is a computer-based technique that enables users to share their thoughts, ideas, and data across virtual networking.
Folks prefer to use social media to keep in touch and communicate with relatives and friends.
It has given us the ability to learn about what is happening in the world in real-time and access a limitless quantity of data at our fingertips.
Frequently Asked Questions (FAQs)
Which social media platforms and tools are used most widely?
Facebook- It is the leading free social networking site, permitting users to build profiles, upload photos and videos, send texts, and keep in touch with friends, relatives, and co-workers. Users develop personal profiles, add friends, and exchange messages, including a status update. Brands generate pages, and Facebook users would be able to "like" brands' pages.
LinkedIn – It's a business-oriented social networking platform. The objective of this social media tool is to permit registered users to create and document professional networks of individuals they know and trust.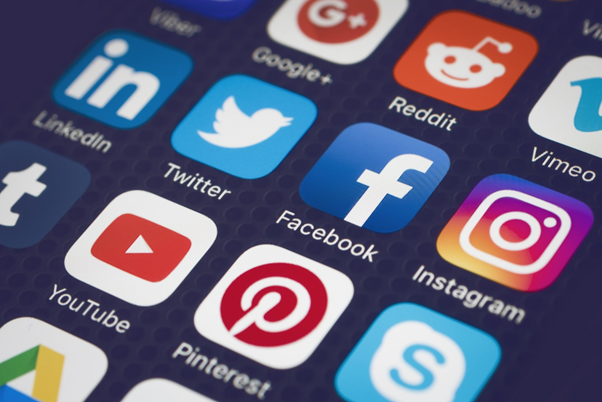 Source: © Twindesign | Megapixl.com
Blogs: It's a platform where individuals could have a casual conversation and discuss a topic or an opinion.
Twitter- It's a free microblogging site that enables users to send tweets, which are short messages. Members of Twitter could post tweets and then follow other users' tweets on several platforms and devices.
Wikipedia- It was formed in January 2001 and is a free, open-content online encyclopaedia developed by the joint efforts of a community of users recognised as Wikipedians. Anyone registered on the website can also submit an article for publication; nevertheless, registration is not required to modify articles.
YouTube/Vimeo- These are websites that host videos and allow you to watch them.
Flickr- It's a photo and video hosting website and an online community. Photographs could be posted on social media sites like Twitter and Facebook.
Instagram- This is a free photo/video sharing app that permits people to add digital filters, frames, and special effects to their pictures before sharing them on several social media sites.
Reddit- Members of the Reddit website, commonly known as "Redditors". It's a news site and forum for social media users. Users may socially curate and sponsor stories using this tool. The site is divided into hundreds of "subreddits," or sub-communities. Each subreddit focuses on a particular topic, such as politics, music, or technology. The objective is to promote outstanding stories to the top of the main thread page on the site.
Pinterest- It is a social curation platform that permits individuals to post and categorise photographs they find on the internet. Short descriptions are necessary, but the site's major focus is on the visual. The user will be directed to the original source by clicking on the image.
Source: Copyright © 2021 Kalkine Media
What are the advantages of using social media?
Source: © Everythingpossible | Megapixl.com
The way we interact with each other using the internet has altered because of social media. It has given us the ability to learn about what is happening in the world in real-time, to connect and keep in touch with long-distance relationships, and to have access to a limitless quantity of data at our fingertips. In many ways, social media has aided many users in identifying common ground with others online, thereby making the globe appear more accessible.