Definition
Related Definitions
Environmental, Social and Governance (ESG)
Environmental, Social and Governance (ESG), also often known as Environmental, Social and Corporate Governance, indicates a set of standards used to evaluate a company's performance on these three non-financial metrics. Investors take note of these factors to identify investment opportunities, material risks and growth prospects in the market.
The act of investing using the ESG criteria to raise competitive financial gains while also reflecting a positive effect on society is known as 'Sustainable Investing' or 'ESG Investing'.
ESG investing began in the 1960s, where investors altered their portfolios to exclude industries or stocks that were involved in activities such as tobacco manufacturing, the South African apartheid regime, etc.
What Is ESG Evaluation?
ESG Evaluation is a qualitative, data-driven and forward-looking assessment of a company's ESG performance. It also evaluates the company's preparedness for future risks and opportunities.
The ESG score, however, only measures the verifiable reported data released by the company in the public domain. Information that is not available publicly cannot be assessed and doing so may indicate ESG controversies.
ESG Controversy & Its impact
An activity that is undesired or unintentional, leaving a negative impact on the environment and society and exposing the company's reputation, can be termed as an ESG controversy. Such events can halt the rise in the company's stock performance and hamper its image.
Why Is ESG Gaining Importance?
As a result of more than 2,000 studies, companies paying attention to ESG concerns have shown 63 per cent of positive results on equity return, as per a report published by McKinsey.
Top line growth: Companies providing sustainable products and services are likely to attract more customers, leading to increased gross sales. It also helps in capturing new business opportunities by gaining the access to resources through stronger community and government relations.
Cost-cutting: By following sustainable practices effectively (like low energy consumption, the true cost of water and carbon, etc), companies can control the rising operating expenses.
For instance, FedEx reportedly aims to convert its entire fleet to electric or hybrid engines. In 2016, 20 per cent of FedEx's vehicles were converted to green engines, which helped reduce the fuel consumption by more than 50 million gallons, as per reports.
Less regulatory interventions: Strong composition of ESG practices in a company's operations can help in achieving freedom and fewer regulatory interventions. It also helps in reducing government interventions and may give a rise to support from the government as well.
Employee productivity: Companies involved in ESG practices reportedly help in motivating their employees and provide a sense of responsibility towards the society and environment, leading to an increase in employee productivity.
Also, studies have shown that there is a positive correlation between job satisfaction and positive social impact.
Maximizing Investments: Allocating a company's capital to more promising and sustainable opportunities can help in increasing investment returns. For instance, investing in more sustainable equipment and plants. Companies are often advised to not make investments that include long-term environmental issues.
Conscious Capitalism & ESG
Conscious Capitalism is a philosophy created by marketing professor Raj Sisodia and Whole Foods co-founder John Mackey.
The main idea behind Conscious Capitalism is that businesses should operate ethically while aiming at high profits. The aim is to serve all the five stakeholders of the company, namely, the shareholders, management, employees, humanity and environment.
The four principles that guide Conscious Capitalism are as follows:
Higher purpose: Companies following this principle focus on the broader impact on the world instead of limiting themselves to income.
Stakeholder orientation: The agenda here is to the company and its leadership to effectively communicate with its stakeholders.
Conscious leadership: The leadership should focus on and weigh the interests of all its stakeholders equally. For instance, it should not focus solely on maximizing shareholders' wealth at the expense of other stakeholders' interests.
Conscious culture: It is a culture wherein all the policies of conscious capitalism are included in the corporate culture.
Companies practicing conscious capitalism and its principles are the ones with high ESG scores and attracting high ESG investments.
Companies Must Ask Themselves:
In the "Dear CEO" letter in 2018, BlackRock Chairperson and Chief Executive Officer Larry Fink had urged companies to ask themselves the following questions to evaluate their ESG metrics.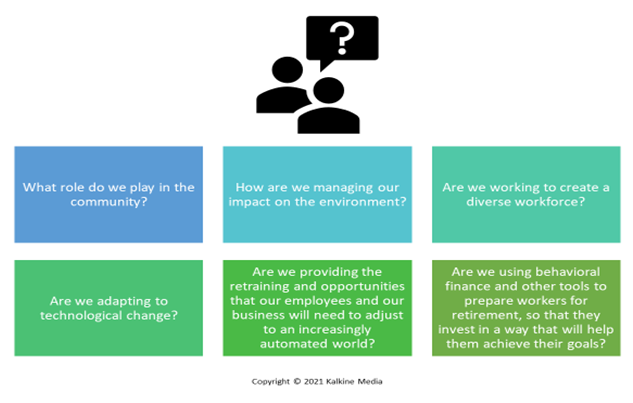 ESG & Cryptocurrencies
Cryptocurrency is a digital currency where transactions are recorded by a decentralized system.
Environmental: Cryptocurrencies work using a technology called the blockchain. In it, cryptocurrency mining requires the usage of high energy, which usually leaves a dent on the environment. Many have been advocating for an immediate change in this area, urging for a shift from the usage of fossil fuels to environment-friendly raw materials to generate energy required for mining.
Social: Cryptocurrencies have a social impact as well, as it allows fast transactions at lower costs. It allows keeps a track of all transactions.
Governance: The transparency in cryptocurrencies is often applauded for providing transparency through necessary encryption and control mechanisms.