Definition
Related Definitions
National Institute for Health and Care Excellence (NICE)
What is the National Institute for Health and Clinical Excellence, or NICE?
The NICE is an independent public organization that offers national guidance and advice to improve health and social care in England. NICE also provides clinical guidelines, offering more comprehensive guidance on the management of diseases or any clinical indications, which cover several different treatment options.

NICE was established in 1999 to reduce the differences in the quality and availability of NHS treatments and care.
In 2005, the agency merged with the Health Development Agency and commenced development of public health guidance to become National Institute for Health and Clinical Excellence.
In other words, the NICE is an executive non-departmental public body of the Department of Health in England, which publishes guidelines in the below-mentioned areas. The NICE offers its services and products in England as well as Wales, Northern Ireland, and Scotland.
Use of health technologies within the National Health Service (NHS, England) and within NHS Wales (for example the use of new as well as existing medicines, treatments, and methods)
Clinical practice (guidance on the suitable treatment and care of people with specific indication)
Guidance for workers in the public sector on health promotion and avoiding ill-health.
Guidance for social care services and users.
What is the role of NICE?
The role of NICE is to improve outcomes for people using the National Health Services (NHS) as well as other public health and social care services. The agency improves outcomes by: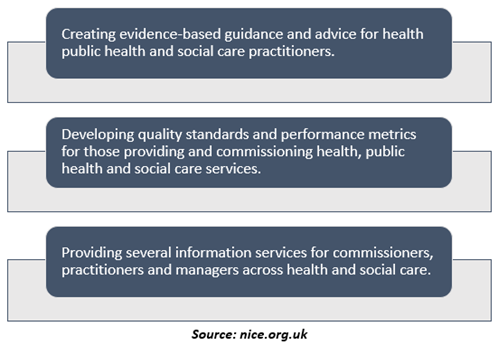 NICE also offers opportunities for the health industry to engage with the agency at all the stages during the health technology development. This way NICE helps the healthcare industry to provide better and measurable outcomes.
Moreover, the agency also offers support to navigate the healthcare system, understand the requirements of evidence, demonstrate health technology value and to get innovative health technologies adopted as quickly as possible.
How does NICE work?
The National Institute for Health and Clinical Excellence is headed by a Board consist of a non-executive chair and non-executive directors who are responsible for appointing executive members of the Board. The Board of NICE sets its strategic priorities and policies, with operational decision-making by a Senior Management Team.
The guidance, advice, quality standards and information services of NICE for health, public health and social care contain resources to support the increasing use of evidence and guidance.
NICE Communities provide essential information for key groups such as the local government, GPs, and health professionals, among others.
Over the previous 20 years, NICE has built a reputation as a frontrunner in evidence-based health and social care policy, assessment and decision making globally.
The NICE team has excellent relationships with:
The rest of the UK healthcare system
World-leading academic groups
Healthcare professionals (HCPs)
Decision-makers
The agency intends to establish relationships between the UK and other nation, sharing its expertise and knowledge to help overcome global health as well as social care challenges.
What is NICE International?
NICE International provides its support to the international health organizations and government agencies looking for the evidence-based decision making for the advancement of their health and social care systems. It shares best practice as well as expertise from NICE to help inform and shape improvements.
NICE International has extensive experience and expertise for developing guidelines and assessing health technologies. By sharing knowledge, NICE International can help international organizations develop systems for-
Evaluating their healthcare programmes.
Introducing health technology assessment to allocate resources.
Improvement in quality of care.
Reducing variation of access.
What is the Structure of NICE?
The NICE Board sets out its strategic priorities and policies, including the day to day decision-making. The NICE organization has six directorates-
Centre for Guidelines (CfG)
Health and Social Care Directorate
Digital, Information and Technology Directorate
Finance, Strategy and Transformation Directorate
Science, Evidence and Analytics Directorate
Communications Directorate
Clinical guidelines of NICE
The agency carries out assessments of the most appropriate treatment regimens for various indications. This should consider both desired medical outcomes (i.e. the best possible result for the patient) as well as economic arguments concerning differing medications.
NICE has established several National Collaborating Centres bringing the skills and expertise together from the professional bodies, royal medical colleges and carer/patient organizations which set down the guidelines.
Social care guidance of NICE
NICE was handed accountability for guidance and quality standards developing for social care, with the help of an evidence-based model.
The agency works with the adult and children's care sectors for developing independent suggestions for social care. NICE also build health and public health advice and guidance, that allows an integrated method to assist people and to meet their needs.
The social care guidelines of NICE make evidence-based recommendations on the effectiveness as well as cost-effectiveness of interventions and services. These recommendations are co-produced with social care specialists.
The social care quality standards of the agency are practical tools that help to deliver good health and wellbeing for users of adult and children's social services. They also assist people to understand the quality of services and care they should anticipate. Providers and commissioners use the social care guidance of NICE to assess performance and make improvements.