Definition
Related Definitions
Kraken
What is Kraken?
Kraken is a well-known and established cryptocurrency exchange based in the US. Kraken has a special purpose depository institution (SPDI) charter from the US state Wyoming which is a crypto-friendly state. It functions like any stock exchange but deals in cryptocurrencies. Participants can purchase or sell cryptocurrencies like Bitcoin, Ehtereum, etc., for fiat currencies like US dollar, Euros, etc. Payward Inc. owns Kraken, a regulated cryptocurrency trading platform that has been in operation since 2013.
Summary

Kraken is a popular cryptocurrency exchange based in San Francisco, US.
Participants can purchase or sell cryptocurrencies for fiat currencies like the US dollar, Euros, and others.
Kraken uses proof of reserves audits which is a leading cryptographically verified auditing method.
Frequently Asked Questions (FAQ)-
How does Kraken work?
Kraken.com is a crypto exchange that matches orders coming in from clients around the world. As a result, it makes trading between bitcoin buyers and sellers easier. However, it charges an order execution fee for this work. The fee is based on three factors- currency pair on trade, traders' trading volume, and nature of order- maker or taker.
For doing all this, traders first have to deposit funds to their Kraken account using the website or mobile application. After that, the Kraken account can be financed by cards, cash or crypto deposits. After this, Kraken facilitates instant buying of cryptocurrency. Users need to select currency pairs for trading cryptocurrency, fill out and submit trade order forms, and wait for execution to happen. If an order is not executed, cancelling the order is allowed.
Deposit and withdrawal of funds from Kraken account are based on the users' country of residence, the verification level he is on, and other similar factors. Kraken claims to follow local and international regulations.
Trading fees on Kraken are tiered based on trading volumes; thus, they vary for Standard and margin-based trades.
What is Kraken?
What are the key features of Kraken?
Kraken as a cryptocurrency platform is popular on crypto blogs with the below-mentioned features-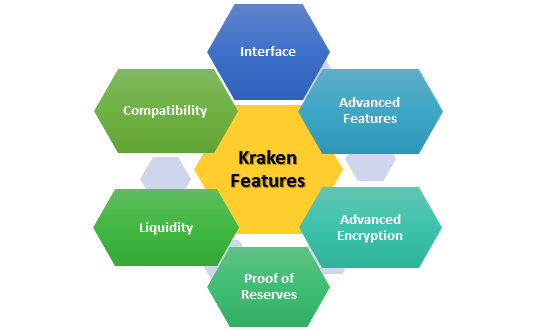 Source: Copyright © 2021 Kalkine Media
It is an interface for crypto investors and traders to begin and advance as traders.
It is available on several devices, including iOS.
Kraken, as an exchange, boasts liquidity of cryptos and allows quick funding and high trading volumes.
Kraken uses proof of reserves audits which is a leading cryptographically verified auditing method.
Kraken uses a cold storage method for funds, meaning it enables offline holding of cryptocurrencies.
It uses cryptographic privacy methods like PGP/GPG for data encryption.
Kraken uses the two-factor authentication technique with global settings to maximise user security.
Kraken participants are allowed Bitcoin margin trading and shorting.
Kraken has advanced order features like stop-loss orders and automated trading for cryptos.
Kraken can be used by crypto participants internationally.
It is available for over 47 market pairs and seven base currencies like US Dollar, Euro, Japanese Yen, etc.
Kraken even offers 24x7x365 support for its participants.
What are the pros and Cons of Kraken?
As recognised by Kraken users, it has the following pros and cons.
Even though it has faced certain issues, Kraken is still considered a secure and reliable trading platform.
Kraken charges a lower fee compared to other crypto exchanges.
Kraken offers its users a high trade limit.
It only accepts few fiat currencies but supports 56 cryptocurrencies.
It is available for users in various countries.
Kraken allows purchase, sale, exchange, futures trading, and even staking cryptos.
On the flipside,
It doesn't offer many options to local US users because of potential legal problems.
Kraken works with a long verification duration on transactions.
Some users find its user interface (UI) challenging as beginners.
Is Kraken safe?
Kraken has buzzed on crypto blogs few times with outages and Distributed Denial of Service (DDoS). In 2017, Kraken was hit by a DDoS attack, which created huge losses for its participants. A class-action lawsuit was also filed against it, seeking more than US$5 million on account of DDoS mishandling. It since then did not remain a safe crypto exchange anymore.
In February 2021, Kraken faced certain technical glitches which blocked users from their accounts. It was fixed quickly, but crypto markets are highly volatile, and Kraken clients had to bear the heat. It had to halt new user onboarding. As the number of crypto participants is increasing Kraken's strength and scalability are being questioned widely.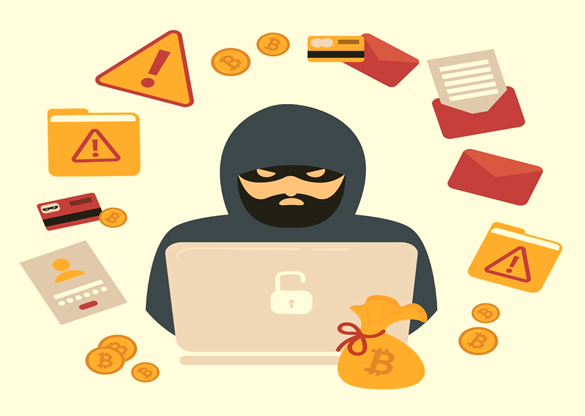 Source: © Helgaxorimarko | Megapixl.com
Slower response time, connectivity issues on Mobiles and API issues have cropped up recently. However, given the volume and volatility of crypto trading, users do not wish to compromise on these issues.
Although Kraken is still amongst the most popular crypto trading platforms, temporary hitches do occur on it. However, users still consider it safe as most of the data on the platform is stored offline. Furthermore, as claimed by Kraken, servers are secured with 24/7 surveillance and video monitoring systems.
Who are the competitors of Kraken?
Kraken is a trading platform, and participants have various alternatives available. Such competing platforms are –
Binance- the popular fintech blockchain platform, having Binance coins as original cryptocurrency.
Gemini-Digital asset exchange platform, used in the US, slowly gaining popularity.
Coinbase- a major competitor from the US supporting popular cryptos like Etherium, Bitcoins, and others.
Bittrex-another domestic competitor offering similar services in the US.
KuCoin- Singapore based competitor making crypto trade easier.
It has many other competitors, all being crypto exchanges luring crypto traders worldwide.