Definition
Related Definitions
Altcoins
What is an altcoin?
An altcoin is any digital currency other than Bitcoin. The word altcoin is made using two words "alt" meaning alternative and "coin" indicating a cryptocurrency. Thus, it is any alternative cryptocurrency to Bitcoin and uses blockchain technology to facilitate peer-to-peer (P2P) transactions. The altcoins also require a mining process where all the miners solve complex mathematical problems, and web-based transactions are carried out securely.
Namecoin (NMC) was the first altcoin launched in 2011 by Vincent Durham. NMC aimed to address the privacy issues of large corporations and traditional government practices of controlling domain naming servers (DNS servers). For instance, governments restrict their citizens from using specific social applications and websites.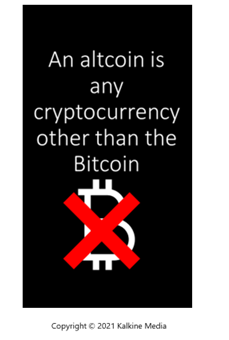 Some other examples of altcoins are discussed below:
Ether was first launched in July 2015 by Vitalik Buterin and Gavin Wood. It is the cryptocurrency or the fuel of the Ethereum network. Its model aims at securing a consumer's personal data (including finance records) in a blockchain network, such that no third party or a company has access to it.
Dogecoin was launched in December 2013, and its logo has the image of a Shiba Inu dog. Billy Markus and Jackson Palmer introduced this currency. It is considered a sarcastic meme coin and is similar to Litecoin.
In 2011, Litecoin was launched by former Google employee and Coinbase engineer Charlie Lee. Similar to Bitcoin, it is used as a payment network not controlled by any central authority. It takes lesser time to mine an LTE block in comparison to that of Bitcoin.
Stellar is a cryptocurrency founded in 2014 by Stellar Development Foundation. It is an open-source code used to transfer digital currency into fiat currency across countries. It was built to link customers, banks, and the payment systems quickly, seamlessly, and safely.
The NEO cryptocurrency was founded in 2014 by Da Hongfei and Erik Zhan and was called AntShares. It was rebranded as NEO in 2017. It enables the development of decentralized applications (DApps) to facilitate secure and quick transactions.
What are the various types of altcoins?
Some of the altcoins do more than exchanging money for goods and services. Some other types of altcoins are mentioned below:
Stablecoins: Stablecoins are the type of cryptocurrencies pegged to either fiat money, another cryptocurrency, or an exchange-traded commodity. It offers price stability and is backed by financial assets. They have gained popularity because of the security or privacy of the payment of cryptocurrencies and because they are relatively volatility-free, a stable valuation of fiat currencies, and can be instantly processed.
Utility tokens: Utility tokens are given during crowd sales as a project executes an Initial Coin Offering (ICO). It needs to be used on the same platform to receive the service. When an organization creates a utility token, it means it has created a platform that can be used to redeem these tokens for receiving the service or discounted fees. For instance, Siacoin's utility is storage, and renters use it to buy storage space from a worldwide network of hosts.
Mining-based coins: The mining-based altcoins are mined using proof-of-work (PoW), creating new coins by solving complex algorithms. Some of the examples of mining-based coins are Ravencoin, Litecoin, Metaverse, Bitcoin Gold, Monero, etc.
On the contrary, there are pre-mined coins that are distributed rather than created—for instance, Ripple.
Non-fungible tokens: A non-fungible token (NFT) transforms digital works of art with unique identification of codes and metadata. These tokens are unique and can be traded easily on the blockchain. They cannot be replicated.
Security tokens: Security tokens are utilized as investment contracts, and the purchaser expects to earn profits from market appreciation, dividends, revenue share, etc. They follow strict rules for who can purchase and transfer them.
Summary

An altcoin is any cryptocurrency other than the Bitcoin cryptocurrency.
Altcoin is made using two keywords 'alt' means alternative and 'coin' means cryptocurrency.
Namecoin was the first altcoin and Vincent Durham launched it in 2011.
Frequently Asked Questions (FAQs)
What are the advantages and disadvantages of altcoins?
Some of the advantages of altcoins are mentioned below:
Improved Bitcoin's shortcomings: Altcoins were designed to overcome Bitcoin's shortcomings. For instance, mining cost, slow speed, etc.
Increased competition: Altcoins have increased the competition in the Bitcoin and blockchain environment.
Low transaction fees: In addition to the secured blockchain technology, altcoins charge relatively low transaction fees when compared to Bitcoin.
Unique: Unlike Bitcoins, altcoins have inbuilt functionalities that make them more than just a token.
Some of the disadvantages of altcoins are mentioned below:
Volatile: Altcoins are new as investments, and their value can change drastically.
High potential for fraud: They do not fall under strict regulations, and most of them are online, attracting scams and fraud.
Oversupply: There are many altcoins in the cryptocurrency market, making it difficult for investors to choose the best one.
Market capitalization is low compared to Bitcoin: Investors choosing altcoins must be aware of receiving lesser returns compared to those who have invested in Bitcoins because altcoins' market capitalization is low compared to that of Bitcoin.
What are different platforms to trade altcoins?
Some of the platforms to trade altcoins are as follows:
Binance: According to Statista, Binance is ranked as the largest exchange to trade in cryptocurrencies. It is also suggested as a suitable exchange for trading in altcoins. Its token BNB is used to pay the transaction fees.
Kraken: It is a U.S.-based cryptocurrency exchange. It provides price information and cryptocurrency to fiat money trading.
Coinbase: It is a U.S.-based cryptocurrency exchange operating remotely without any physical headquarters.
io: It is a popular and secured exchange for cryptocurrency trading.
This is not an exhaustive list of exchanges trading in altcoins.